People often ask us what happens after a shoot and how they get their photographs, sometimes there might be misunderstandings between Online Proofing galleries and the special Mobile Album App which we gave to all of our clients, so we thought we'd put up a blog post about it.
The first thing we do is go through your pictures (culling photos is the industry term), deleting the unusable ones and performing very basic retouching like cropping and straightening, white balance, and exposure adjustments. Then we put those images into an online proofing gallery, with watermarks, and send you a link. In the proofing gallery you get your first look at the photographs, and you're free to show them off if you'd like, but you might want to wait because we aren't done yet.
From your Proofing Gallery, you get to select your favorite images, and when you've finished your selections let us know and we'll perform an in depth retouching on them. The exact number of images in the proofing gallery, and the number you get to select will depend on the package you have purchased. The in depth retouch will include color enhancements, skin and eye enhancement,and environmental cleanup … Once we've finished, we'll update your online gallery and you will be free to order prints right from the gallery if you choose to.
We'll also put all of your retouched photographs into a mobile album (these have been extremely popular with our past clients), which provides you with an easy way to share them with your friends and family on your smartphone or tablet. You could also share them with your enemies if you want to make them jealous. You'll get an e-mail with a link that you just have to open with your mobile device and follow the directions. Very easy - but in case you'd like us to show you how easy and cool it is to have your own personalized app full of your favorite photographs from the photo shoot, then keep on reading, we added a pictorial.
The add to Home Screen button might be a bit different on different devices, but our Mobile Album will be able to detect the mobile device you are using and instruct you accordingly — So far we have tested with our clients on iphone/ipad, android and the Google Nexus tablet.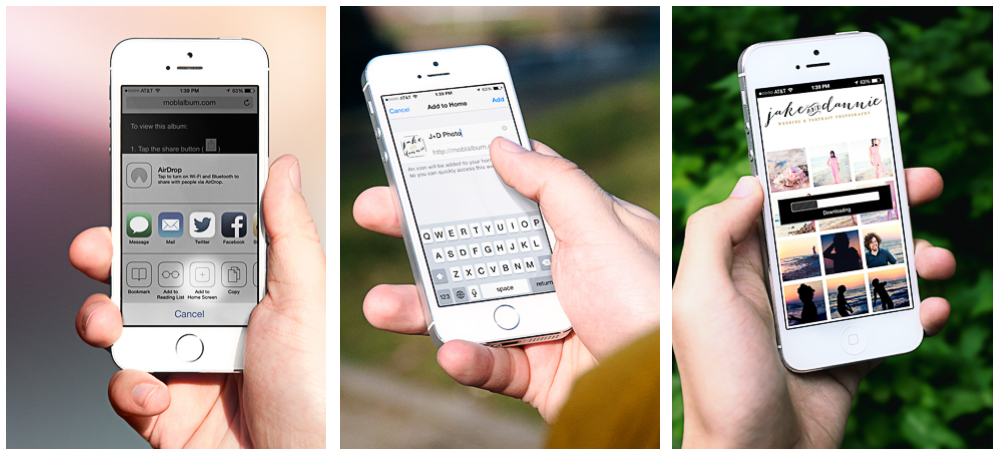 Don't forget your Mobile Album App looks great on ipads and tablets

with professional photography and high def. image quality on your smart device, it's 100 times better than lugging those heavy and expensive paper albums around.
---
To respect our client's privacy, we've made a fun little example albums while shooting each other at Honeymoon Island

Enjoy
Here is a sample proofing/ordering gallery:  http://proofing.jakeanddannie.com/sample
And here is a sample mobile album (open the mobile album link on your mobile device): http://proofing.jakeanddannie.com/app/40669 (if you are using iPhone/iPad please make sure you use Safari to activate the mobile album link)
---
Extra Q&A
Q: So what is the difference between the Proofing Gallery and Mobile Album?
A: Well to sum it up, the online proofing and ordering gallery contains your less retouched work and will expire after a designated period of time, but your  mobile album with your selected and retouched images will remain on your phone for at least two years (or until smart phones and tablets become obsolete), and you are free to share and install your album as many times as you want with friends and family members.
Q: Length of time our Proofing Gallery will be viewable online?
A: Well the length of time we offer free hosting of your Proofing Gallery depends on the package you selected — here is a basic break down:
Wedding - One year hosting for free
Engagement/family - Four month hosting for free
Portrait/model - Two month hosting for free
Special Promotions/ discounted packages - one month hosting for free
At the end of your free hosting our system will automatically erase expired albums and images. However, if your gallery is about to expire, and you'd like to extend it for viewing. Please contact us at least a week in advance. Extending the gallery costs $20/month or $50/year.
Q: I'm new at this how does your studio work, how do I order prints, when do I get my mobile album?
A: Well, first of all don't worry, we are here to guide you to make sure your photographs come out topnotch. We have broken down to a few simple steps which will make sure you understand how we work.
Step 1: The Contact — Ms. A orders a couples session with her sweetheart, she emails us with her available date, time and a special location she'd like to be photographed in. Since we are a full time studio, we will find the best way to fit her time and date.
Step 2: The Email — About a week before our photoshoot, Ms. A will receive an email from Dannie, which includes styling tips for the day of the shoot, Ms. A conforms her dress style and any concerns she has with Dannie.
Step 3: The Day-of — The day of the shoot, we'll arrive 30min before the client. For a sweep of the area, see any unique areas which might present a good photo (or a potential obstacle). During the session we'll have fun and help Ms. A and her sweetheart bring out the best natural moments in-front of our camera.
Step 4: The Proofing — After the session we say goodbye and go back our studio to cull the photos. On average we take about 200 photos during a one hour couples shoot, which we cull down to about 70-80 good photos. After we cull the photos we'll apply basic touch ups to the photographs, nothing major at this point. This all takes about three business days.
Step 5: The Retouch — About three business days after her photo-shoot, Ms. A will receive an email containing a link to her Proofing Gallery where she can favorite up to 40 photographs to be finely retouched (the number of final retouches are based on your selected package), we'll get to work after we receive an email from Ms. A telling us she has made her final decisions (we can hop onto the admin section to view your favorites from the Proofing Gallery). From there it will take at least one business week to retouch everything in fine detail, light adjustment, skin tone adjustment, every blemish and stray hair out of the way … After we are done we'll send Ms. A another email to let her know her selected favorites are retouched and available to view in her proofing gallery.
Step 6: The Ordering — When Ms. A reviews her Final gallery she has the option to purchase prints or digital downloads. (Note our proofing system automatically applies watermark to images displayed online, however, your digital purchase and print purchase won't have our studio logo on them.)
We will send Ms.A a separate email to including a little note to let her know that her Mobile Gallery is ready to install. Using her Mobile devices she should click on the link we send her. She can share the email with as many family and friends as she'd like.
We hope that this answers any questions you might have, but if not feel free to contact us at any time.