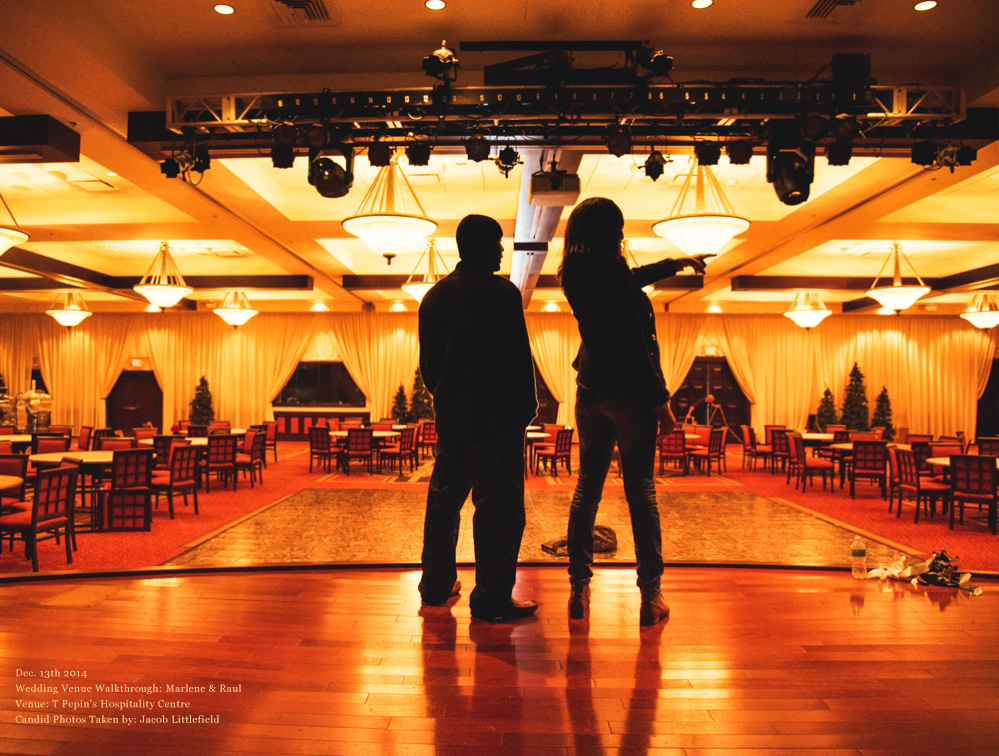 On Saturday morning we met up with Marlene and Raul again for our walkthrough of their their wedding venue, T-Pepin's Hospitality Centre. Wedding venue walkthroughs are more than just glorified scouting trips. True, we have our eyes open the entire time, looking out for potential photographic opportunities like beautiful manicured gardens, reflective tile floors and mirrors, and useful ambient light setups (all of which we saw on Saturday). But it's really more about the clients than the location. What they see in the venue is more important than what we see, because they chose it for a reason, and whatever that reason was, it's our job to make sure that we capture it.
Check out Marlene and Raul's engagement photos!
Talking with Marlene and Raul we learned that when they first started looking for venues they looked to the ocean. Beach weddings are popular in Florida for obvious reasons, but they have downsides. First, the weather is rather predictably unpredictable, and even on a sunny day it seems like a thunderstorm is never out of the question. This meant that any beach venue had to have an alternative location for inclement weather. Second there was cost; anything near the beach is really expensive, especially if you need a lot of space or large families like theirs.
The final reason they decided against the beach was really touching. Raul told me that the distance to the beach was just too great. Their families would have to make a long drive to get there, and to get home. There was going to be alcohol served at their wedding, and he worried about weary family members having to travel home after the celebrations.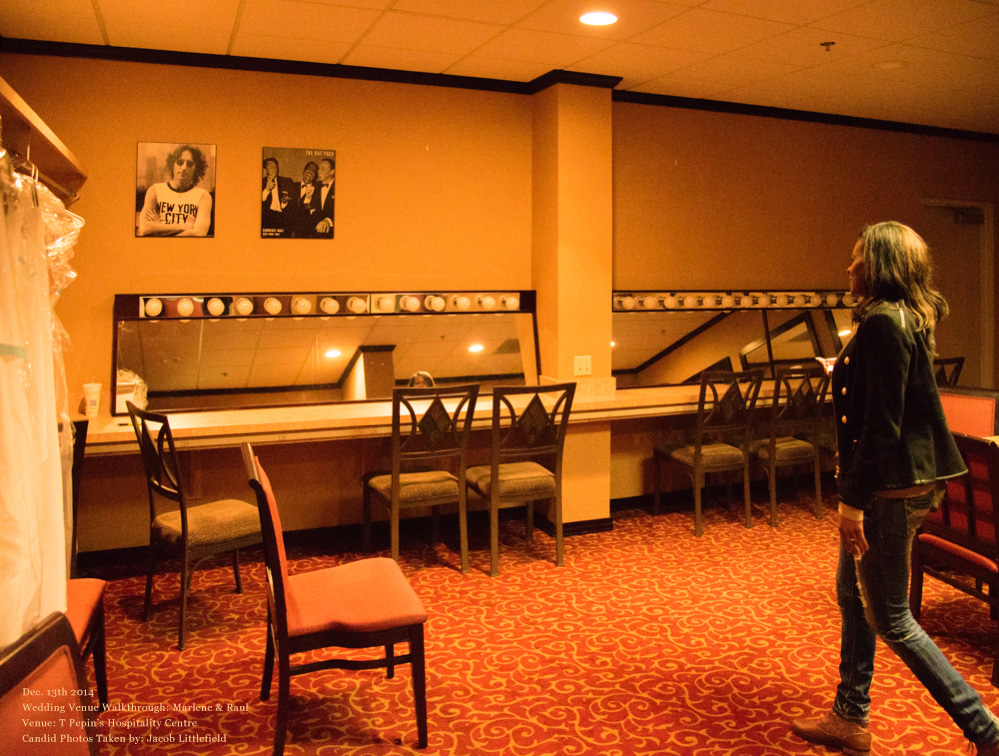 Marlene said that T-Pepin's solved all of these problems for them. The location, just minutes from their home was as convenient as could be. It had more than enough floor space and parking to accommodate both their large families. And perhaps best of all, it's outdoor ceremony site had a built in contingency plan for rain; the building's large covered entryway is beautifully designed, decorated with fountains and even torches that are lit for special occasions. Best of all the backdrop for the ceremony will be sunlight filtering through delicate waterfalls that cascade down smooth glass walls.
Marlene said as soon as they saw the ballroom they knew this was where they would be married.
So the hospitality centre had everything they needed, but let's face it, practicality isn't everything when you're picking your wedding venue. You also want to fall in love. Marlene said they fell in love with T-Pepin's when they saw the huge ball room where they would hold their reception. One wall is lined with a mosaic of picture frames to be filled with personalized photos, and a stage in the center of the room will let them look out over their guests who have come to share in their special day. Marlene said as soon as they saw the ballroom they knew this was where they would be married. And to put the icing on the wedding cake, Andy, the courteous and helpful general manager personally showed them around and made them feel incredibly welcome. He even accommodated multiple visits to the centre for planning, food tasting and, of course, a walkthrough with their photographers.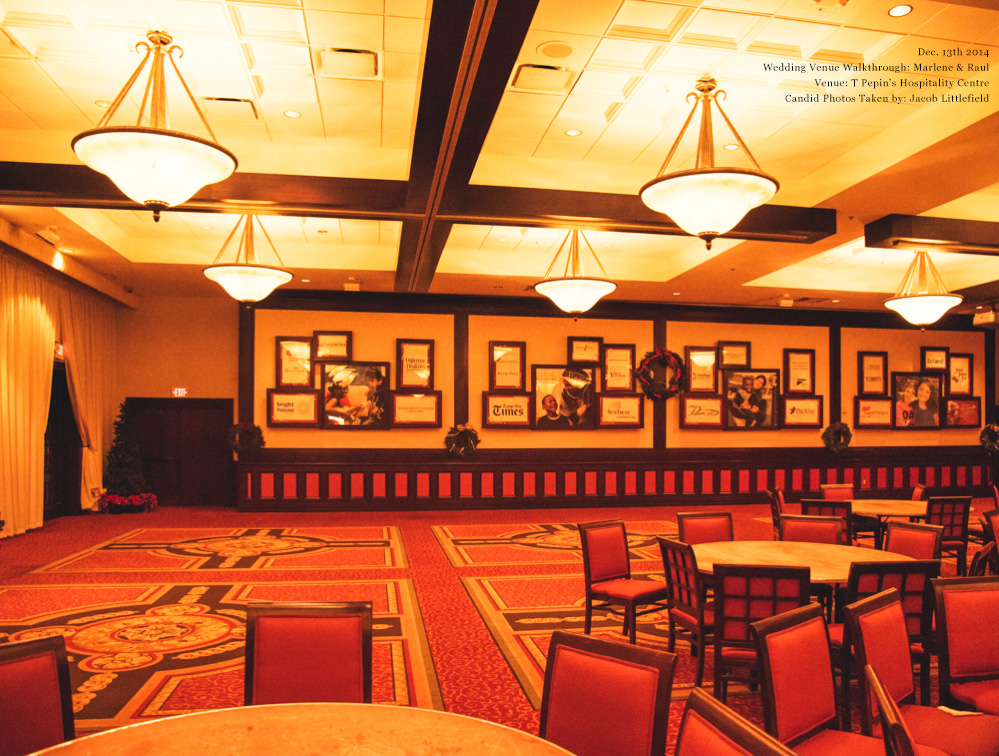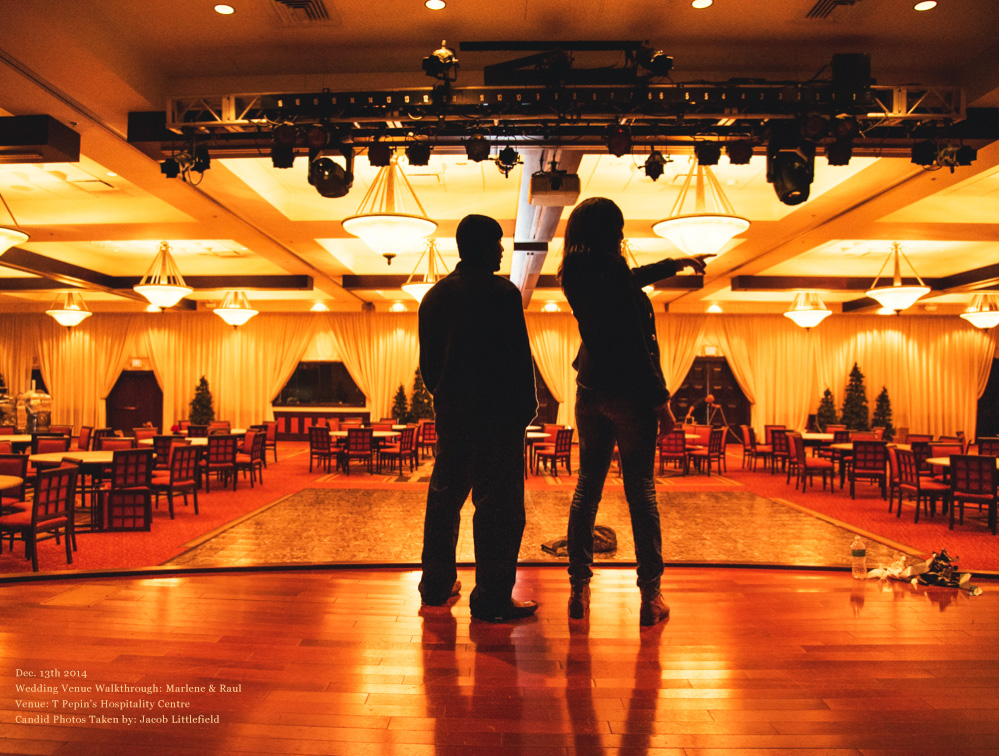 During our visit the halls were decked for Christmas celebrations, but it was obvious that the space was exactly what they needed for their wedding. In our minds we could visualize the couple walking together past their families hand in hand as husband and wife for the first time. Thanks to Marlene and Raul for sharing your venue with us, and thanks to Andy for showing us around. Photographing this wedding is going to be amazing.
What qualities do you look for in a wedding venue? Comment below.