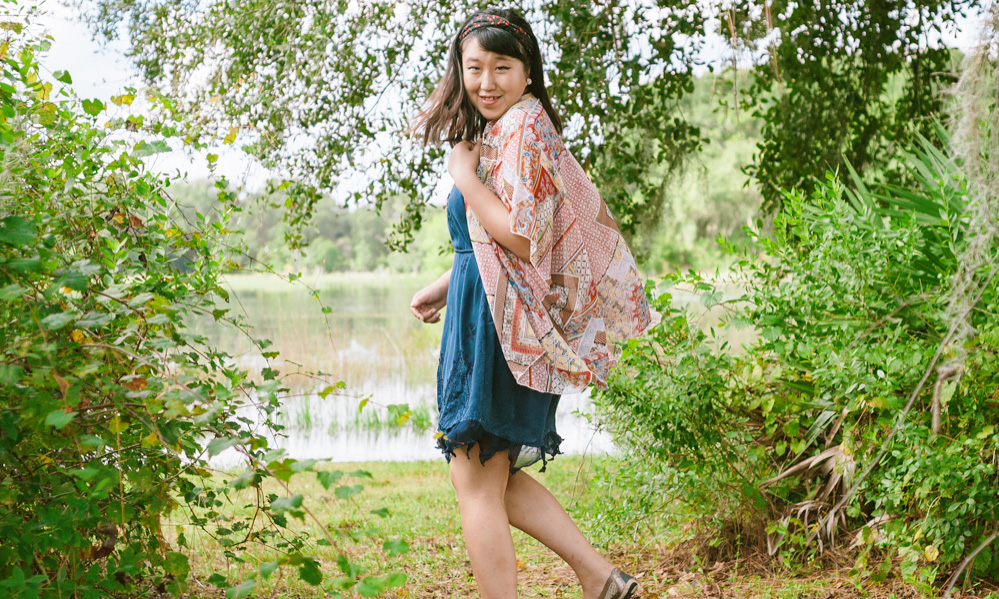 This was by far my best order yet from Stitch Fix! Jake and I were just talking about fashion photography, and how in most of the photos it's not so much about the model as it is about putting the clothes in a location. If I were about to jet off to some exotic land I would probably pack everything Stitch Fix sent me this month. When we first started ordering from Stitch Fix - a service that sends you 5 pieces of clothing and gives you 3 days to try them on before purchasing the ones you like and returning the ones you don't - I swore that I would only purchase one item per box, even though you get a 25% discount if you buy the whole thing. Keep reading to find out how that went this month.
Eames Gathered Waist Short Sleeve Shirt by Tart in Black - $58
I love the soft, high quality material in this piece. I had a similar piece in blue that I purchased from Urban Outfitters for about $50, but the quality wasn't very good and it was hard to get wrinkles out, even after washing and drying. I was so excited to see this piece because the cut and shape were perfect for me and it was very slimming (it's one of those top/dress pieces that can make you look pregnant if the cut isn't just right, but they nailed it). Like the other items in this box, it's easy to dress up (for meetings with clients and business events) or down (for a day out with Jake).
Andrea Abstract Print Linen Short by Level 99 in Orange - $34
These Shorts fit me just right. I usually wear tailored shorts to photo shoots. I know some female photographers wear dresses or skirts, but once my camera is out of the bag I don't want to be limited in my movement. I often find myself climbing, sitting down, or even lying on the ground to get the best shot and I'm glad to have another attractive pair of shorts to add to my arsenal. To emphasize this point I took this photo wearing my "photographer vest!" The necklace I'm wearing is a fantastic piece from my last month's Stitch Fix Box.
Damon sheer Detail Key-Hole Blouse by Fun2Fun in Mustard - $44
In my entire life I've never owned any mustard clothing. The bottle of dijon in the fridge is the only mustard colored object in my home. Until I saw how good I looked in this top. It has a vintage feel, and it really opened my mind to trying out new colors. It goes great with a lot of my clothing, but I especially like it with this cute polka dot skirt. I think I'll be breaking out this combo quite a bit.
Mauna Mixed Print Sheer Open Cardigan by Papermoon in Orange - $38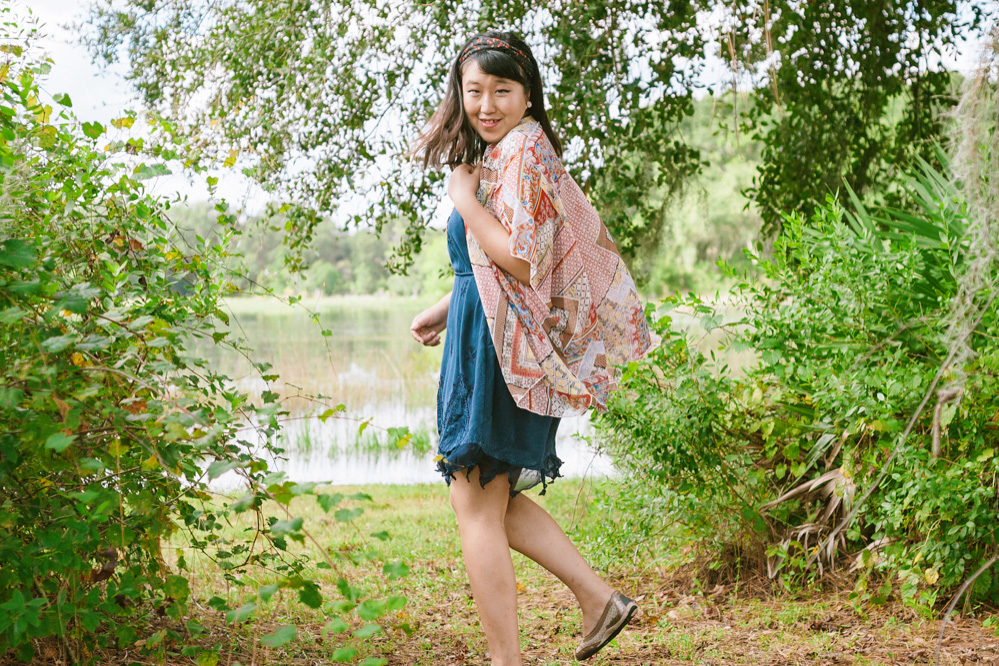 This Cardigan is great for Travel. I wore it on a drive across the state to St. Augustine earlier in the week, and it's lightweight and cool, and it doesn't wrinkle - a throw in the bag kind of piece. My only complaint is that it's a little large. Perhaps Stitch Fix should consider allowing size exchanges, but I read on their site that every piece is made to order, so I don't know how feasible that would be with most items. Oh well, the first run through the dryer should do the trick.
Gabbiey Sleeveless Maxi Dress by Gilli in Teal Green - $54
This dress reminds me of a similar maxi I own in coral which has become my go to dress for all occasions. I almost always get a compliment or two from strangers when I wear the other one, so I was excited to see this item. The only concern was the color, but once I tried it on and saw myself in it I was amazed by how well it complemented my body and skin. I wore the teal dress out today, and sure enough a passerby said it was beautiful. Jake said the same thing, but sometimes it's nice to get an unbiased opinion.
I liked every piece in this box so much that I was struggling to decide which item(s) to keep. I wanted all of them. Luckily Jake was there to help me rationalize using a little math. He said that since the $20 Styling fee is applied before the 25% discount for buying the whole box, the total would be $156. He pointed out that even if I returned the most expensive item, the black top, the total would still be $150, which meant buying the whole thing was a much better deal. It's more than I planned to spend, but I really liked everything in the box a lot. Sometimes even when I go out to the store to buy clothes I come home with something I'm not sure I'll wear more than once, but I can see myself wearing all of these items all the time.
I kept all of them and I have no regrets. Jake will have to put up a few more ads on the blog to keep up with my "expensive" new habit

Or you could help fund these reviews by clicking on this link to Stitch Fix before signing up. One last thing, I really like the style cards that come with each package. They give you good ideas for combinations, and I keep the cards from every order in a drawer in case I want to consult them later.