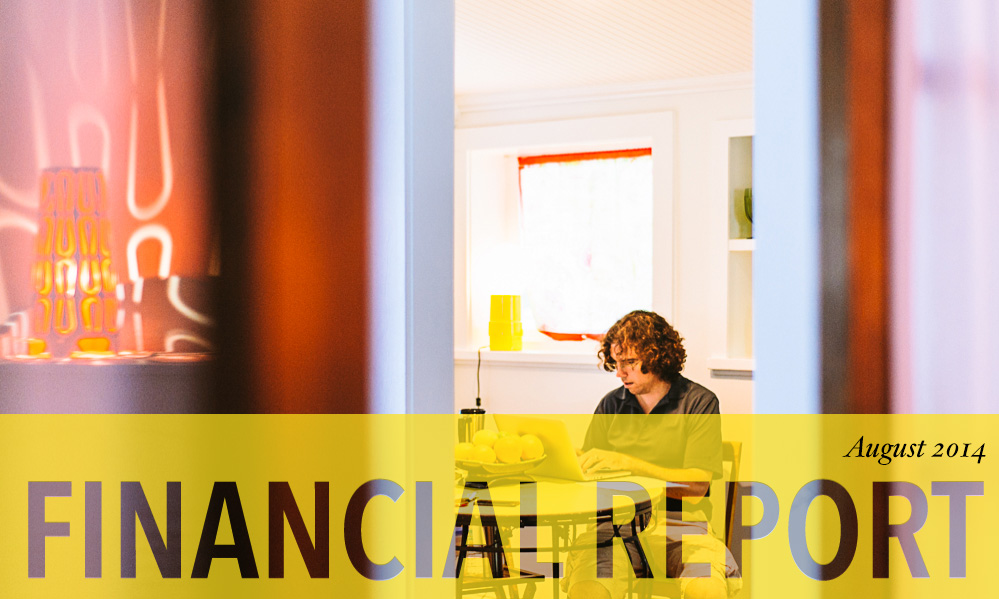 Hello again. This is Jake with the monthly financial report for August, 2014. August was a pretty good month for our photography business and our blog. We booked a lot of clients and we did a lot of exciting photo shoots, and blogging about them was a lot of fun. We even did quite a bit of traveling, including family trips to St. Augustine and Cedar Key.
Monetizing our blog went well too. I know that one generally tries to increase the number of income sources for their blog, but this month we actually reduced ours by getting rid of Shopsense, which was not generating real income (as I said in last months financial report, I suspected that the clicks it got were actually Dannie testing the links). So this month our only source of income was Adsense. We decided to monetize our blog two months ago, and we are hoping that it will one day earn us enough to become a second source of financial support for our household. We also donate 10% of our income from our business and our blog to Operation Smile, so please do come back frequently to see how we're doing. Here's how we made our money in August:
Google Adsense: $5.28
This more than we made from all of our income sources combined in July, and more than twice as much as we made from Adsense. Over the next month we are going to start experimenting with different banner sizes and locations in order to increase the number of clicks we receive.
Affiliate Links: $0.00
Sadly we did not have any affiliate sales in the month of August. Our affiliate links are located primarily in our resources page, which is intended to be a collection of web pages that we think will be useful to our clients and to other photographers. Some of those links are affiliate links because if we are going to recommend those pages anyway, we thought we might as well make a little money if we bring those sites business. We also had affiliate links in Dannie's review of Stitch Fix, which is a company we have been using to keep Dannie's wardrobe fresh for her lifestyle photography.
Total Blog Earnings: $5.28
Total Donation to Operation Smile: $0.53
Actually, even though the Stitch Fix review didn't earn us any affiliate sales commissions, it did generate a lot of our Adsense revenue. Because Stitch Fix published a link to our review on their website, we saw a dramatic increase in traffic to our blog. Unfortunately it isn't the kind of traffic that is likely to book us for a photography session, but it is a link from another website, which is always good for our Google Page Rank, and that in turn will boost our standing in search results.
We also brought in some traffic with a few DIY projects, including a photography backdrop, an inexpensive solution for displaying photographs, and a printable Instagram wedding sign. Not to mention all the people who came to look at photography we took of their friends and family members! Those were our favorite visitors of all.
$5.28 may not seem like a lot, but it's a 166% increase in Adsense income over July. At this rate, in September we'll earn $14.08, Next February we'll earn $5,067, and we'll have all the money in the universe well before 2018. Seriously though, it is encouraging to see an increase at all. The more money it makes the harder we'll work on it, and the harder we work on it the more money it will make.
Thanks for following our progress, and we're really grateful to all of our readers and customers who are making it possible for us to attempt this great adventure.