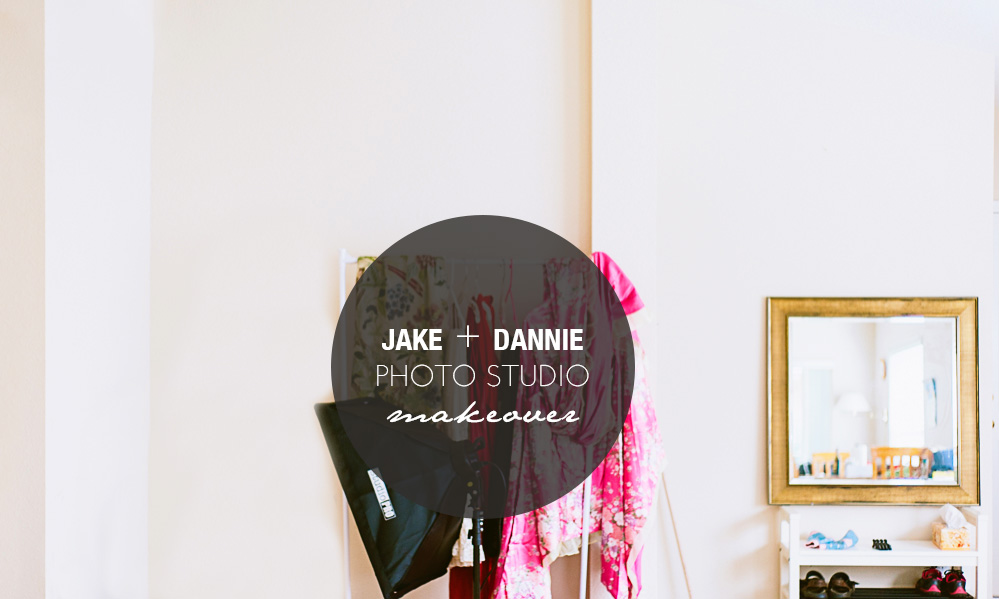 A while ago Jake and I decided to create a home studio space. We both love natural light and on location photography, but let's face it, sometimes there's a shot that you just can't take without a controlled environment. Renting a studio is impractical for us due to the cost and the area we live in, so we just had to decide where in the home to put it. There was just one problem; every room in the house was already in use.
Our first impulse was to empty out the garage and put up some lighting, but after attempting a few sweaty photo shoots in there we determined that an unairconditioned garage was not the best place to make someone look or feel beautiful. The bedrooms, bathrooms, kitchen and office were out of the question as well, which left just our living room. Once we gave it some thought it seemed like it should have been obvious from the beginning. The living room is big and it has a high ceiling, with large windows that let in beautiful diffuse light during the day. Plus we almost never use it since we don't watch TV and we spend most of our time in the kitchen and the office. We got started right away.
The hardest part was replacing the lighting. The only light fixture was a ceiling fan that hung down in the middle of the room. Not only was the light inadequate, it was also ugly and it hung so low that it risked getting in some of our wider shots. Jake replaced it with some adjustable track lights from Ikea. Not only do they stay out of the way, but Jake can use a ladder to aim them any way we want if we need a little extra directional light for our shots. It's not quite as good as having a spotlight up there, but it's a lot better than that awful fan.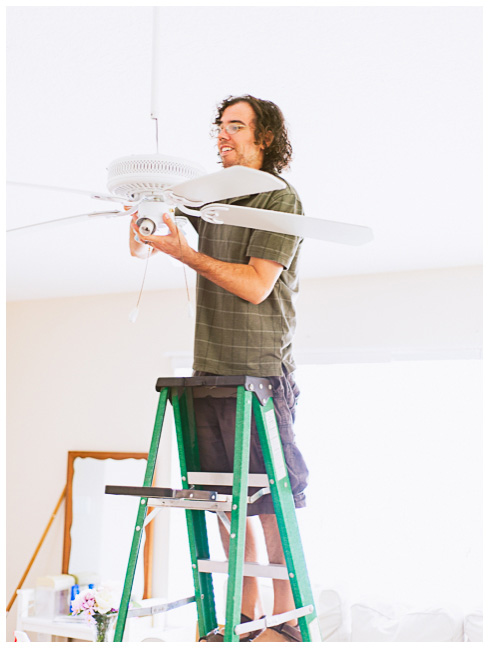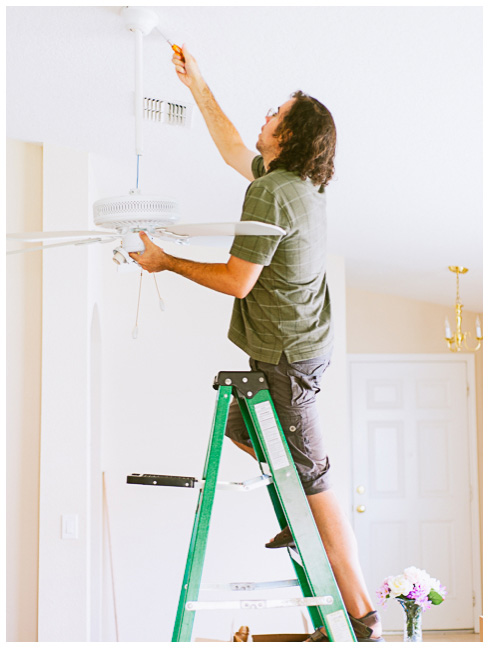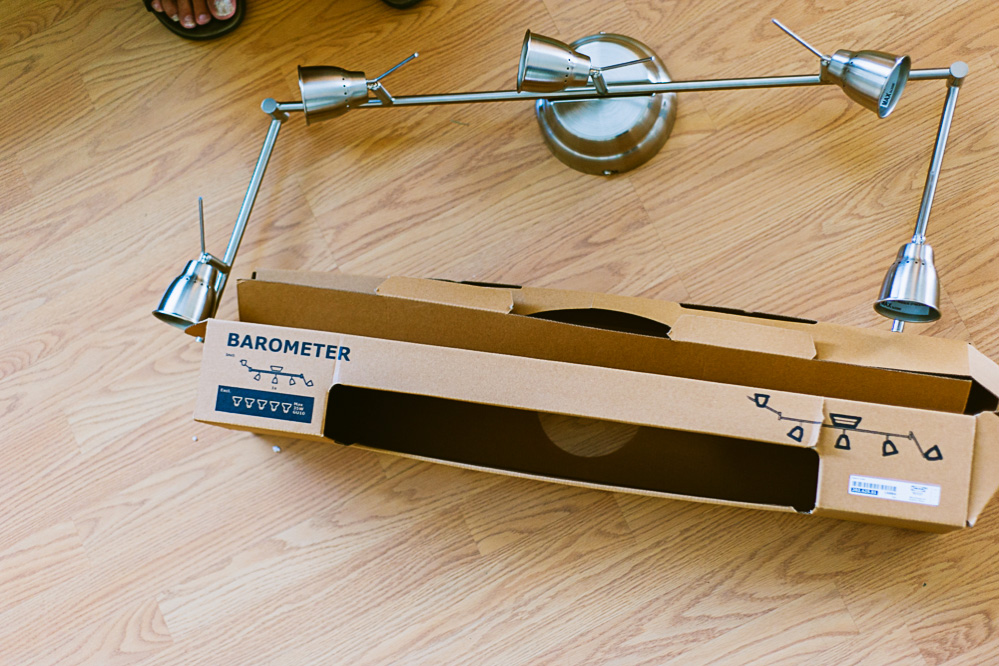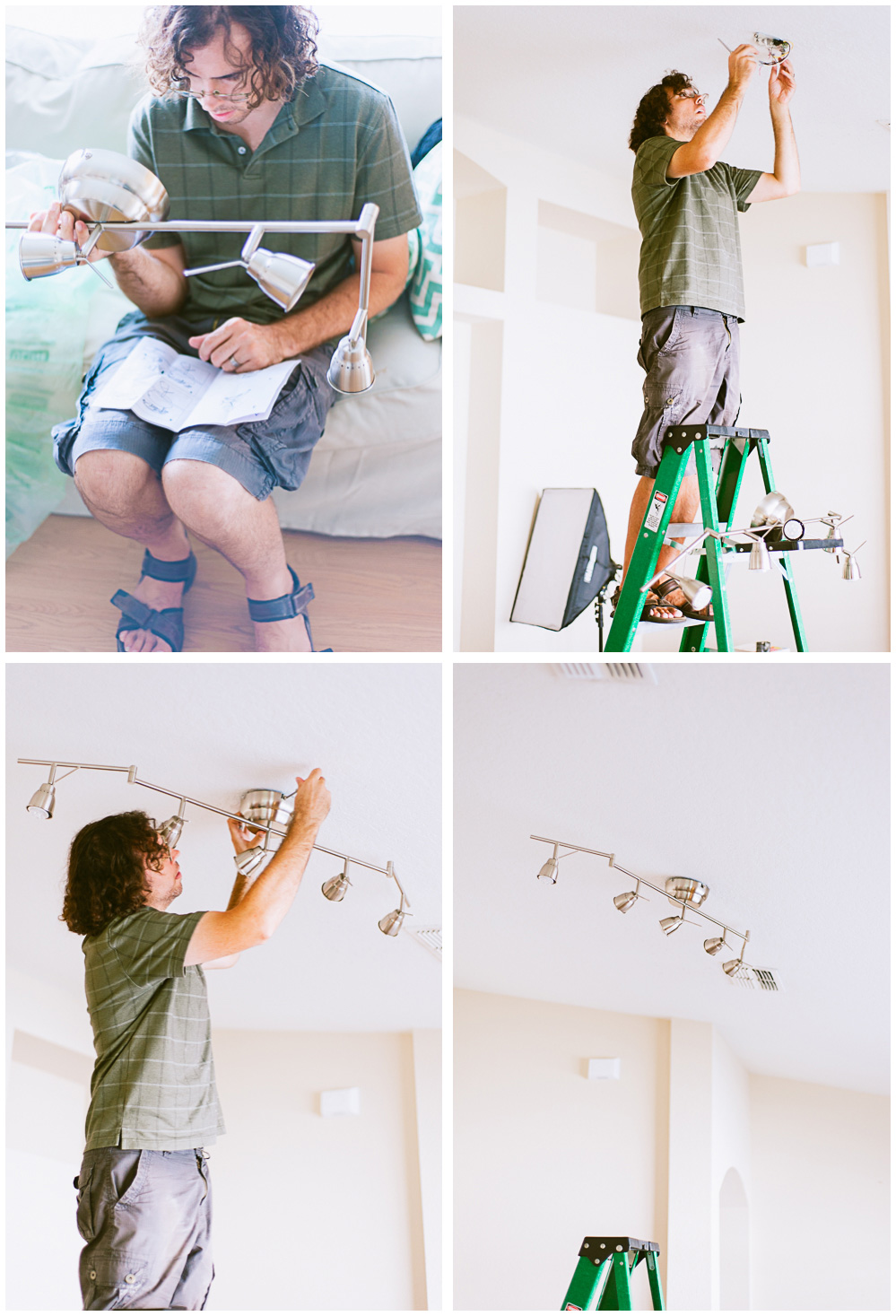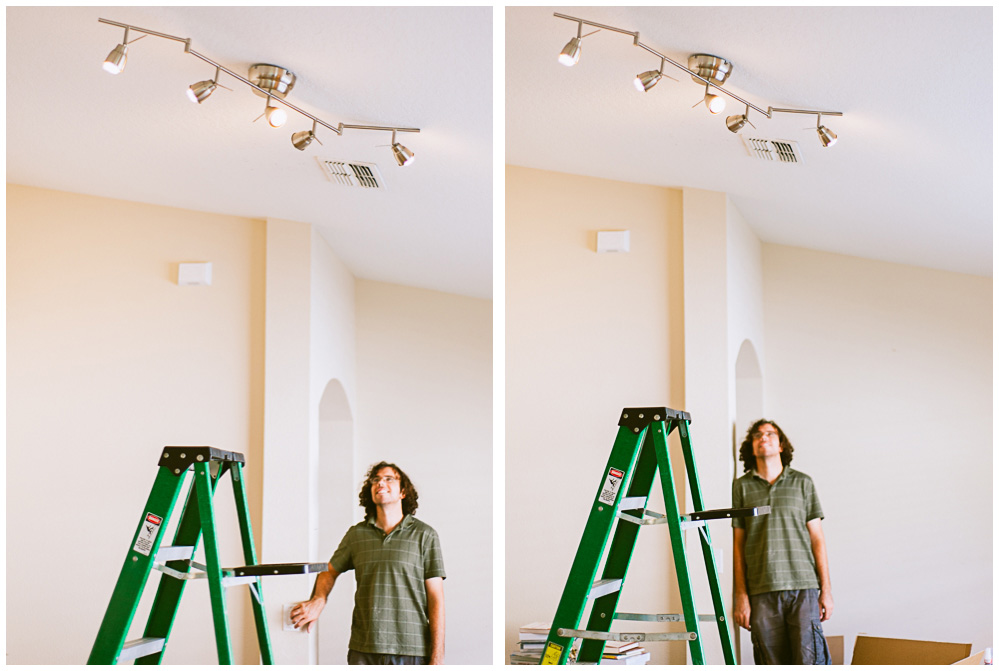 We also had to move the couch back against the wall, and we moved in a big white display case from the other room to store accessories that we might want for our subjects during a shoot.
Now that we had a space we were also free to order some studio equipment that we always wanted but couldn't use before, like a backdrop stand and some cloth backdrops to go with it. We were especially pleased with our purchase of a black and white marbled background which makes the subject stand out without being quite as dull as a solid color. Our living room studio is exactly what we needed; it's got plenty of space, and it's right near the kitchen so we can serve refreshments to our models or clients (plus when we want to photograph our food we can just carry it over and put it in front of the lights if the sun has already set. And we're very glad we chose to make it in our home because the time we don't spend driving to our studio is time we can spend planning our shoot or working on our blog. And when we need the space for something else the equipment can be broken down and moved into the closet.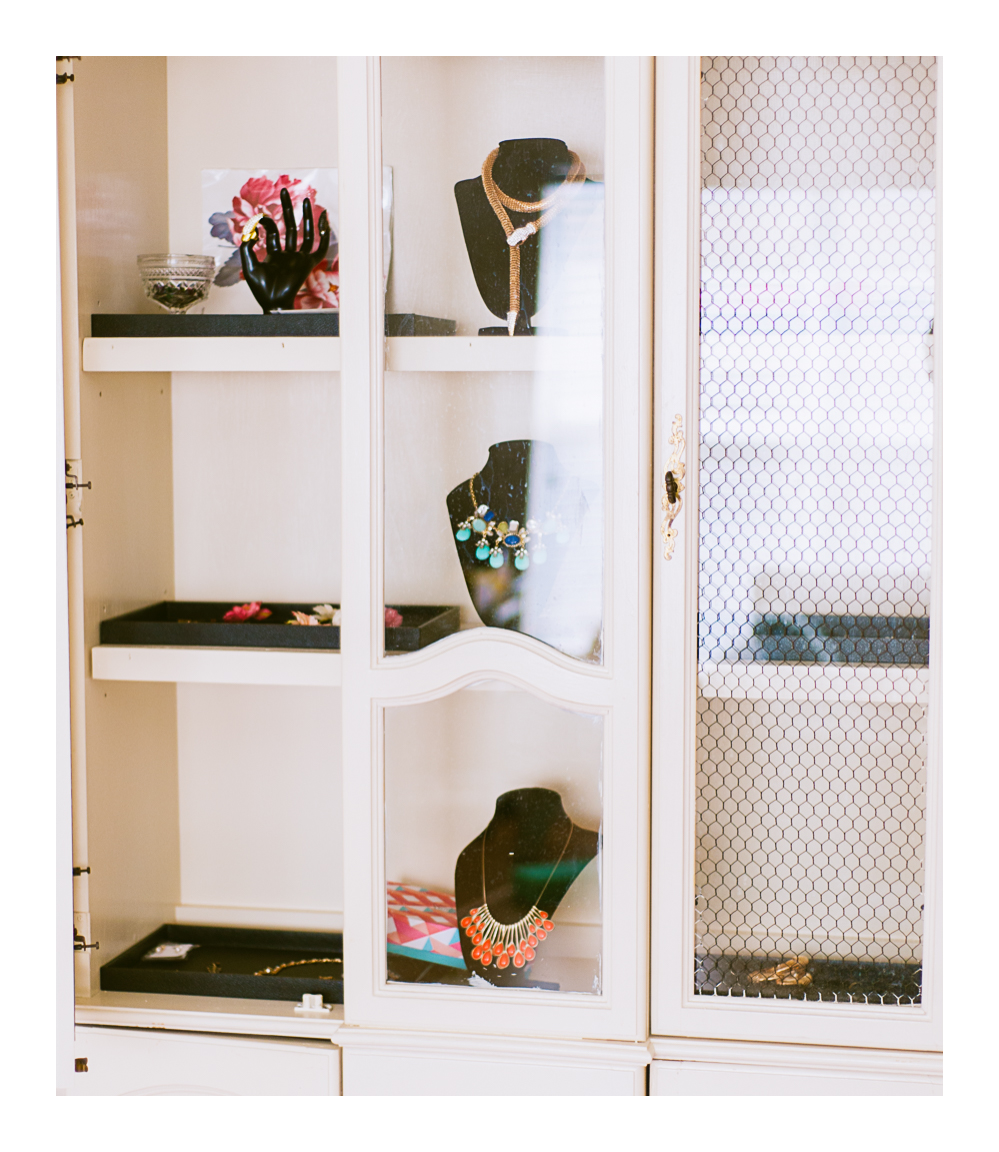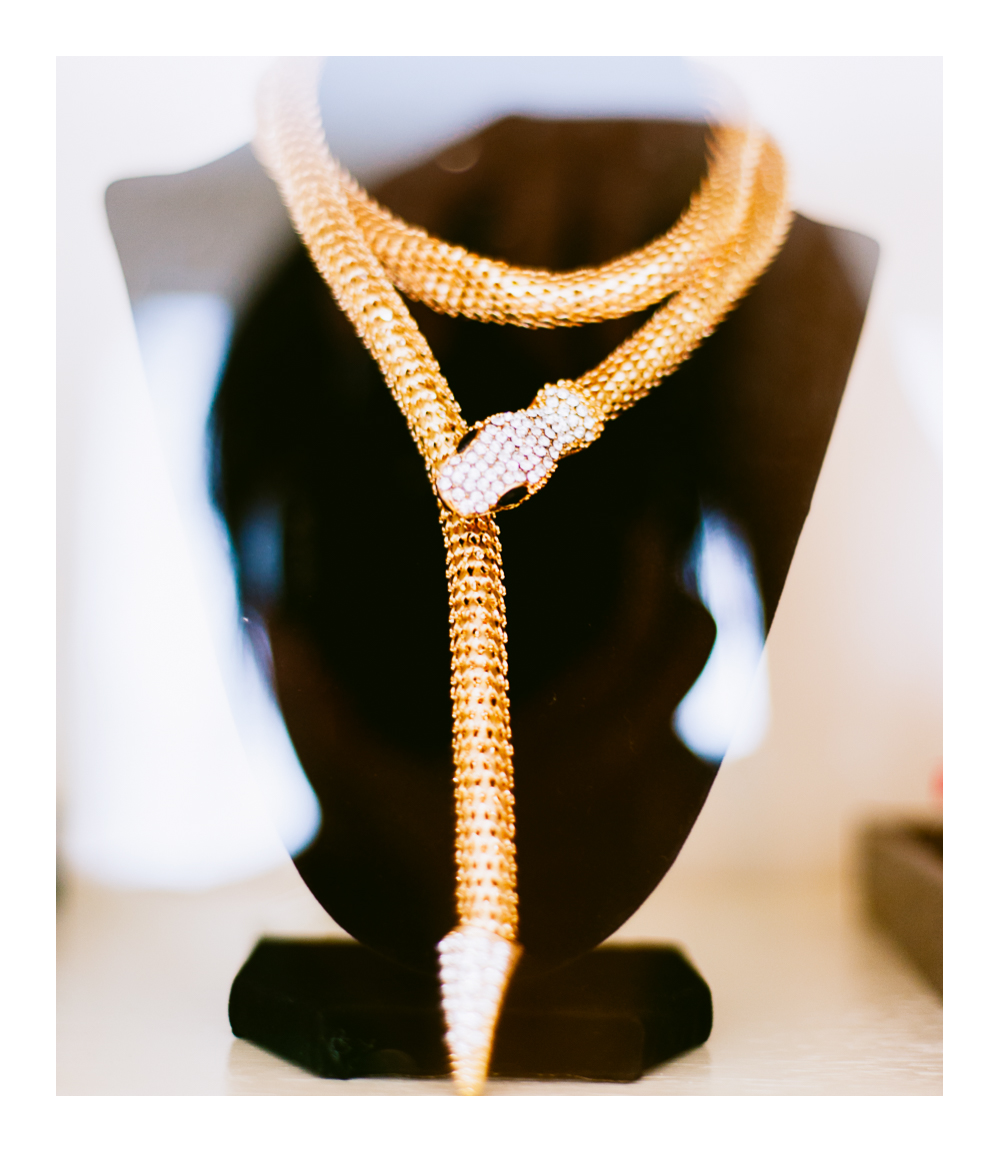 One other pleasant surprise from our new setup - ever since we turned our living room into a studio Jake has become a one room neat freak, going around with a dustpan trying to keep the backdrops and gear clean. I think I'll store the backdrops in a different room each day so that Jake will clean the whole house all by himself, leaving me with more time to edit photos.
Even though I love doing portraits and weddings, I've always also wanted to work with other businesses and designers too. I think this studio will help me to make that happen, since the controlled environment and studio lighting allows us to focus more one what a client needs highlighted.
We recently broke in the studio with our model, Julia (view our previous shoot session with Julia). We're still editing the photos, but here's a sneak peak of what we came up with: a halloween photo session with Julia and her son, with make up by Joan Allen of Fashion and Glamour Makeup by Joan Allen. Both Julia and Joan are a pleasure to work with. Jake took care of the lighting and I did the shooting this time (we always work best when we work together). These are some photos we took of Julia getting ready - the best is yet to come.