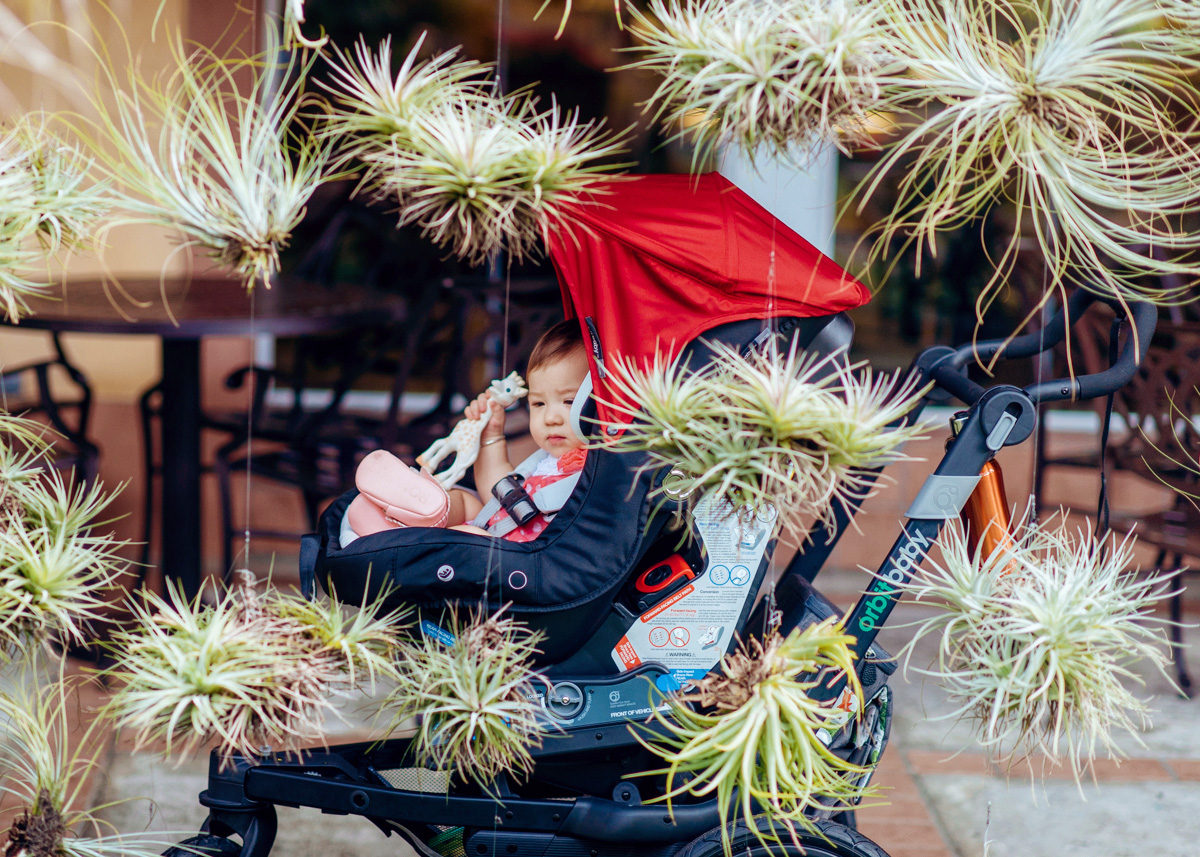 When we first decided to travel abroad as a family, one challenge jumped out at us right away. How were we going to transport Lisa? It doesn't sound that hard at first - a stroller, a chest carrier, whatever - but as we began to think about what our day to day experience would be, we began to realize that we might have a problem.
Traveling With a Baby Isn't Easy
The first problem we saw was that our travel plans were long. Maybe we could endure some inconvenience for a weekend (we certainly have before), but I doubt it would take a full twelve months in Europe for a small inconvenience to become an unbearable burden. This means that whatever solution we find has to work fairly easily, and has to be either very durable, or very easy to replace.
Our first instinct was to go for the latter and find a cheap umbrella stroller. The idea was that it would be light weight, replaceable, and easy to store. And no doubt it would have been, but then another problem arose. An umbrella stroller only helps us while we're on foot. Sometimes we're going to have to fly. Sometimes (probably a lot of times actually) we're going to have to take a cab. That means we need a carseat. Once the cab drops us off, what do we do with it? I could carry it on my back. But most of our outings are going to be photo shoots, and I have to carry the camera gear and Dannie has to carry outfit changes and baby supplies. Not to mention one of us still has to push the stroller.
Note: I've heard that you can get away with riding in a cab without a car seat. We considered that, but like I said, we're doing this for a whole year and we can't sacrifice safety for that long.
So our next thought was to go with a stroller and car seat combo. We even thought about bringing our current jogging stroller and car seat, since one attaches to the other fairly easily. But then another problem arose. Lisa is big for her age. She's in the 95th percentile for weight and height, and we worry that by the time we're halfway through 2017 she will be over the weight limit for the car seat, which is only 30 lbs. She already looks uncomfortable and cramped in there with her head nearly touching the sun shade, her legs dangling over the edge, and her arms pressed against her sides. An infant seat wasn't going to cut it.
So we went to the store looking for a toddler car seat that could attach to a stroller. There wasn't one. We tried another store and got the same result. On Amazon we found a couple of airport dollies that could hold a car seat, but they looked a little flimsy, like they might fall apart on the photogenic but bumpy cobblestone streets of a European city.
Our Stroller Requirements:
It had to be sturdy so that it could last for a year.
It had to involve a car seat.
That car seat had to be big enough for our growing baby.
The car seat also had to lock onto a stroller.
I spent a healthy amount of time searching online for a solution. Dannie spent an unhealthy amount of time doing the same. We couldn't believe that there wasn't a big enough market for this product to produce an array of options for us. It turns out that there was really only one brand that met our needs: Orbitbaby.
The Orbit Baby 02 Jogging Stroller and Toddler Seat
Now, normally when I say that we only have one option, it means that we are embracing it grudgingly, but parents who have spent a lot of time reading about baby transportation know that Orbitbaby is hardly a compromise. We took it out of the box last week, and the effort they put into quality and design is immediately apparent. The O2 just feels extremely durable, but so much attention was put into the design that it folds up smaller than our older, flimsier jogging stroller.
Almost everything on it is adjustable, from the height of the handlebar, to the elevation of the seat base. Dannie always hated the handle bars on our previous strollers since because they were either too high, too low or the wrong shape for her to hold properly. It has sandal friendly brakes (scroll up a couple images to see the dual peddles that will never scuff your shoes - or your toes - because you never have to pull up), ample storage space, and it rolls and turns so smoothly it feels like it's not even touching the ground. And Lisa will certainly appreciate the shock absorbers as we're rolling down those bumpy streets.
The toddler seat is also great. I must admit that it's a bit heavy, but it must be comfortable because Lisa sleeps in it amazingly well. We love that we can just leave the side impact braces on and take it in and out of the car without using a base. This will come in handy when we travel by taxi or airplane (the seat is FAA approved). I was worried that fastening the seat with the seatbelt would be a lot of work, but it only takes a few seconds. The only catch is that Dannie has to hold Lisa while I unfasten it because Lisa's legs would get in the way otherwise. Luckily we'll always be traveling together during our big European adventure, so that shouldn't be a big problem.
As an added bonus, it's good for up to 65 pounds, which should last even our big baby for quite a while. The stroller itself is good for up to 50 pounds, but by the time she's that big she should be able to do most of the walking herself anyway.
Now we are trying to figure out the best way to pack our supplies when we go out for the day. Which things do we carry on our backs and which things do we store under the seat? The camera bag probably goes over my shoulder, and the diaper bag goes in the storage compartment for sure. We know we can fit everything else we need if we get creative, it's just a matter of how often we'll need something and how quickly we'll need to access it.
I'm also working on how to turn the stroller into a makeshift tripod for our camera or flash. If I can pull it off and we don't have to carry bulky gear around with us, it will be a really big bonus. I'll let you know how it turns out, so make sure you subscribe to our emails or follow us on facebook so you don't miss it.
If you've traveled with a baby we'd love to hear what worked for you (or didn't) when you had to get from one place to another.
Baby Travel Resources: (This post contains affiliate links. If you use them you get the same great deals, and you also help support our amazing adventures.)
BABY TRAVEL GADGET | Stroller and toddler carseat: OrbitBaby O2 Stroller (Use coupon code: Kp9OOI3cgAV7LeG for 12.5% Off O2 stroller, offer expires August 31st)
PLACES WE WENT ON THIS TRIP | Bok Tower Gardens & SEA LIFE Orlando Aquarium