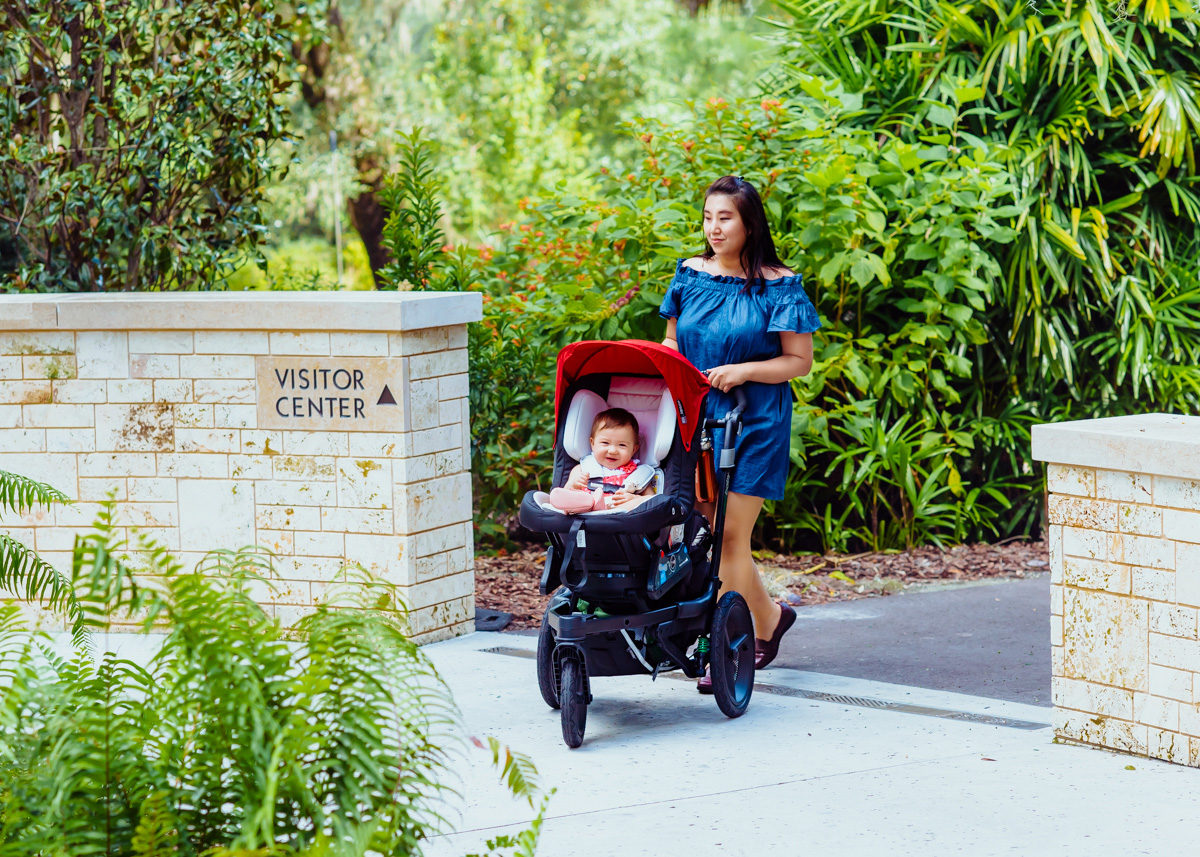 Dannie and I had a whole day of photography planned, and we were on our way to Orlando to start our morning on Park Ave, a favorite location of ours. Of course, sometimes you have to mix things up a little. Baby Lisa was in the back seat, sleeping away. Sometimes I kind of zone out while I'm driving and let the GPS tell me where to go, but today I was somehow paying attention to the scenery around me, and when I saw a big brown sign I'd never noticed before, I asked Dannie "What's Bok Tower?"
"Oh, oh!" She said, "That's that place!"
I couldn't tell if she actually expected me to know which place she was talking about, but I could tell what it meant for our planned morning photo shoot. We'd just published a post last week about carefully planning our personal photo shoots, but Dannie pointed out that we go to Orlando all the time, and this was a good chance for us to take Lisa somewhere she'd never been before.

Entering the Bok Tower Gardens
At the gate we paid $12 for the garden pass, opting to skip the museum for some outdoor photography. The road leading to the park was long and beautiful, lined with orchards and grassy rolling hills. Dannie said it reminded her of pictures she'd seen of Europe. It was kind of like what I imagined we'd see on our trip next year. After parking we made our way through the gardens, along winding paths and between bright, flowering bushes. I was kind of glad to have a little bit of a challenge for Lisa's new stroller.
Even though there was some construction going on at the time as part of a multimillion-dollar renovation, it wasn't hard to get a few good photos of Dannie and Lisa exploring the winding garden paths. There was a little shade here, and it was still morning, but I was glad that we'd brought the baby sunblock with us since it was a Florida August, and even the kindest outdoor conditions can be brutal.
The Tower
Of course, the main attraction is the tower itself. The best view is definitely the first one you get to inside the park, facing south across a long reflective pond. Of course, the best view is not always the easiest to photograph. The foreground here is shady, and so is the tower since the north side of any building in the northern hemisphere will always be shaded. This forces you to choose between a dark foreground or a blown out sky. You could use a neutral density gradient filter, but the tower is the most important part of the shot and it is sticking way up into the sky, so it would just get even darker without solving the problem.
There are a couple ways to deal with this. You can either take a walk and photograph the southern face of the building, which looks similar but with a less interesting foreground. I took a couple of those just be safe, though I find the images to be a little less compelling. Alternatively, you could expose for the bright sky, leaving the tower and the trees dark, then make your wife fix them in Photoshop while she glares at you when you get home. Guess which one I did.
When you get closer you can get some nice photos with the beautiful gold door in the background behind the moat, but unfortunately, you can't get to the other side of the moat thanks to some locked gates. I suggested that we storm the castle, but thought better of it when I saw they had a defensive information booth. I went to the information booth and asked the employee if it was possible to cross the moat, and he told me no, but we should stick around for a few minutes to hear the carillon bells. We did, and the music was very pretty (even though it was just a recording played over speakers instead of actual bells).
The Koi Pond
Of course, for us a great day trip needs two things. It has to have great photo opportunities, and it has to blow our baby's mind! Lisa cared not a bit about the bok tower, the gardens or the music, but she flipped out when we fed the koi fish. The information booth had change for a dollar so we got a handful of fish food and threw it in the pond a little bit at a time. The koi fish would swirl around and splash the surface of the water, and Lisa would wiggle and giggle and clap her hands with such intensity that I actually worried that she was having some kind of pleasure overload.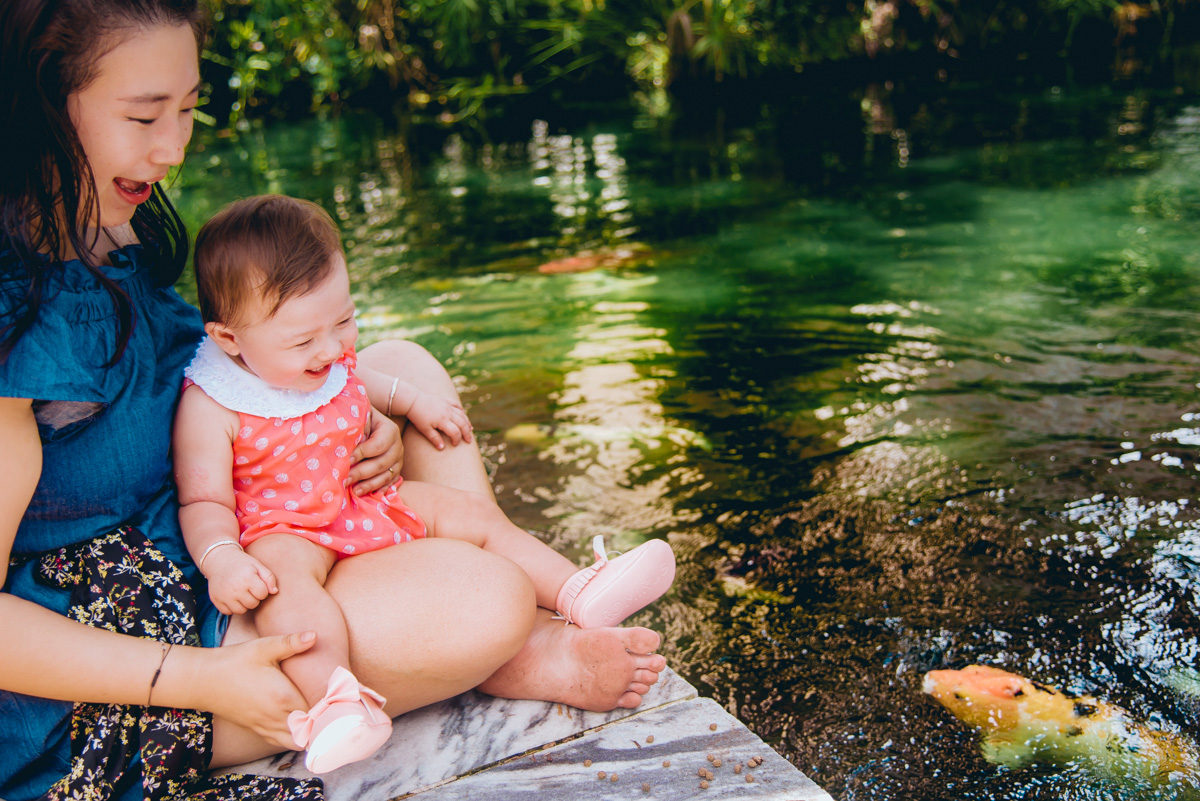 As usual, we go for a long drive for some location based photography, and Lisa goes and steals the show.
Other Things to do
After the koi pond, we were getting plenty sweaty, so we headed to the cafe and had some ice cream. Dannie shared her coconut flavor with Lisa and I had boring old chocolate (you know, because I'm boring). It was about noon, and we still had some photos to take in Orlando (check back for those next week), so we decided to head out. We drove back toward the gate, and as we passed all those orchards and fields, we couldn't help ourselves from stopping for a few more pictures. I'm not sure if these places were actually part of the park, or if we were welcome there, but we didn't stay long and I'm glad we stopped because it really was beautiful.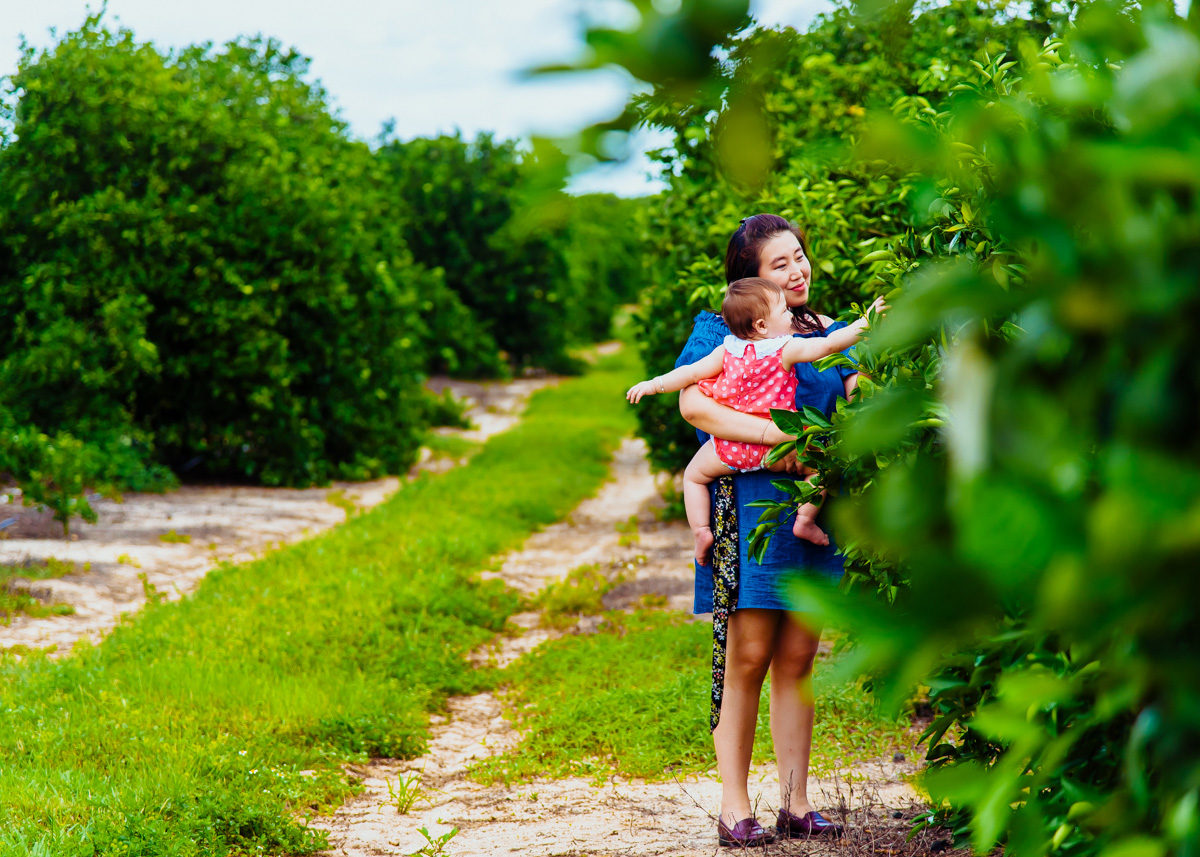 If you're thinking about visiting Bok Tower, I definitely recommend going in the morning before it gets hot outside. Based on the size of the parking lot you're also better off coming in the middle of the week since they must get big crowds on the weekends. I didn't get into the history of the place in this post, but there's a lot to learn there as well. So bring the kids, bring your camera, and bring a couple bucks for fish food. You'll have a blast and get some great photos to remember it by.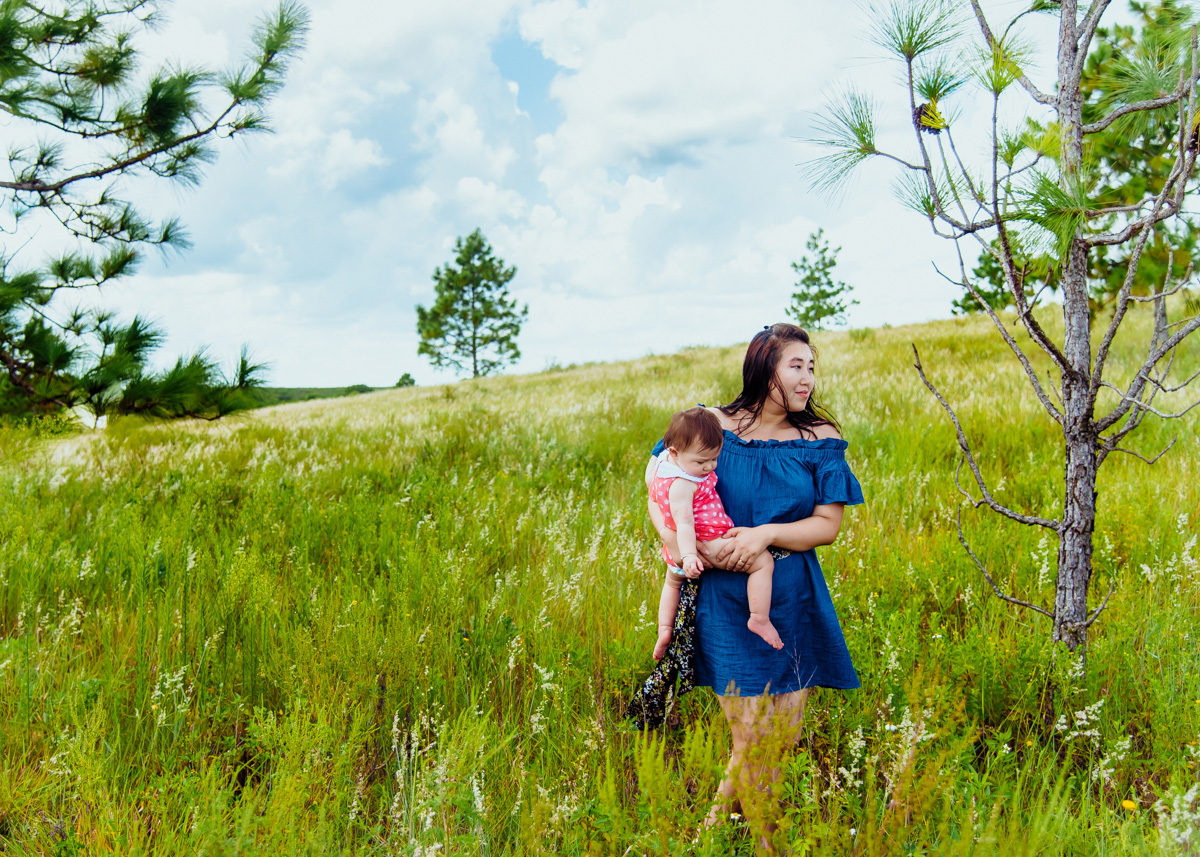 WHAT DANNIE WORE: Denim Off-The-Shoulder Dress @Anthropologie | Floral Scarf @Target