This is the second post of our series about our anniversary trip to Savannah. Read about Day 1.
On our second morning we stumbled out of our bedroom and were greeted by our Airbnb host Sue, who offered us some hot tea. She made us a breakfast of vegetable frittatas served with corn tortillas and roasted brussels sprouts and tomatoes (she said the tomatoes were just to give it a little color). Sue was a great cook, and if I lived closer to her I would probably start a food blog starring her. While we ate we told her about our plans for the day and she told us where we could get free parking.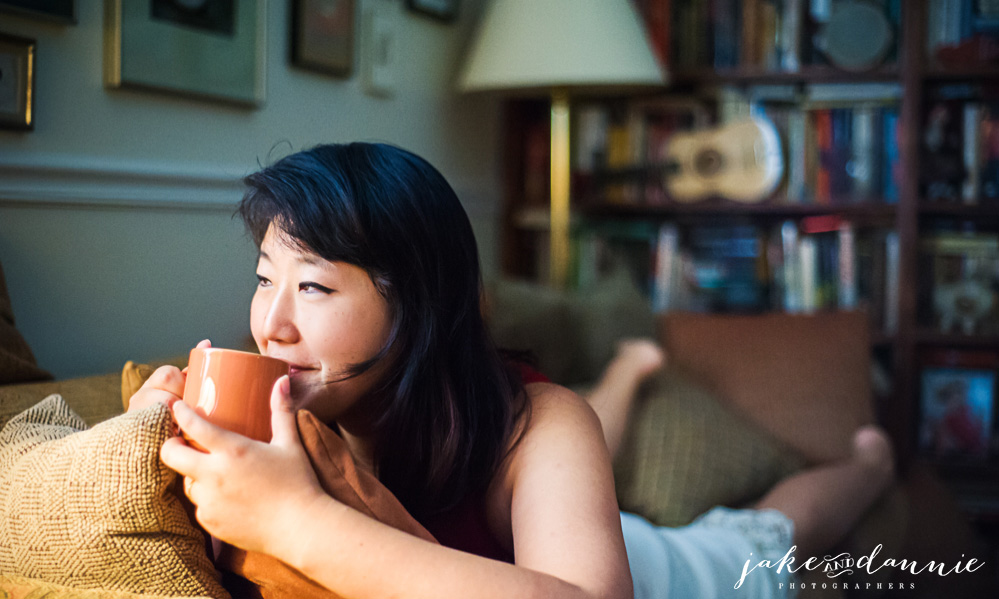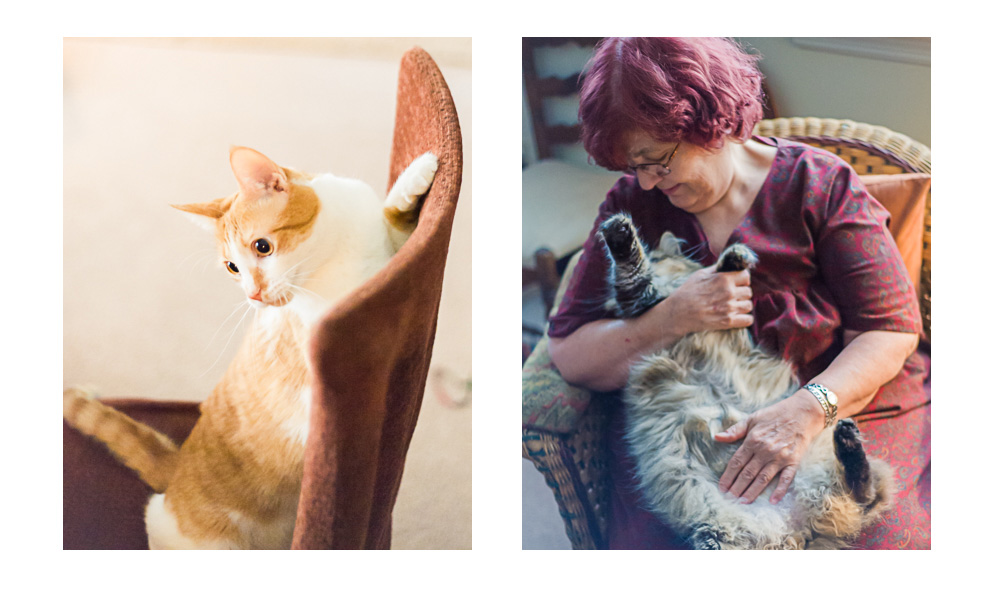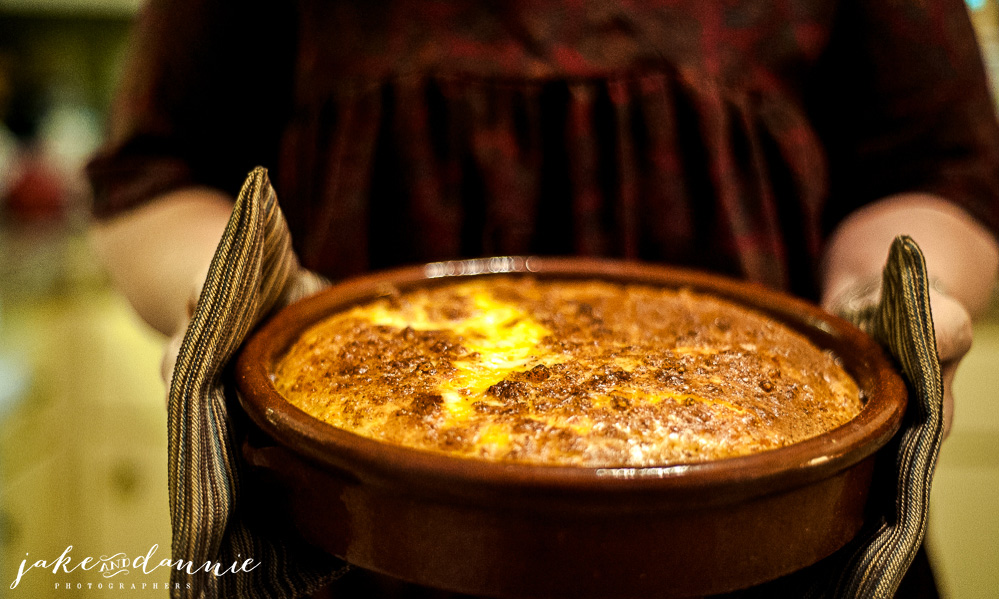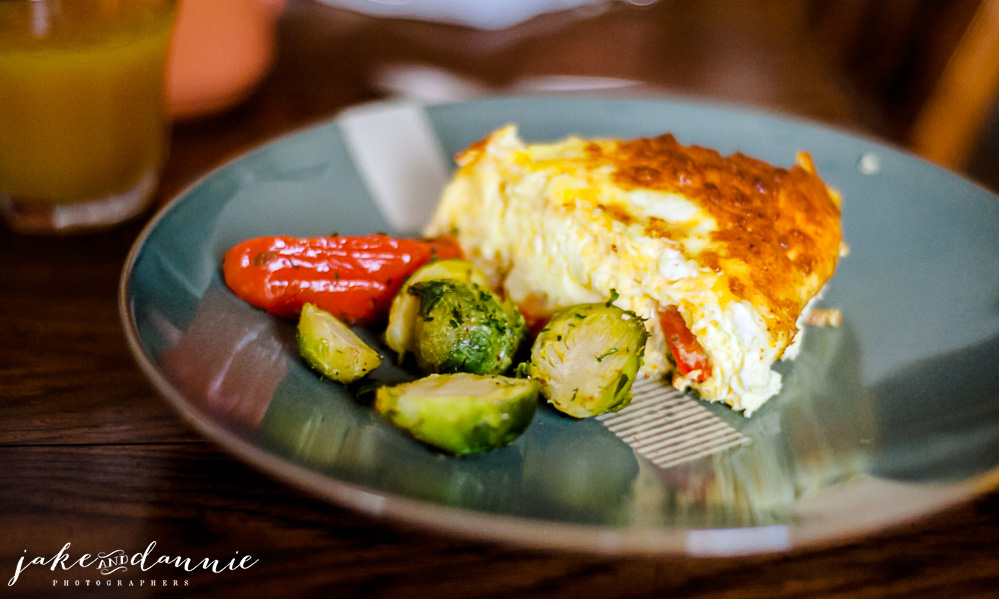 We did some touring the day before, but today I had a list of places to visit that I'd been researching. We parked on the southern end of Forsyth park, just like Sue told us, and we walked north through up a beautiful paved path through rows of trees and up to a giant fountain where Jake took some photos of me. We kept going north out of the park and walked through a few of the many scenic squares that dot the city, filled with statues and old crooked trees. Eventually we reached Broughton Street, which is lined with shops and restaurants I'd read about before the trip.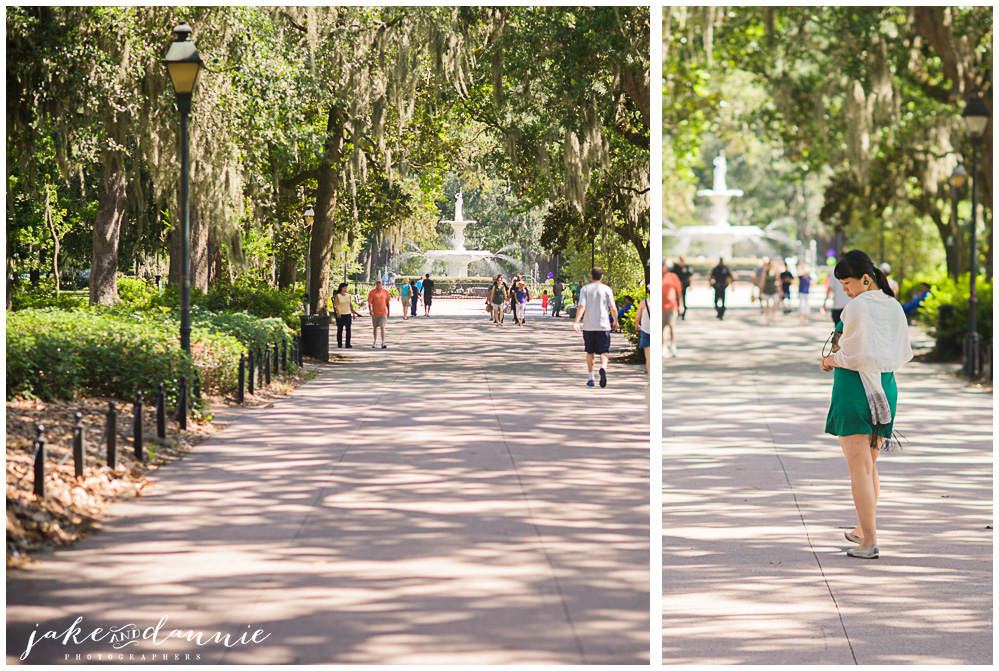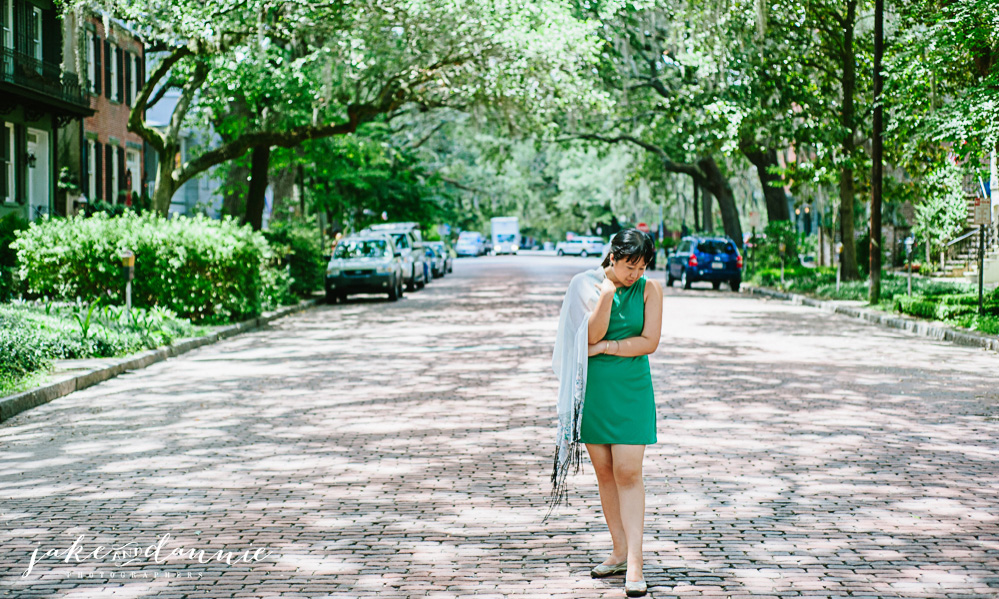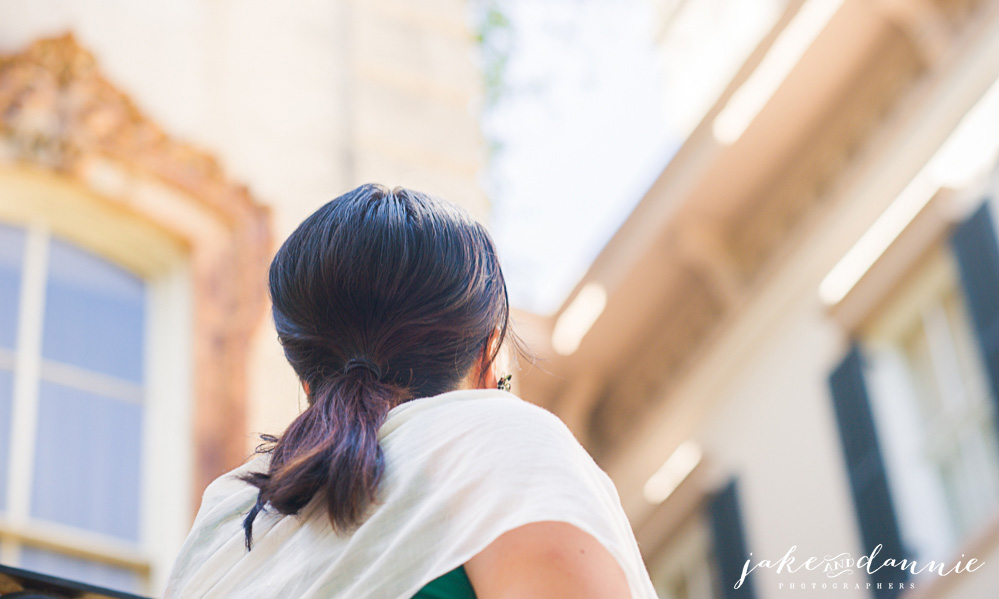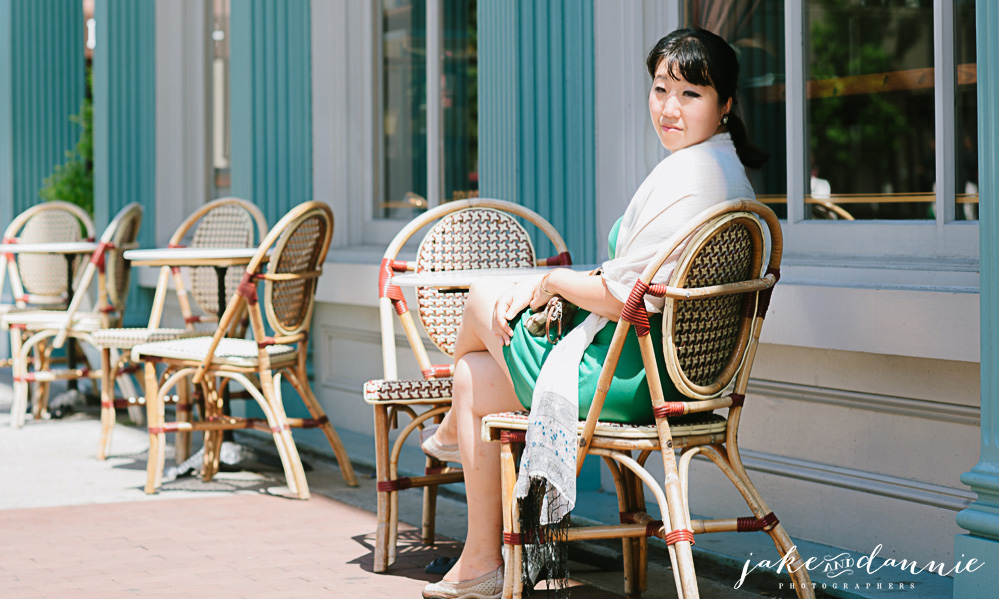 Jake and I were getting hungry, so our first stop was a cafe called Goose Feathers, where we ordered sandwiches and sodas while we cooled off inside. After that we walked to the Paris Market, a parisian style cafe/shop loaded with jewelry, soaps, perfumes, knickknacks and table settings. If I ever own a store I want it to be like this one! They even had macaroons. If I ever go to Paris I'll be bringing home a big box of macaroons from Laduree. We also went to The Savannah Bee Company for free samples of honey, and we went to Leopold's for their famous ice cream.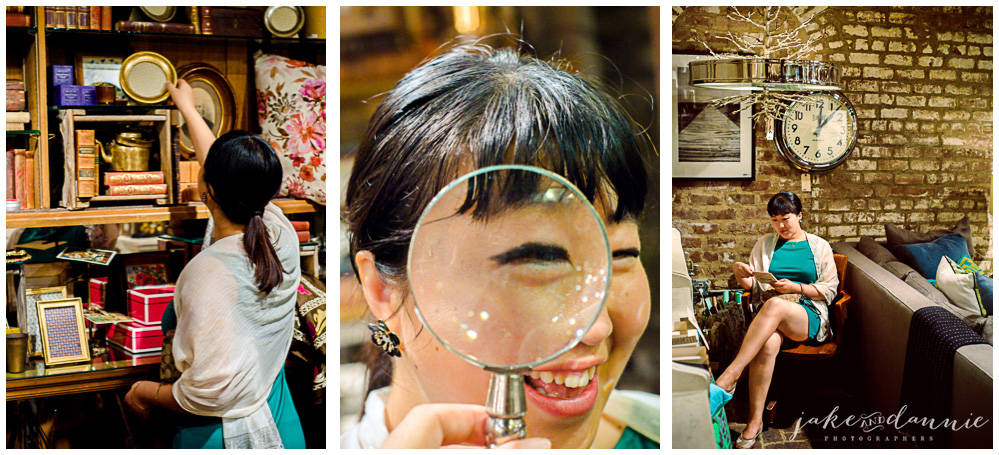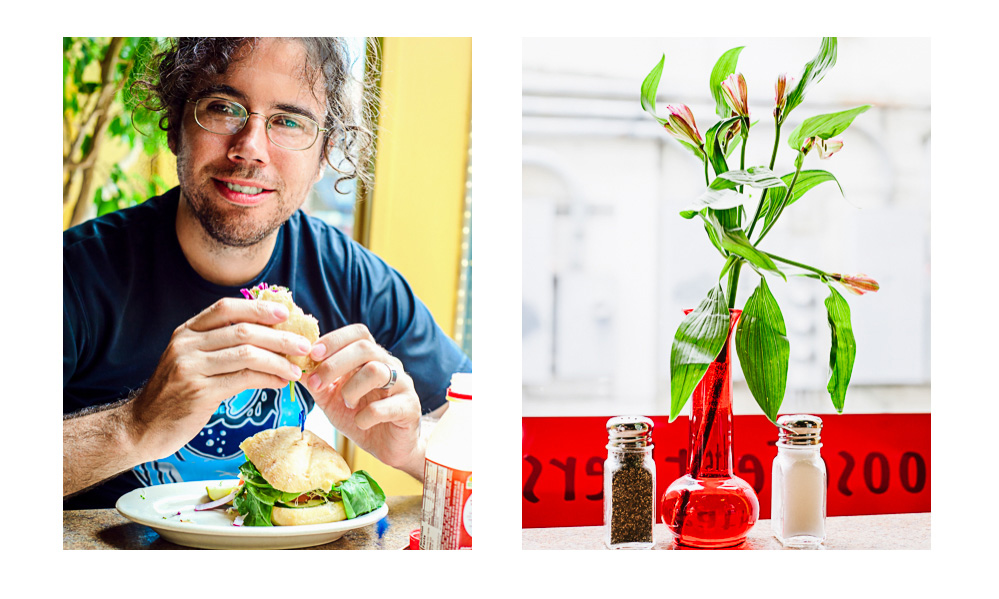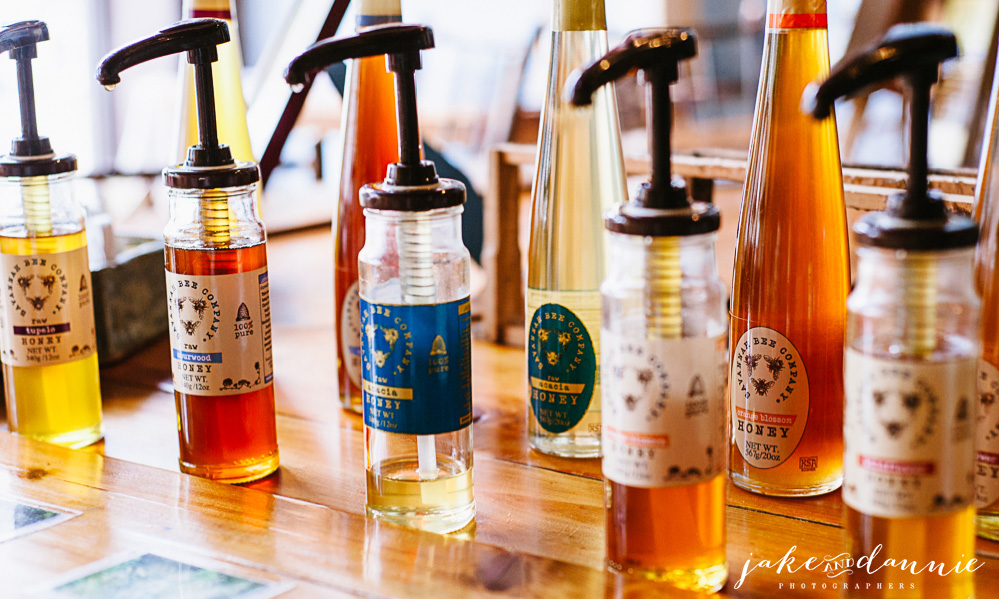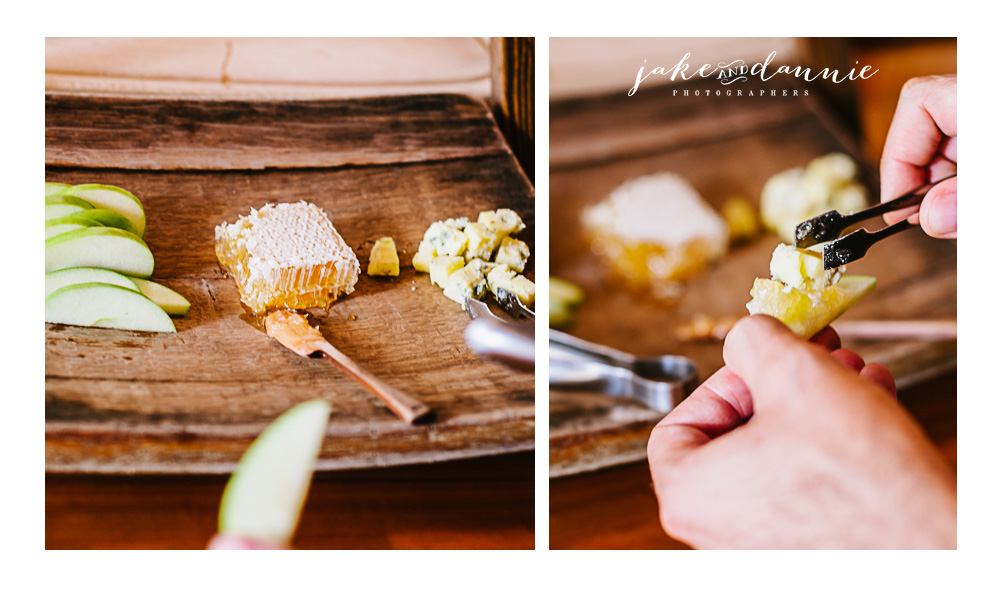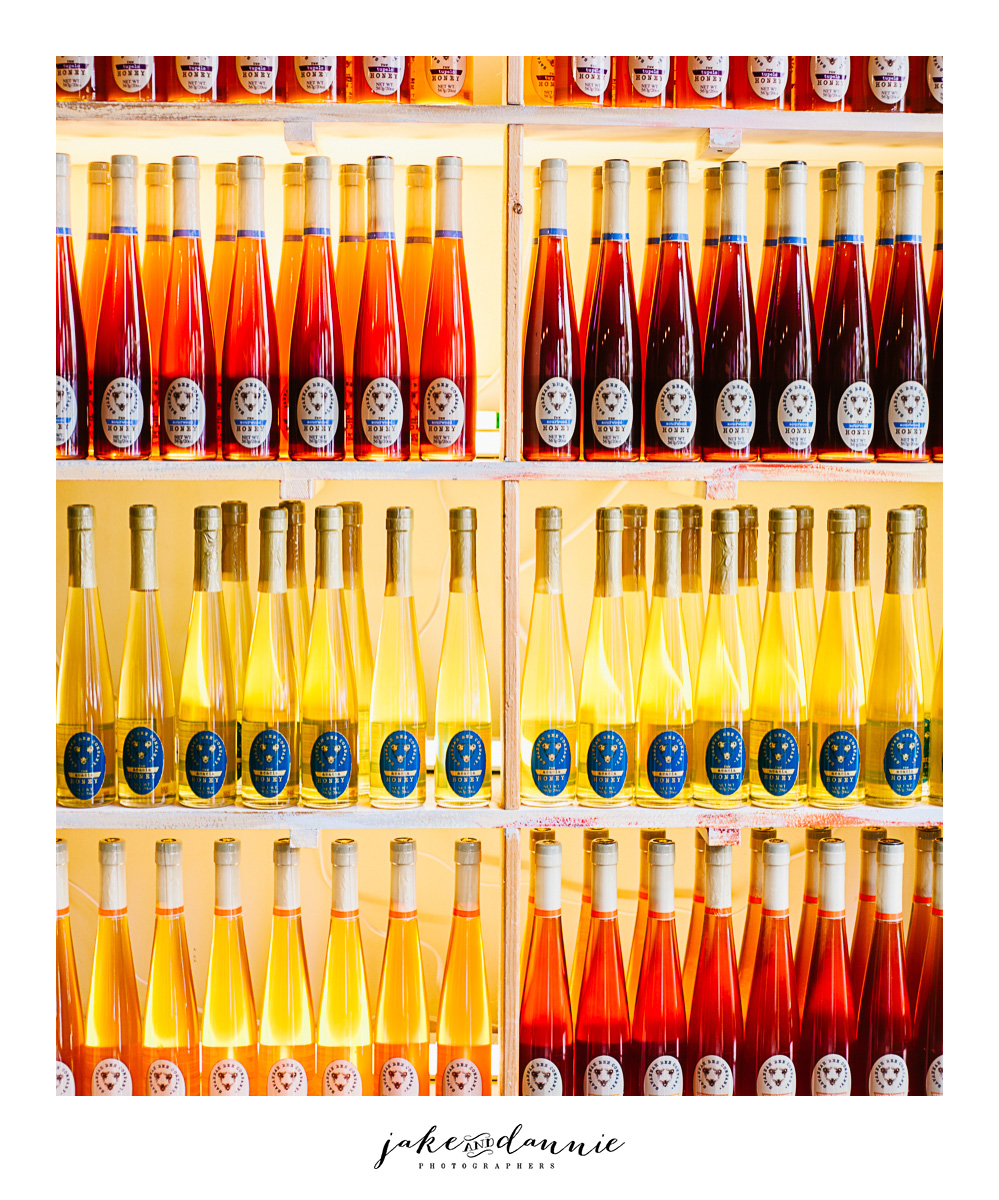 On our way back to the car we passed a woman who was handing out parrots. Well, not handing them out exactly, but letting people hold them. Her name was Jill and she runs Wings of Joy, which she describes as a ministry that brings beautiful and intelligent birds to hospitals, nursing homes and schools to cheer people up. It's kind of like therapy dogs with feathers. She decked Jake out in parrots and it certainly seemed to cheer him up. Unfortunately she doesn't have a website, but we wanted to giver her a shout out anyway.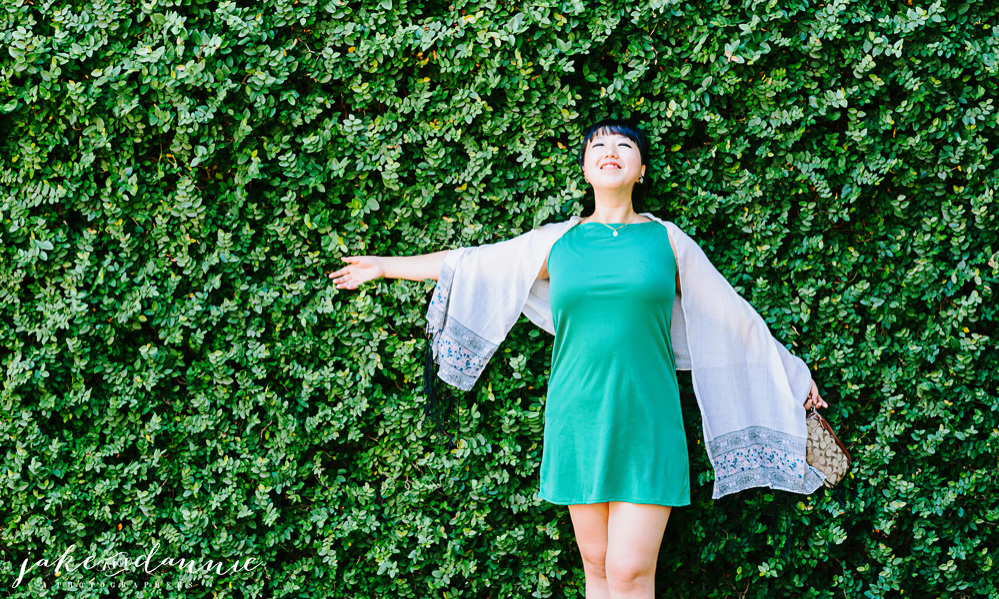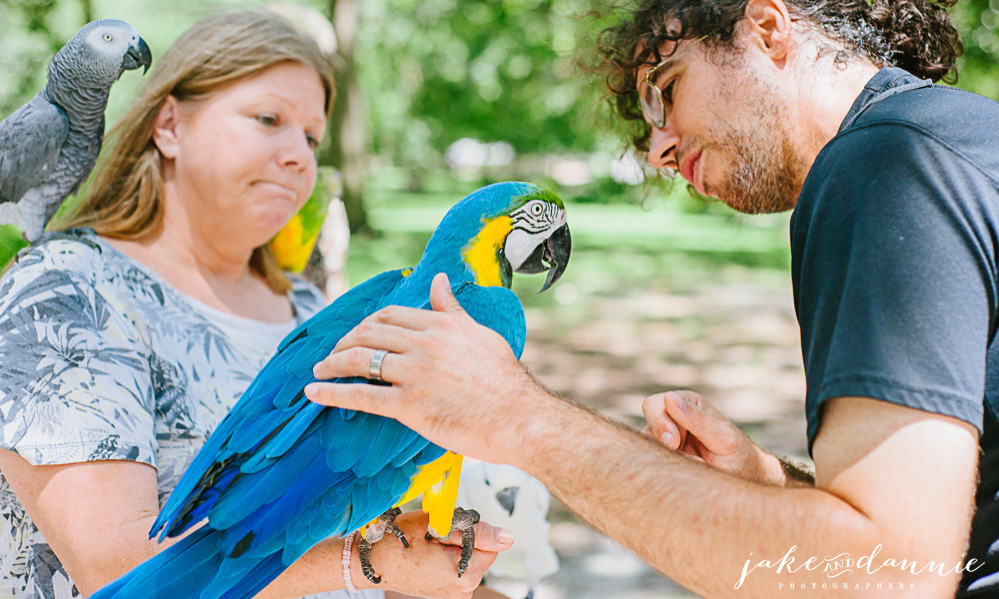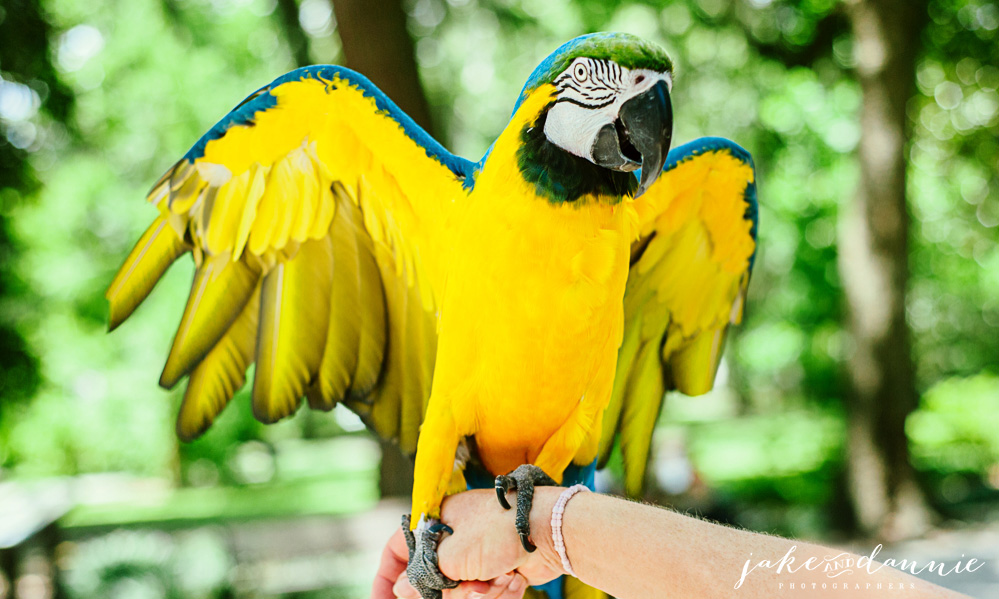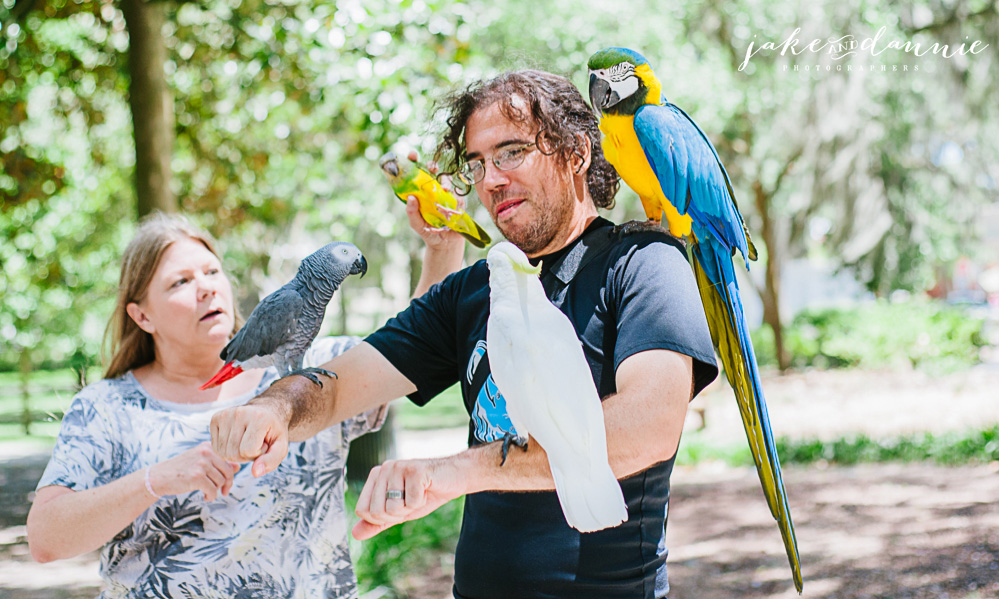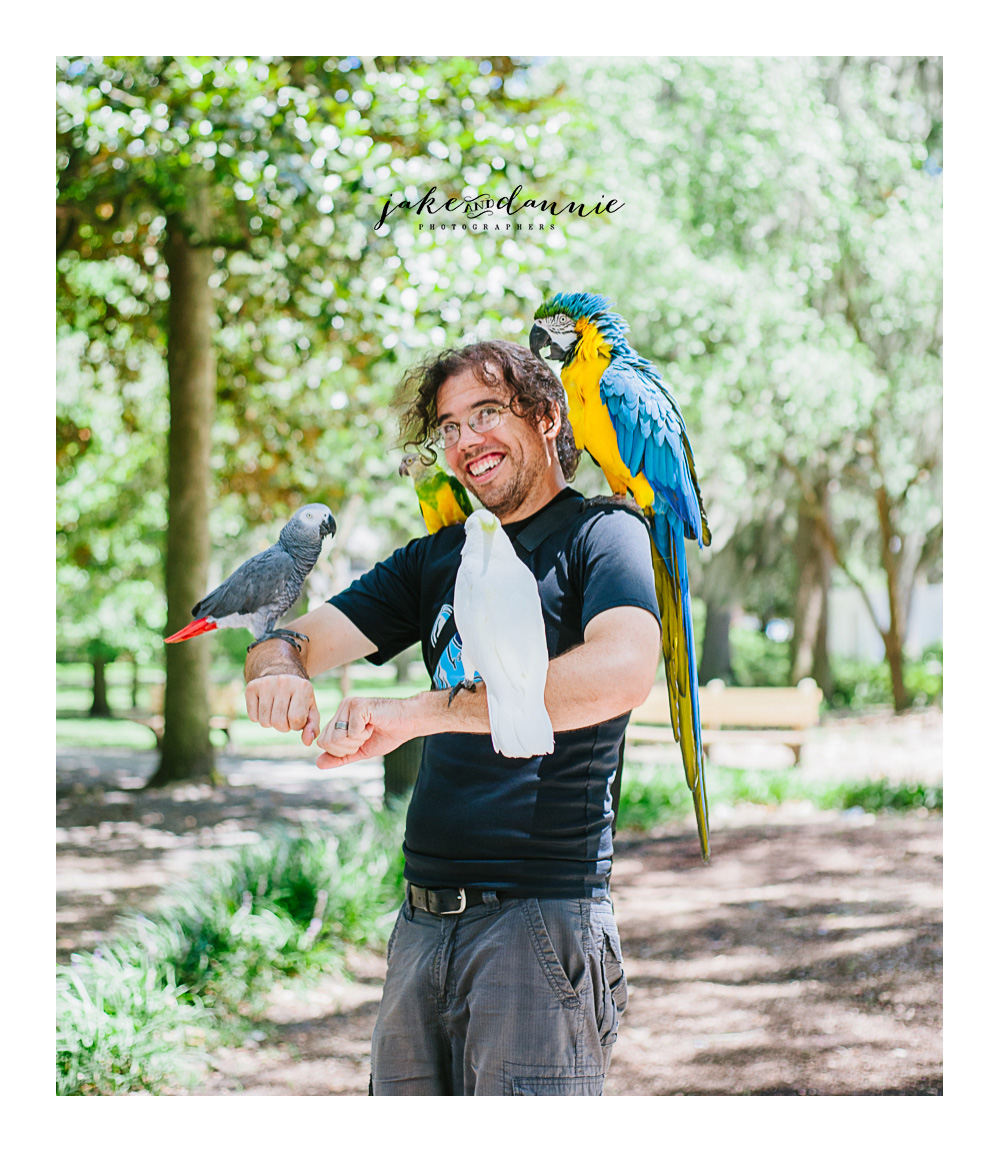 Our next stop was the Wormsloe Historic Site, an old colonial plantation that is famous for a mile and a half long road lined with twisted oak trees. As we were leaving a storm was rolling in and we got this picture. A car's headlights blurred in the distance made it look like a tunnel into another dimension. While we waited out the storm we got dinner at Corleone's, an Italian restaurant in downtown Savannah. Since Jake had put up with my girly shopping all day, we ordered some of his favorite dishes to share for dinner. He got a baked ziti, I got eggplant parmesan, and we shared a bruschetta. For desert we had creme brulee, which was the desert that Jake and I ate on our wedding day. Sweet memories. We decided that we would have creme brulee on our anniversary every year from now on.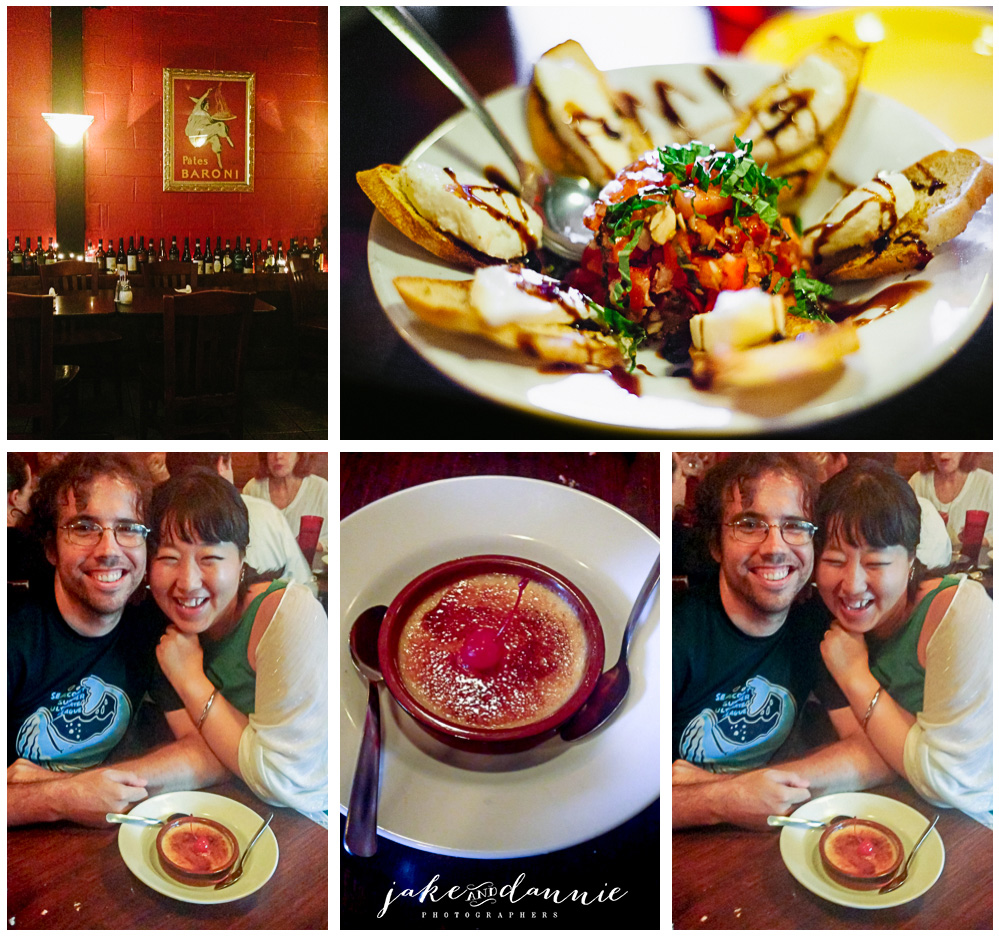 By the time dinner was over the rain had stopped and we headed to Tybee Island Beach, east of the city. We took some pictures while it was light out, then decided to end our trip just walking in the sand together until it got dark.
At home we spend so much time working on our business and thinking about the future, but visiting an old city like Savannah it was easy to get caught up in the past. Walking on the beach with Jake it was nice to spend a moment in the present - just the two of us together in the moment. My father was always thinking about the future and he was so obsessed with his plans that he was never there for us, and eventually it cost him his family. Sometimes when I'm busy I have to remind myself of this because I have a family of my own now, and as much as I enjoy what I do, it can never replace the people I love. That sunset was picture perfect but, on our anniversary I was happy to have dropped the camera off in the car to spend some time walking with Jake, thinking about nothing but the sand under my feet, the wind in my hair, and his hand in mine.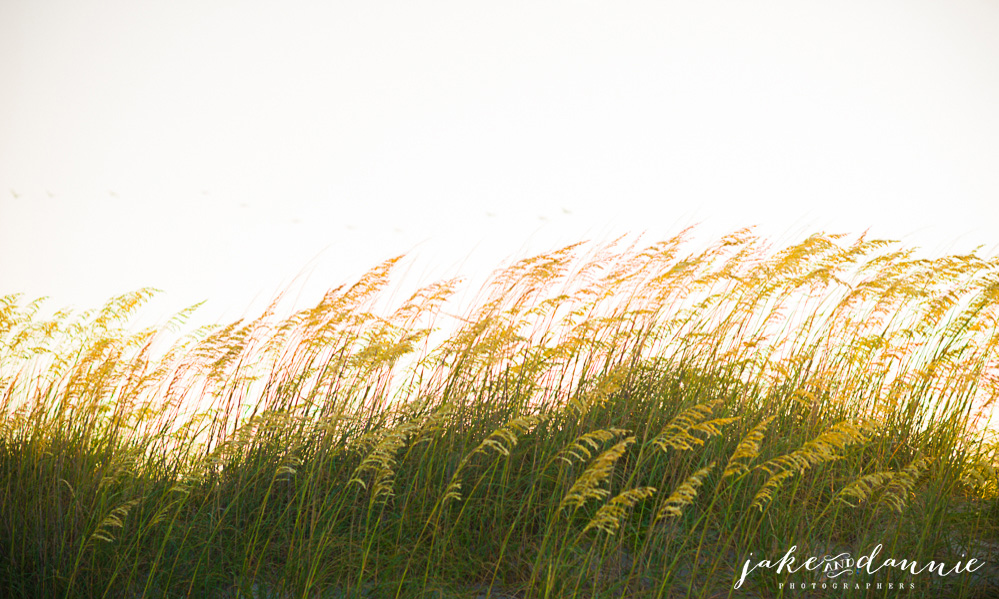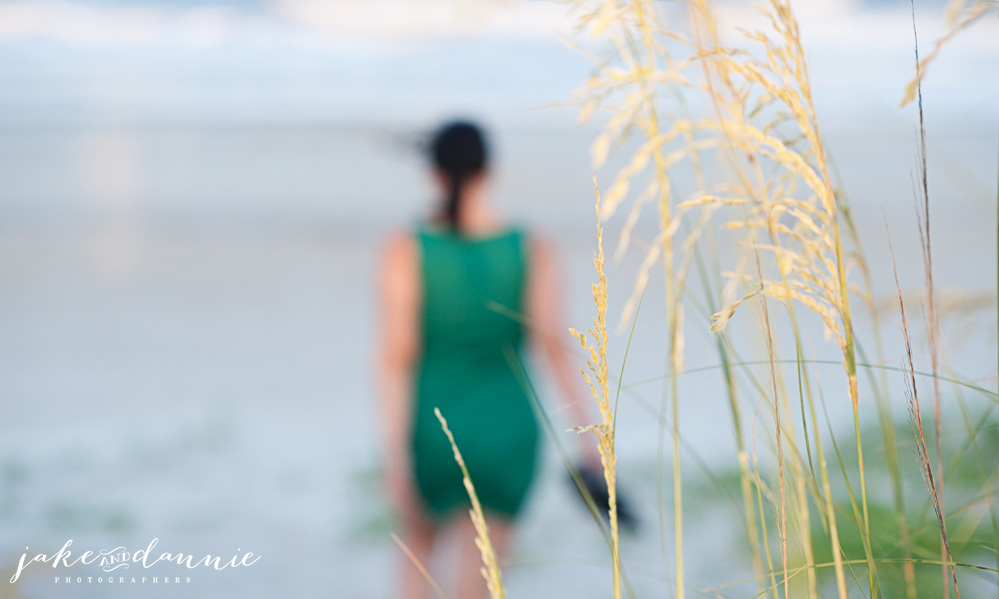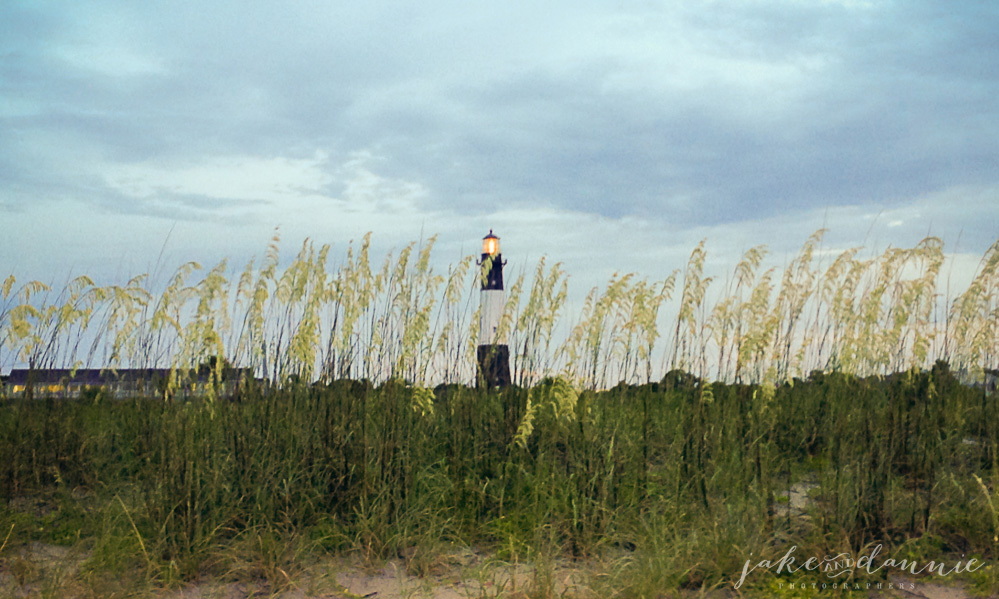 If you missed day 1 of our Savannah Trip, click the image below to jump to day 1