This is the first post in our two part series about our anniversary vacation. (View the second day here)
Between shooting and editing photographs and publishing our blog, we'd been working pretty hard for a couple months. When our second anniversary rolled around last week we were more than ready for a vacation. On our drive down to Florida in April we passed by Savannah on the highway and Jake told me what a beautiful city it was. I told him I'd never been there, and we decided that we should make a road trip out of it. So last Monday we got up early and drove north to Georgia to celebrate two years together.
Jake and I made reservation on Airbnb — an amazing site that allows you to travel and explore the world while staying with locals. When we traveled for a month in China a year and half ago, we used quiet a few similar services, resulting in tons money saved and putting us in prime locations for sight-seeing. We were eager to try Airbnb back in the states, however our first stay in New York City didn't go as well -  our bed sheets weren't cleaned and our location in Brooklyn was too small and isolated — *hint* we were too cheap with our selections :). Well, Jake and I still love adventure and still love to trust in the good nature of most people out there, this time we gave it another shot. We learned from our past mistakes, here are a few things we did to pick out a good host:
1. We picked a location that's close to one of our sight-seeing locations — our Airbnb host is only a 5 minute drive from downtown or the famous Bonaventure Cemetary. Also only 20 minutes from the beach.
2. We picked a female host. No offense but we sorta lost faith in 20 something single male type of renters out there to supply us with clean linens. Our Savannah host Sue, not only provided us with a clean room, she even cleaned our room, folded my scattered-around clothing while we were out.
3. Reviews. We learned to read more into the reviews. Are the positive reviews mostly left by couples, by single males, or by females? Just because a host got tons of reviews doesn't mean it's the right fit for you. When we checked at Sue's Airbnb page, she had tons of reviews from female travelers and couples and they mostly commended on her based on her cooking and quietness of the place, (well, the cooking is a totally unexpected bonus).
4. Always email the host before booking. Jake sent out a quick email to Sue before booking, she very kindly replied to our questions. Any host that won't be a good host will take a long time or will neglect your email.
Anyhow, for weeks leading up to our trip, I'd been sneaking in research sessions on Pinterest,  planning the trip between mountains of work — I actually had a melt down the night before our trip, haha, I was crying in the office saying "too much work … I'm tired" and Jake held my hand and listened to my whining then kissed my hand told me "well, you know what … We are going on a three day vacation starting tomorrow morning!" — I read somewhere that, for one to succeed in business one has to do 10 years of hard work without being heard. There, the night before our two year wedding anaversiery I thought, if it takes ten years for our photo studio to become known, that's ten years of hard work. If it really takes that long, then I'm glad I'm doing it with Jake.
Because our stay was very short and there was so much to see, I wanted to make sure we didn't just do all the tourist stuff but saw places and events that would create memories in our hearts. I also went on Groupon to look for local deals in Savannah. There happened to be a Groupon for this Amazing-Race-themed cellphone game called Crazy Dash, we thought it would be fun to play and explore the city before our check-in time. It's sort of like a scavenger hunt for locations in a city. It's only supposed to take an hour or so to finish, but we tended to meander a bit, taking photos and walking in and out of shops, this way got our most touristy stuff done in a novel, gamified way.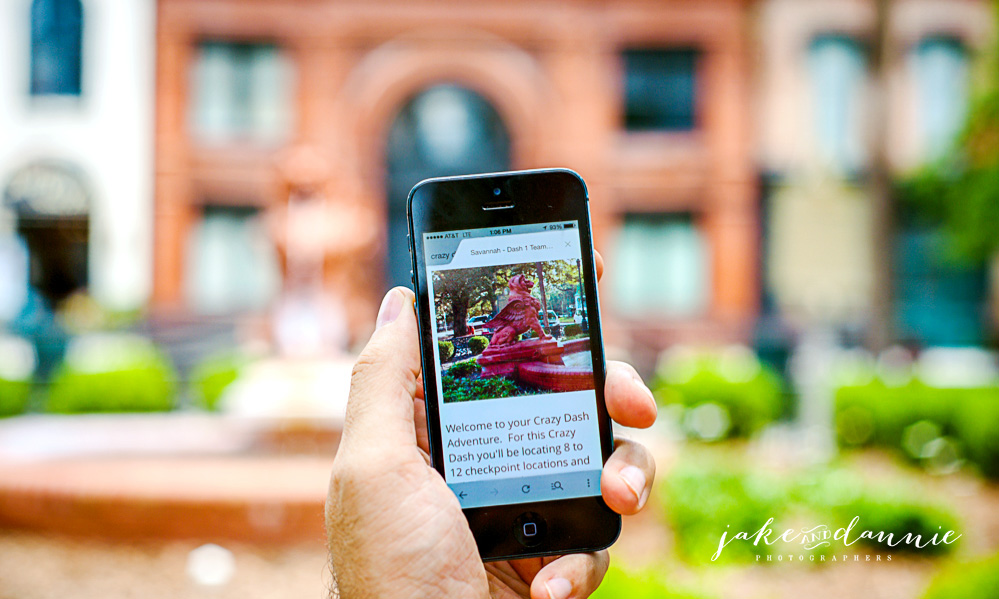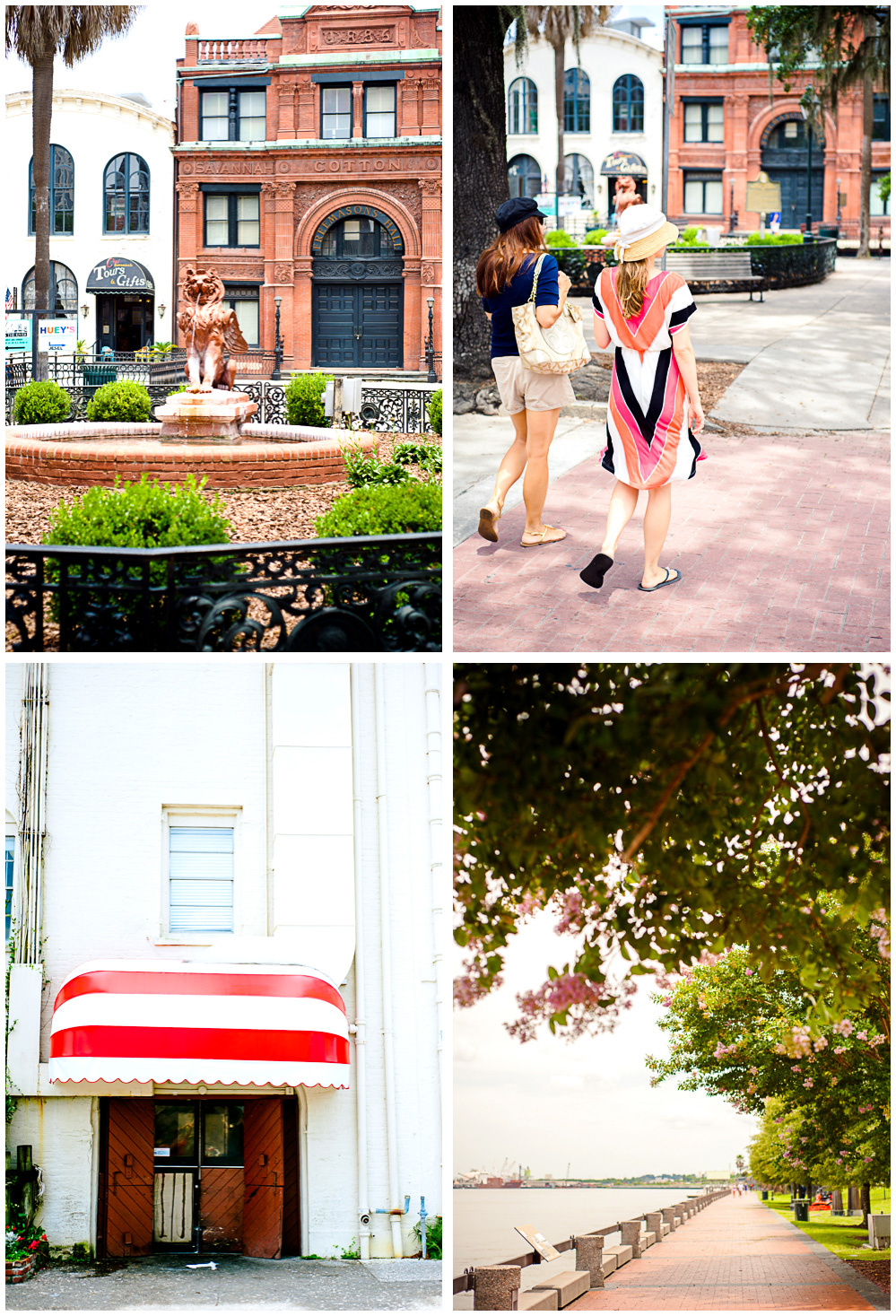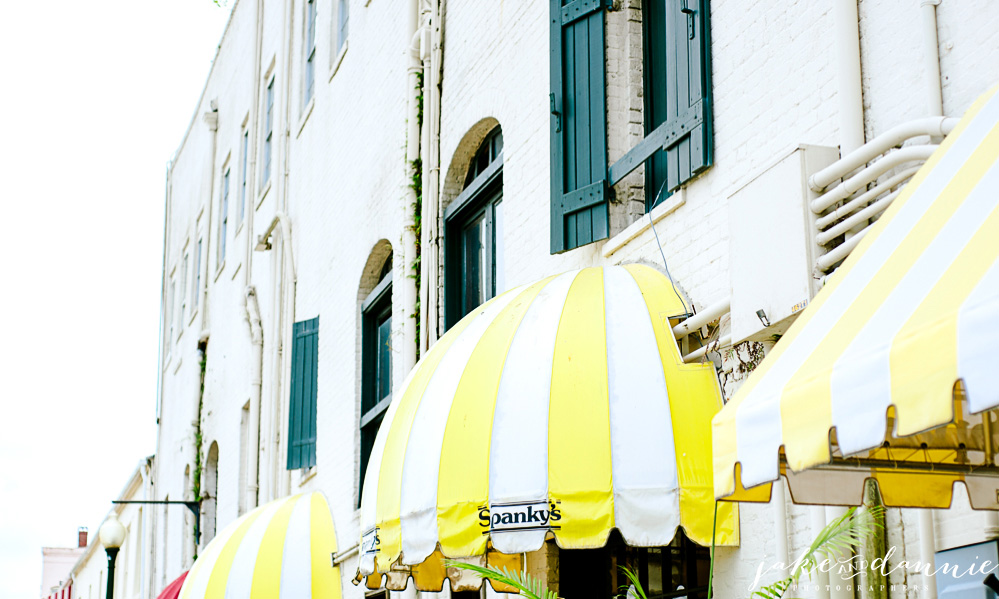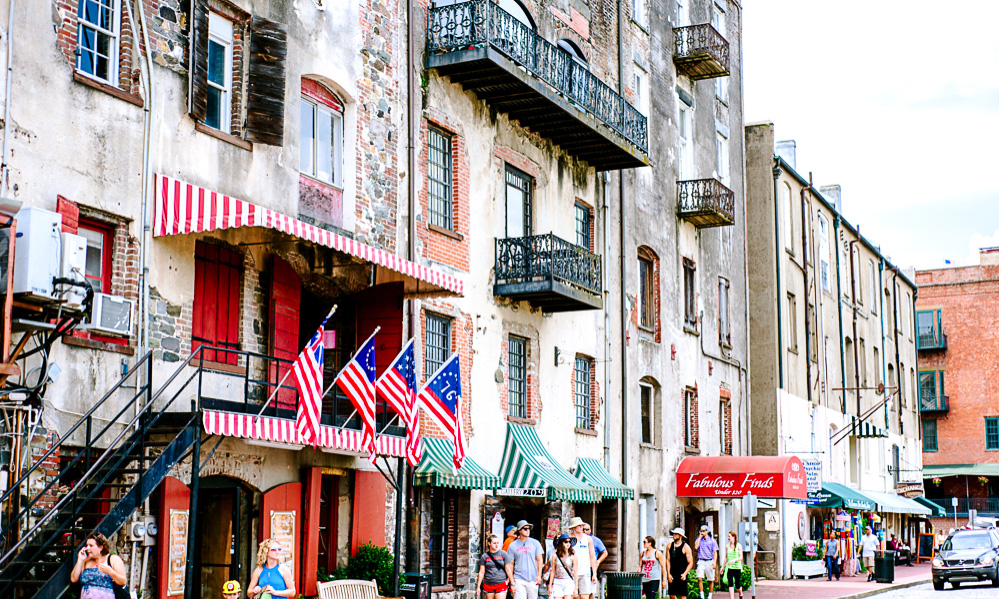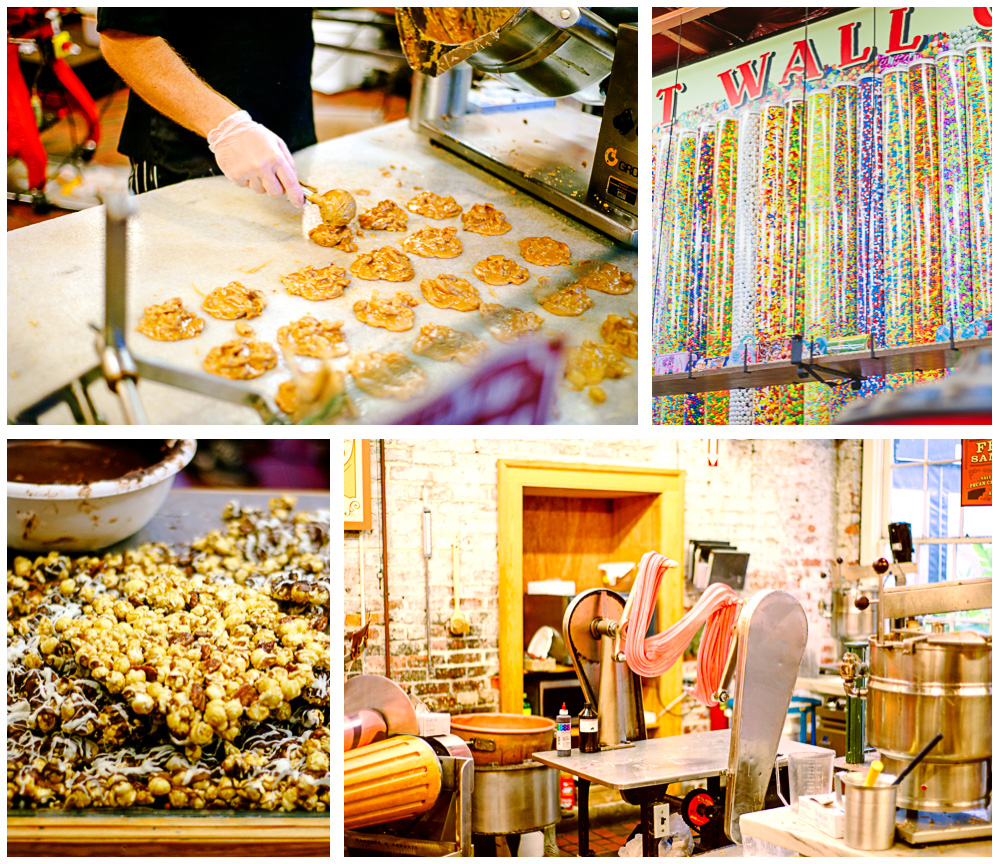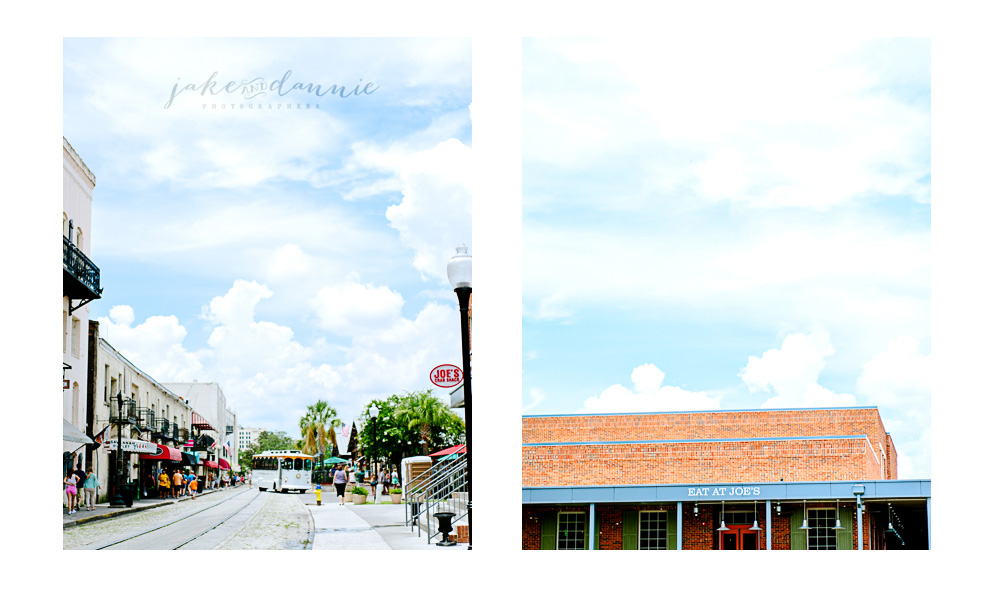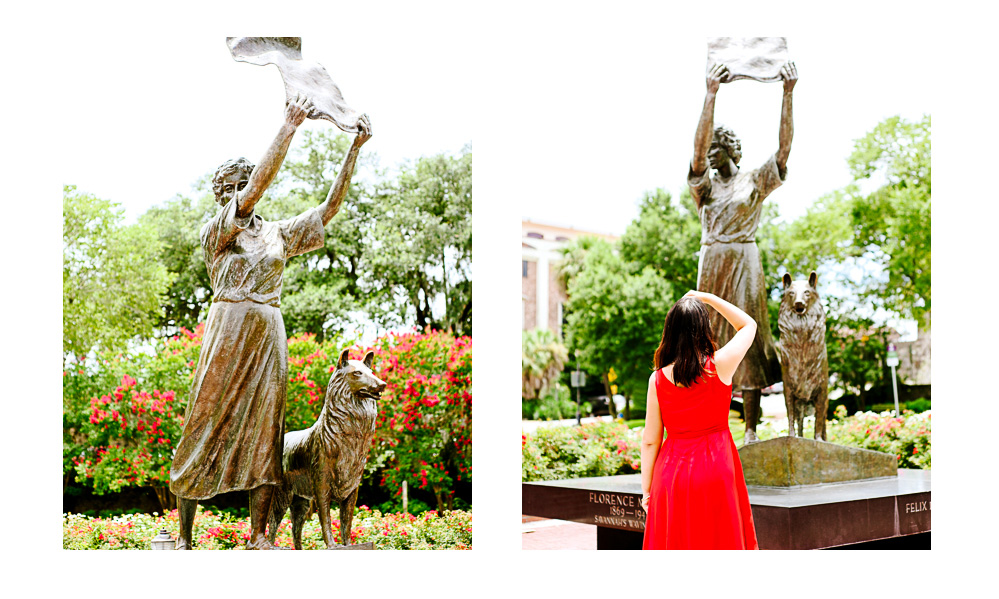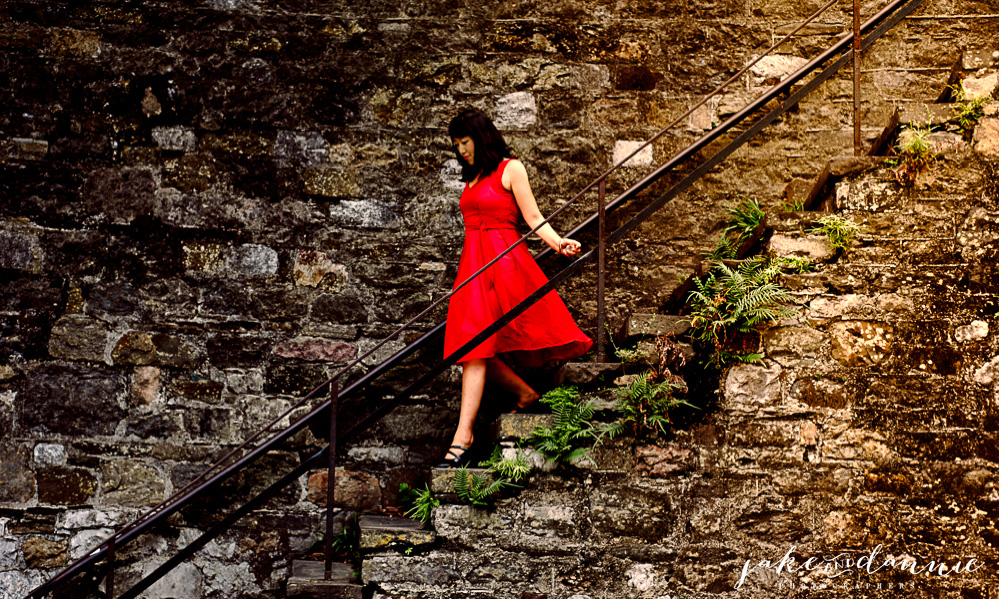 Time to check in. Our hostess was a woman named Sue who rents out two rooms in her house through airbnb. She has two cats named Thumbelina and Edward. Thumbelina is the big furry one, Edward is the playful one. Before arriving Sue asked us whether we were going to join her for dinner. I'd read comments on Airbnb saying that she loves to cook for her guests, but I wasn't expecting special treatment and wasn't sure if we had to pay for our meals, but when she asked us about our dinner plans, I told her Jake and I were both exhausted and would love a home made meal. It turns out that everything was included. After we arrived at Sue's place, she showed us around her house, and asked us where we needed to go. I excitedly said "Bonaventure Cemetary" — because it's literally right down the street. Sue told us the place closes at 5pm and we can freshen up, rest a little then go. "Dinner will be at 6pm." Somehow it's so nice to hear that simple sentence when traveling away from home — to know that after a day of walking around we can kick off our shoes and relax over a homemade meal.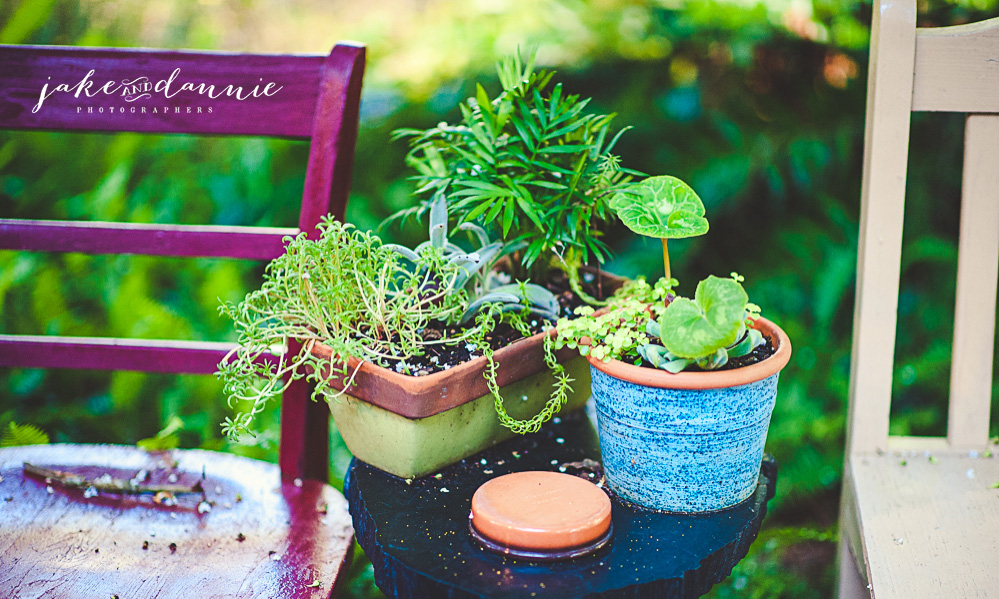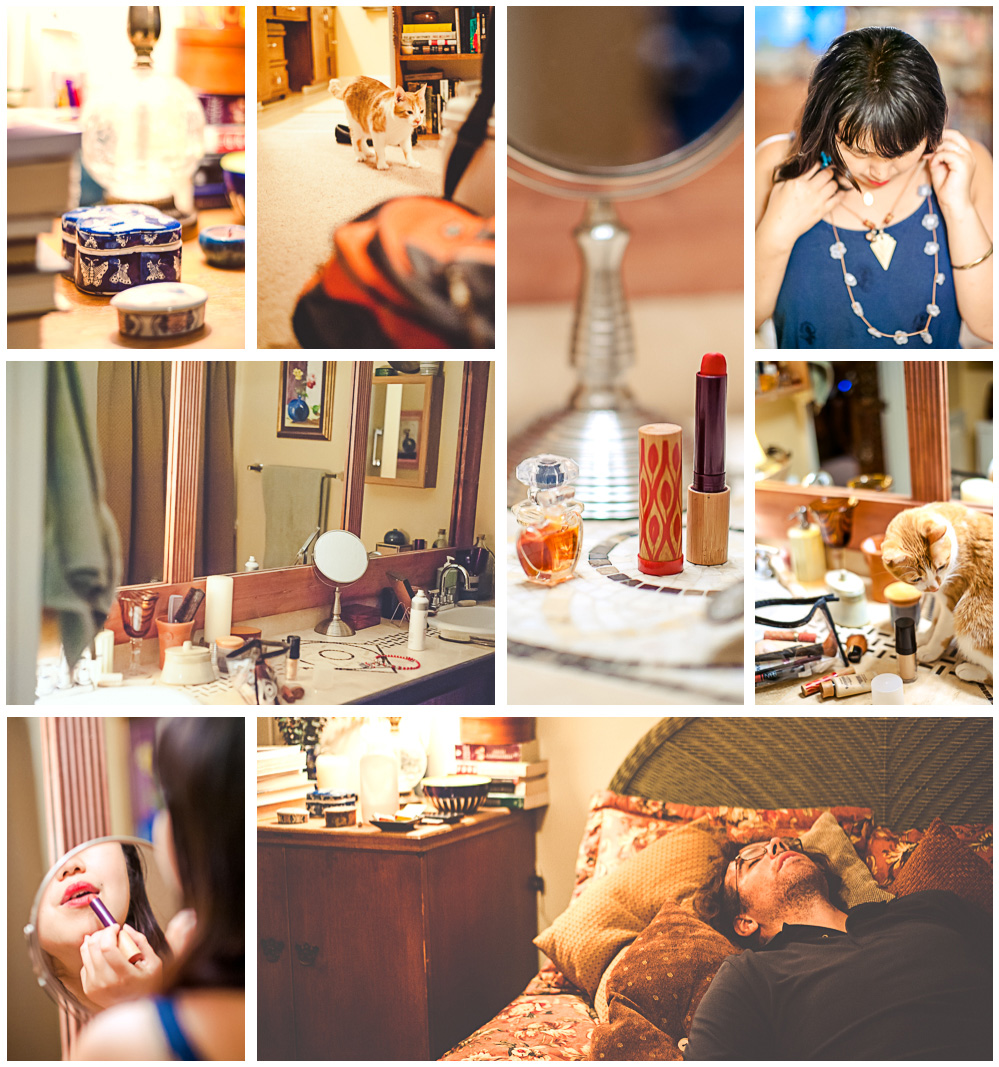 Even though it was still hot outside, Sue's house was very quiet and very relaxing. We put our bags away and freshened up a bit, waiting for the sun to cool down so we ccould head to Bonaventure. We lounged on Sue's beautiful patio where Jake did a little blogging and I took some photos.
The Bonaventure Cemetery is famous for its beautiful statues, long rows of monuments, and spooky moss covered trees. Of course it wasn't very spooky in the afternoon sun, but Jake still tried to use lighting tricks to make the statues look a little more foreboding. I was really looking forward to the cemetery after seeing pictures on Pinterest, but I must admit that it felt weird using the site as a photography backdrop. I didn't like the thought of some future photographer posing their model over my own grave, so we were careful to tread lightly. Bonaventure closes at five pm, and by quarter of we were getting pretty hungry and we knew that we had a home cooked meal waiting for us, even though we were away from home.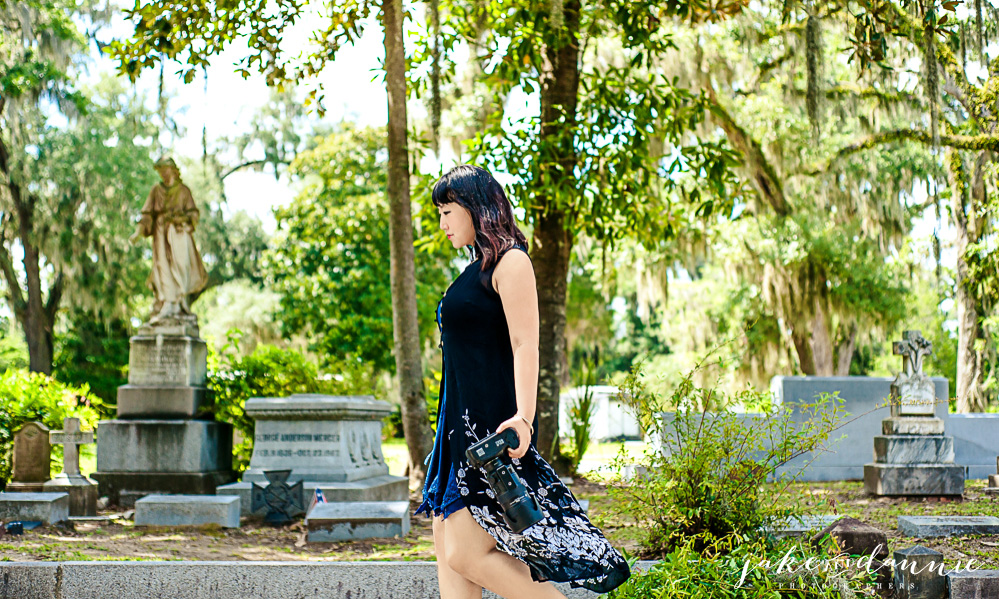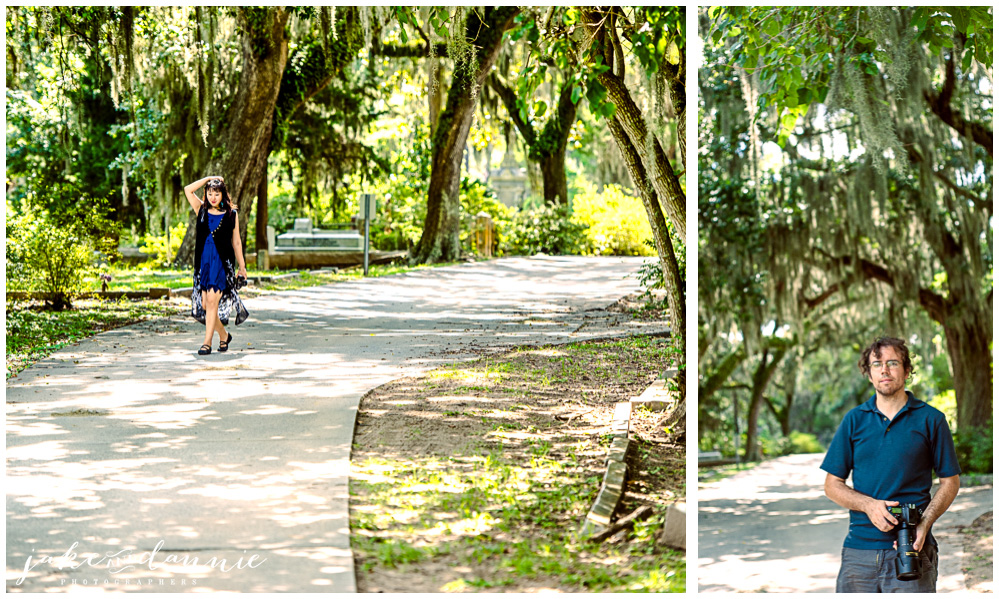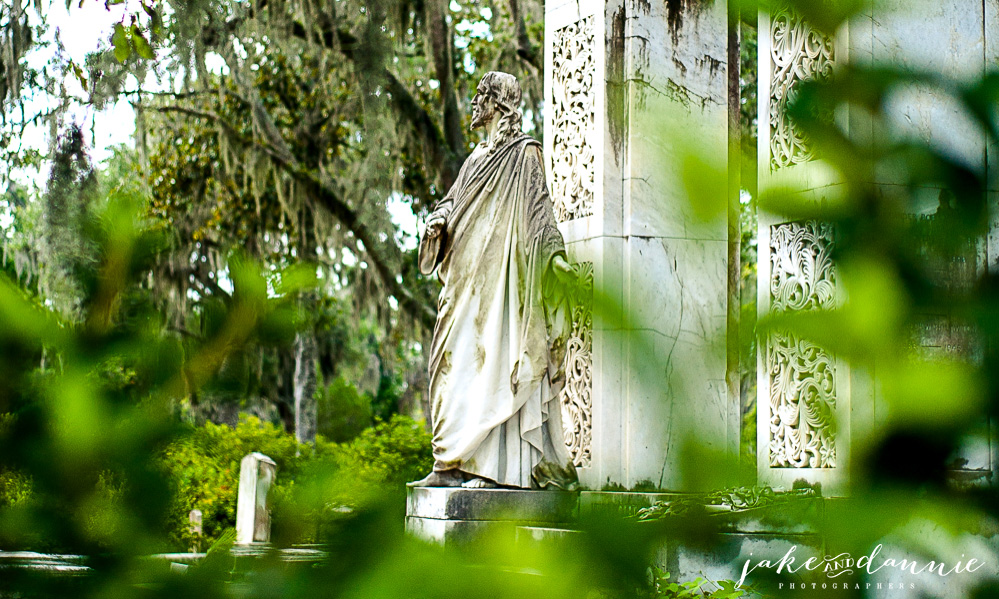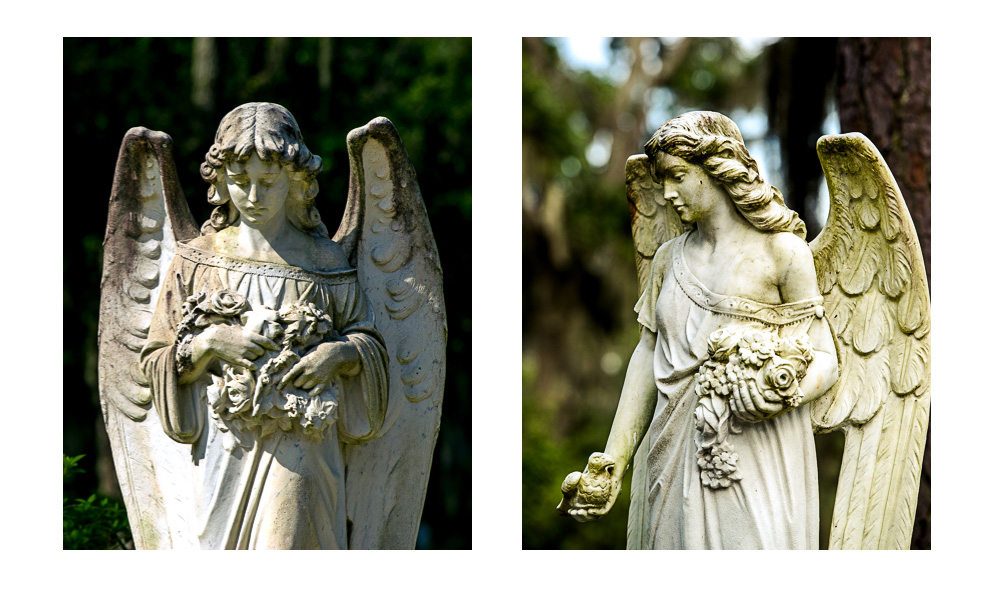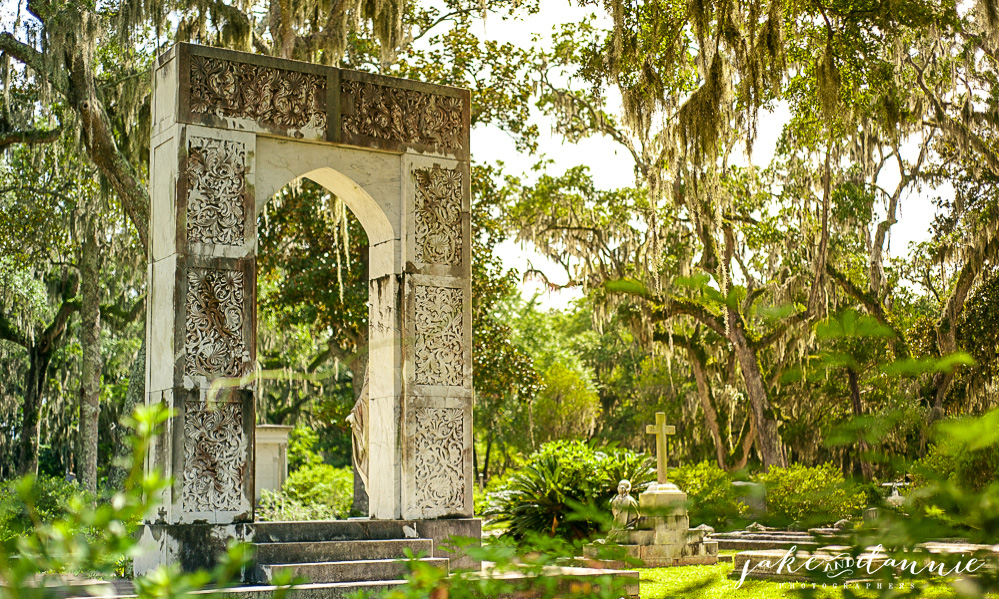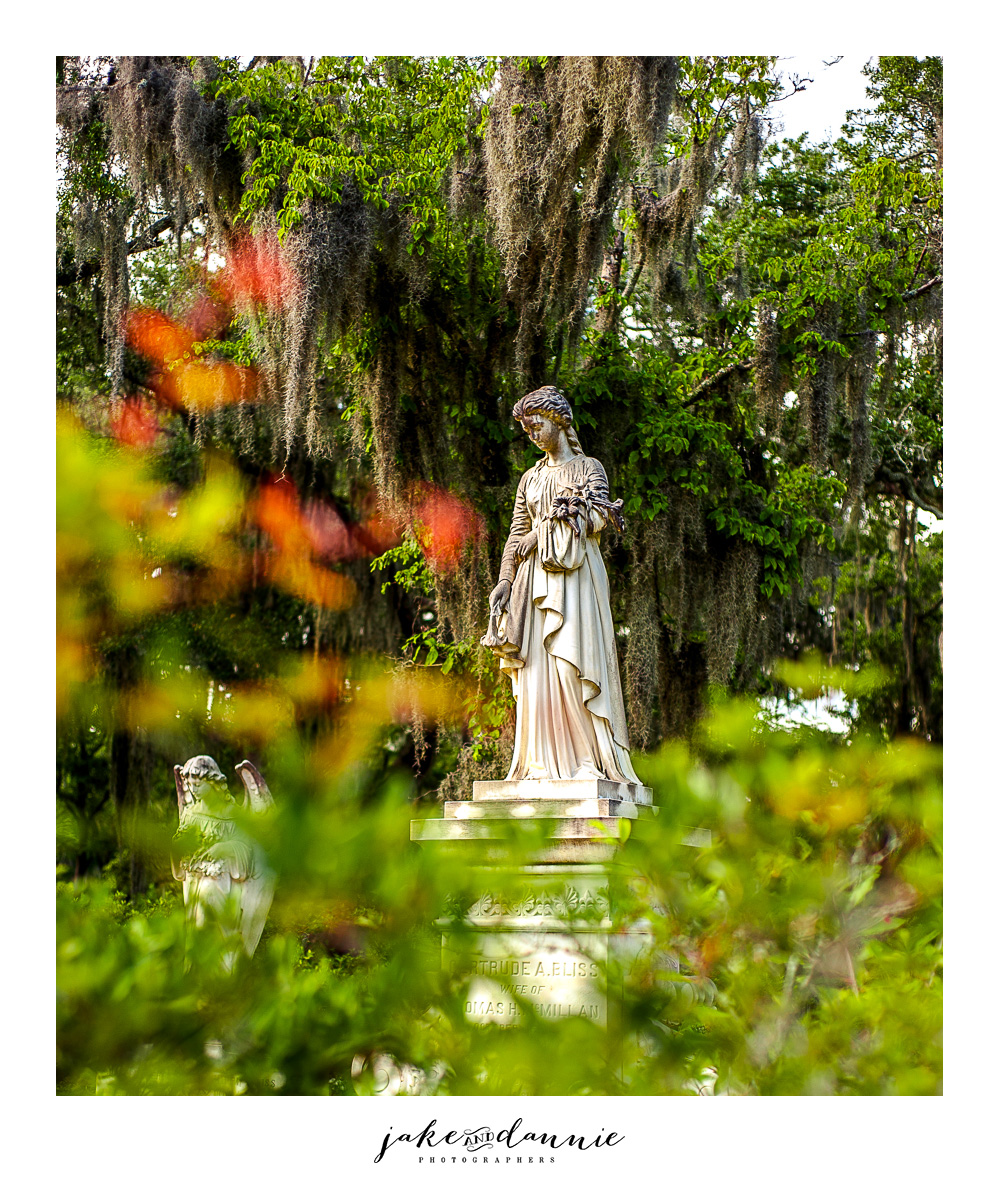 Sue was planning on making roasted chicken for us and her other guest, but since we mentioned in an email that we were vegetarians, she made a big dish of baked rice and beans with melted cheese on top just for us, we also ate roasted veggies with her popular homemade spice mix. Her dishes are very Latin-fusion, and she showed Jake how to properly set up a table 🙂 that was fun to watch! Then, as an afterthought, she made some homemade spicy hummus out of chili beans, and served it with crackers as a side dish . Seriously! Our rental fee shouldn't have been enough to cover the three wonderful restaurant quality meals alone. She needs to raise her prices! Or maybe, as she says, she just really enjoys cooking for her guests. She certainly got a lot of applause.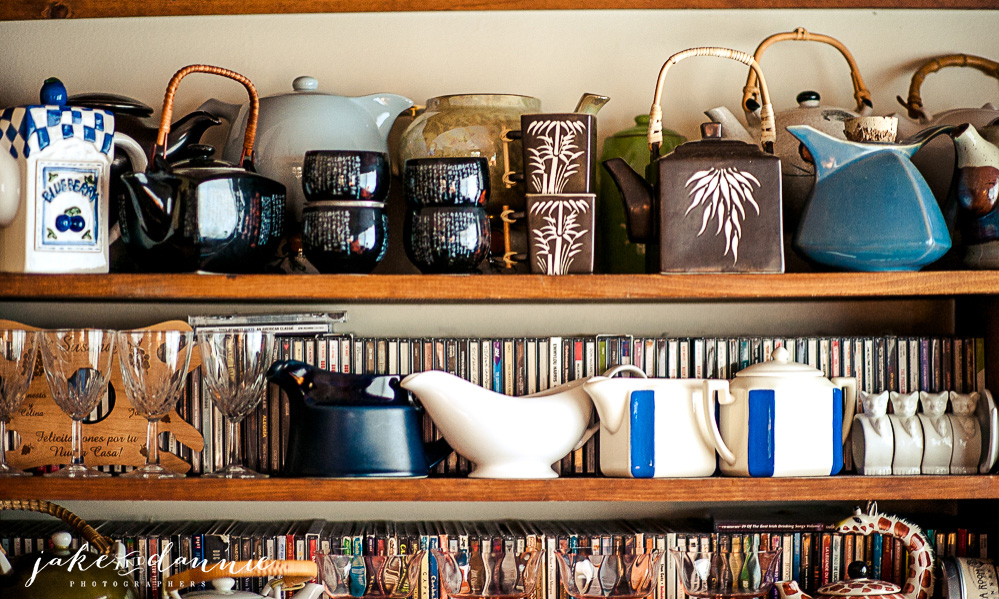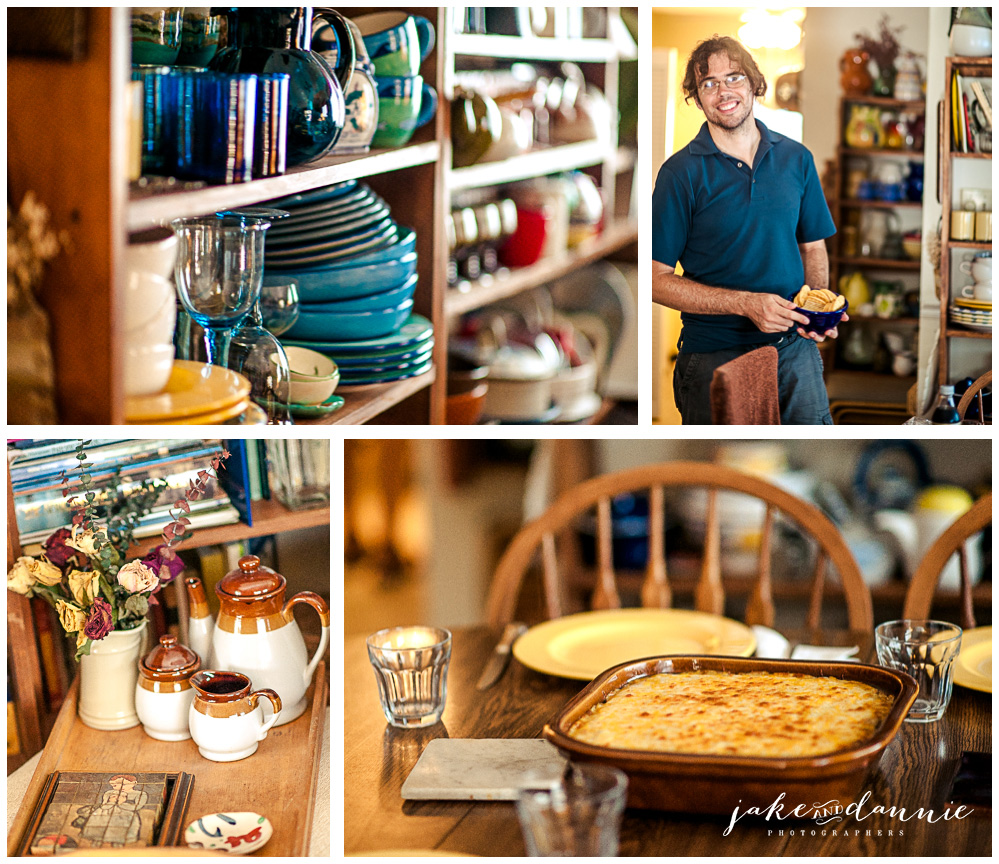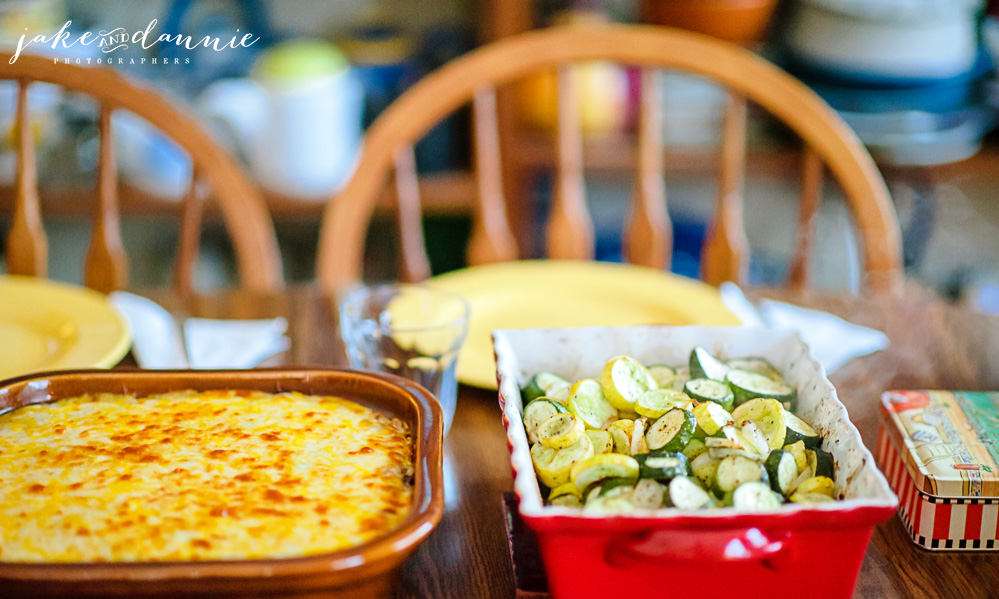 We talked to Sue for a while and she told us about her experiences renting her rooms out and about some of the interesting people she had met from all over the world. She also told us about her own travels, and I went to bed thinking about all the other cities I want to visit someday with Jake.
// Bonus: Join Airbnb through our referral link - You'll get $25 credit on your first booking. //
Click on the image banner below to continue onto day 2 of our Savannah trip.