We spent four days and five nights in Bangkok, Thailand, and photographing Wat Pho was one of the highlights of our trip. We wound up visiting the temple twice because we thought it was so pretty it deserved some photos that weren't full of tourists. This article is our guide to getting the best photos you can out of your visit to Wat Pho. We'll also talk about getting there and minding your behavior in this sacred site.
By the way, this article contains affiliate links. If you click on one and make a purchase, we will earn a small commission at no extra cost to you. These commissions help support our travels and this website. If you'd like to learn more about our progress in monetizing this travel blog, check out our monthly report, Operation Digital Nomad.
What is Wat Pho
Wat Pho, also known as Wat Phra Chetuphon is a temple complex in the center of Bangkok, Thailand. It's one of the city's most popular attractions, though the crowds were not as dense as some Asian attractions (at least not while we were there in July).
The most famous attraction within Wat Pho (pronounced "Po") is the Reclining Buddha statue. But having been inundated with Buddha statues after almost a year of travel in Asia (see our last post about our stay in a Buddhist monastery in Taiwan) we were much more excited about the Thai temple architecture. It's very different from what we'd seen and photographed in the Chinese Buddhist temples.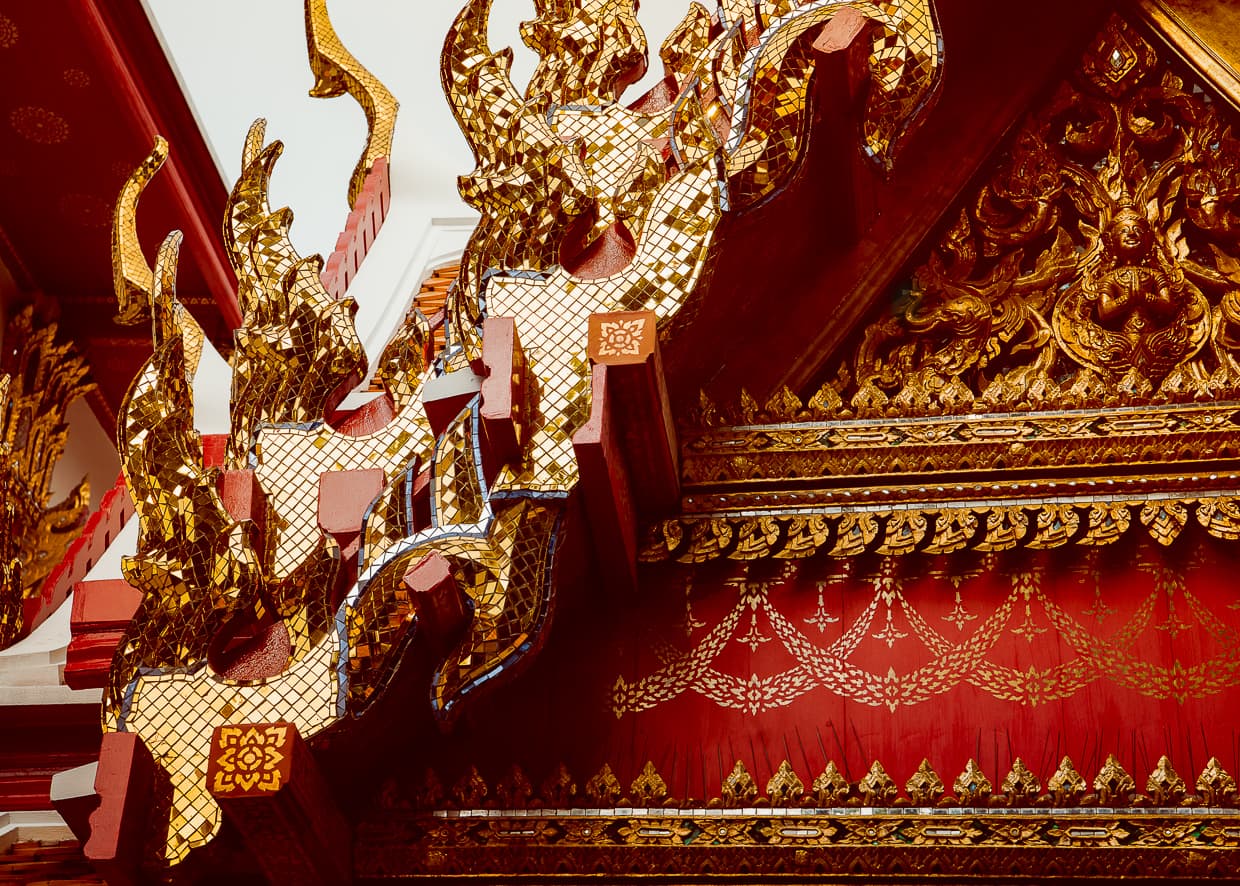 If you are interested in the history of the site, you can read more about it on their official website (Thai), or from Wikipedia. Or you could always learn about it during your visit.
Getting to Wat Pho
On Foot
For us, getting to Wat Pho was really easy. We deliberately chose a hotel that was very close to some of the most beautiful (and photogenic) locations in Bangkok. When we wanted to tour the temple grounds or take photos, we just put Lisa in her stroller and walked there. If you're still looking for a hotel, you can read our review of Feung Nakorn Balcony Hotel and Cafe. Here are the easy walking directions to Wat Pho from our hotel (Google Maps) from our hotel.
Note: When you are searching for Wat Pho in Google Maps, make sure that you use the "Tourist Information Center" as your destination, because just entering "Wat Pho" in the search bar will take you to the wrong side of the building. The correct entrance is on the northern wall of the complex, near the northeast corner.
Bus Routes
We never took the bus when we were in Bangkok, but according to transitbangkok.com you can get there on the 44, the 64, or the 123.
Taxi
Before we visited Bangkok we read a lot of reviews that basically called the taxi drivers crooked. As a result, we mostly used Grab (see below). However, we did take a tax from the airport to our first hotel, and we found it to be a normal taxi experience. The driver gave us an estimate, but used the meter like they are supposed to. We also monitored the route using Google Maps, and found that the driver didn't intentionally go extra distance to drive up the fare.
That being said, we've never been to a city where the taxis weren't older, dirtier, more expensive and more cramped than the vehicles we got with the local ride sharing app.
If you are taking a taxi in a country where you don't speak the language, it never hurts to have you hotel concierge write down the name of your destination in the local language before you hail a ride.
Grab
In Thailand, they don't have Uber like in the U.S. or Europe, and they don't have Didi like in China. They have Grab, which is basically the same thing. The only catch for Grab versus other forms of transportation in Bangkok is that you will have to download the Grab App and set up your preferred payment method (they accept international credit cards). You will also need to have a cell phone with mobile data and a local SIM card.
There's a pretty good chance that your driver won't speak English, but they will know most of the popular attractions. They might not know your hotel for the return trip, but luckily you enter it into the app before you even hail the ride.
The biggest downside to Grab was that if you are in an inconvenient location or there's a lot of traffic the drivers sometimes try to get you to cancel the ride before they pick you up (they don't want to cancel it themselves because it goes into their score). One time at rush hour this happened to us three times before we finally gave up and took a tuk tuk (try saying took a tuk tuk three times fast).
Tuk Tuk
Tuk Tuks are basically three wheeled motorcycles that have been reconfigured into covered passenger vehicles. Some of them are simple red vehicles, others are decked out with colored lights and elaborate paint jobs. Take your pick.
Tuk tuks aren't the fastest way to get around. They also aren't the most comfortable. Also, they are kind of expensive. But if you are a westerner and you've never seen one, they have a lot of novelty value. Go ahead and try one during your stay in Bangkok. To ride one, just find one parked on the side of any busy street, or flag down an empty one as it passes.
Hours and Ticket Prices
Wat Pho is open from 8:00 to 17:00, and the tickets cost 100 Baht (about $3).
Before you visit, check their website (Thai) to make sure that this information is up to date and to check for any special events or conditions that might effect your trip.
Photographing Wat Pho
Our main goal when visiting Wat Pho was to come home with some good photos. Luckily for us, the beautiful Bangkok landmark made our job easy. We still put in our best effort, though, so here are the steps we took, the successes we had and the mistakes we made.
Before you get started on this section, consider using this link to open up a new tab for my e-book, Easy Manual Mode Photography. It's about the price of a tuk tuk ride, and it will do a lot to help you get the photos you are envisioning from your big adventure to Thailand.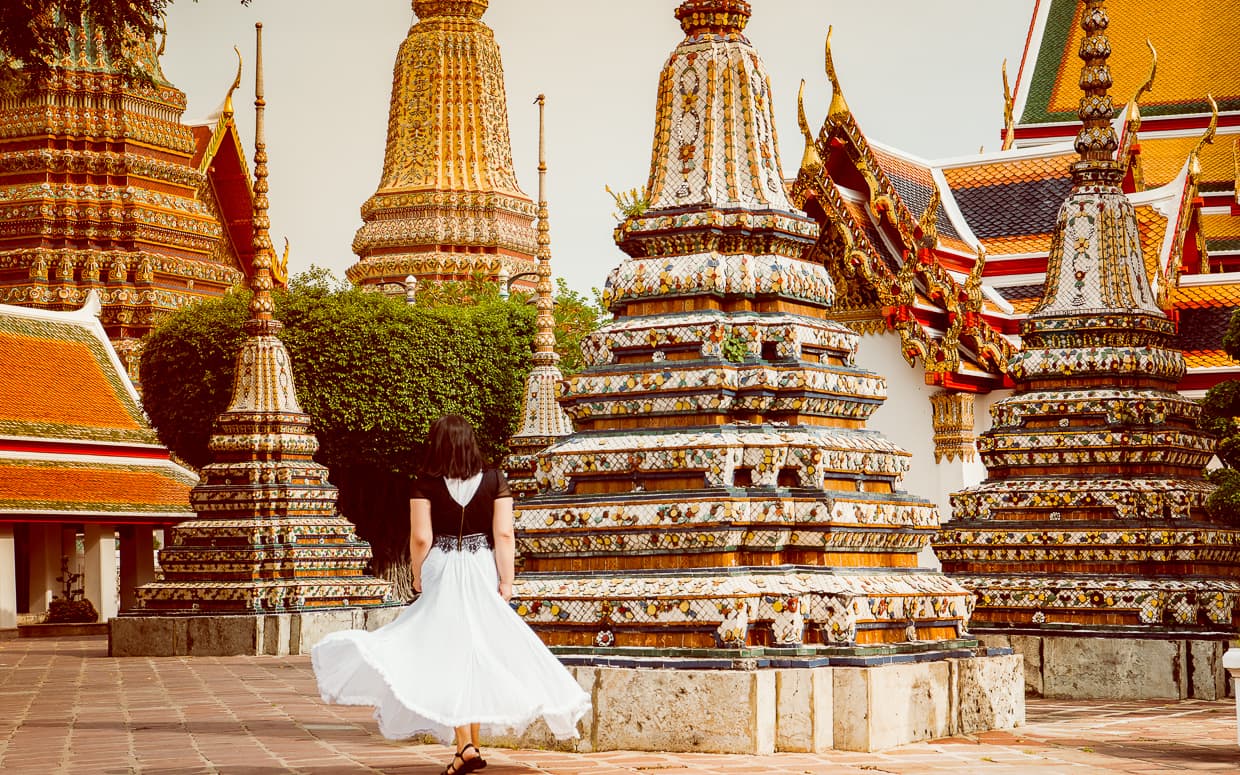 Scouting Wat Pho
Though we always intended to visit Wat Pho, our first visit was quite accidental. We had told our driver to take us to the nearby Grand Palace, but he dropped us off in front of Wat Pho instead. We just shrugged our shoulders and decided to alter our plans a little.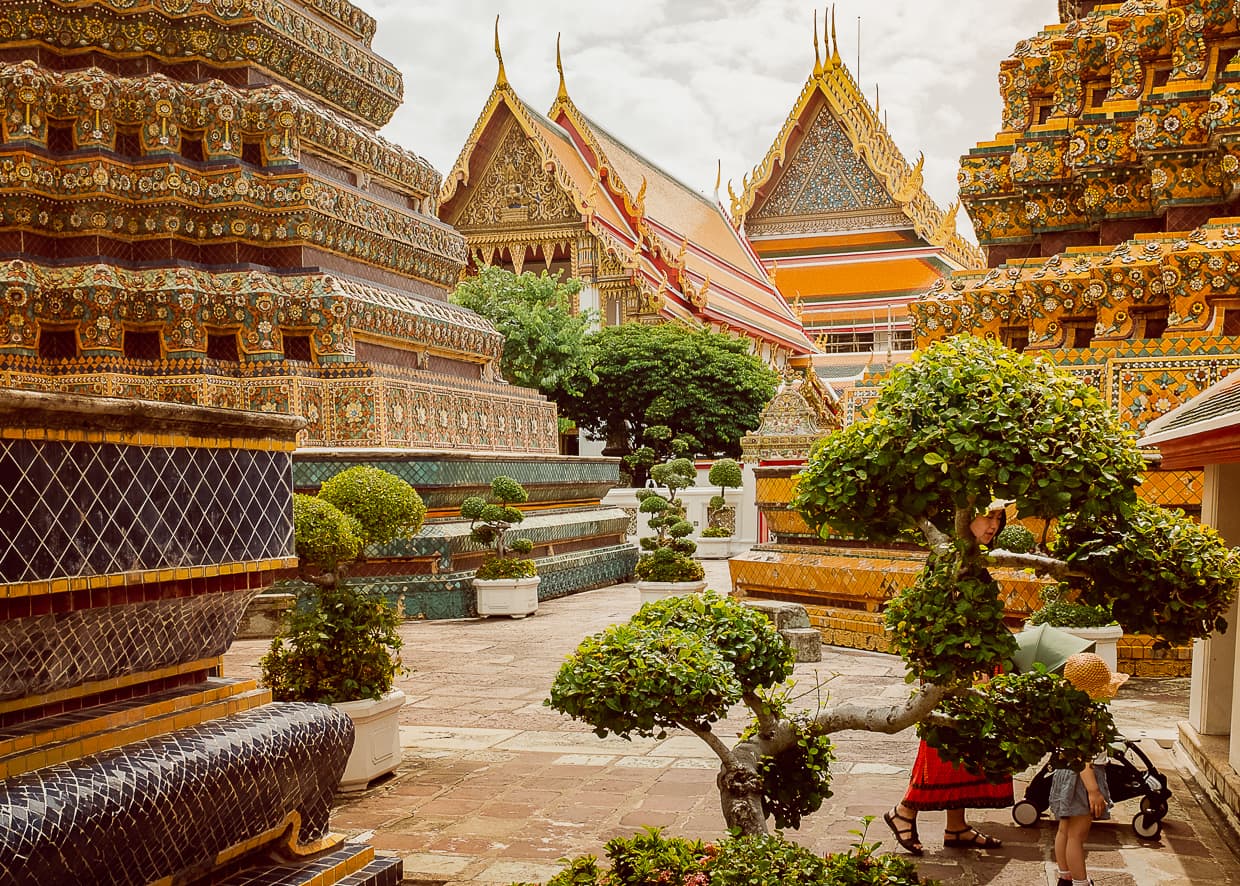 We hadn't gotten up early that day (we were still tired from our late flight the day before), so we knew there would be lots of tourists. When we know this is going to be the circumstance, we often treat our touring as a scouting trip and only carry our small mirrorless camera, knowing that we can always come back with our DSLR and lenses if we think the views call for it. Of course, if the place is really expensive, we bring along all of our gear every time just in case.
Show Up Early to Wat Pho
Even though the crowds during our scouting trip weren't unbearable, they were still an obvious obstruction for our photos, so we decided that we would try to be first in line when we got there the next morning.
Our tickets from the day before said that Wat Pho opened at 8:00, so we decided to show up at 7:30. To our surprise, when we got there, the gates were open and there were already some people walking around inside. I don't know if it was a special occasion or if it's always possible to get in before the listed hours, but if anyone knows or happens to find out, please let us know in the comment section.
Though we weren't the first ones in, it was still pretty easy to get shots without tourists. So no big deal.
Photography Sites Inside Wat Pho
Phra Ubosot
Phra Ubosot is the main temple in the complex, and you will recognize it by the huge white columns and the beautiful rooftop (although all the rooftops at Wat Pho are actually very beautiful).
Detail shots of the elaborate golden rooftops are a must. We also had fun framing shots with the doorways in the walls that surround Phra Ubosot. They line up in layers and each layer has intricate details in the door frames.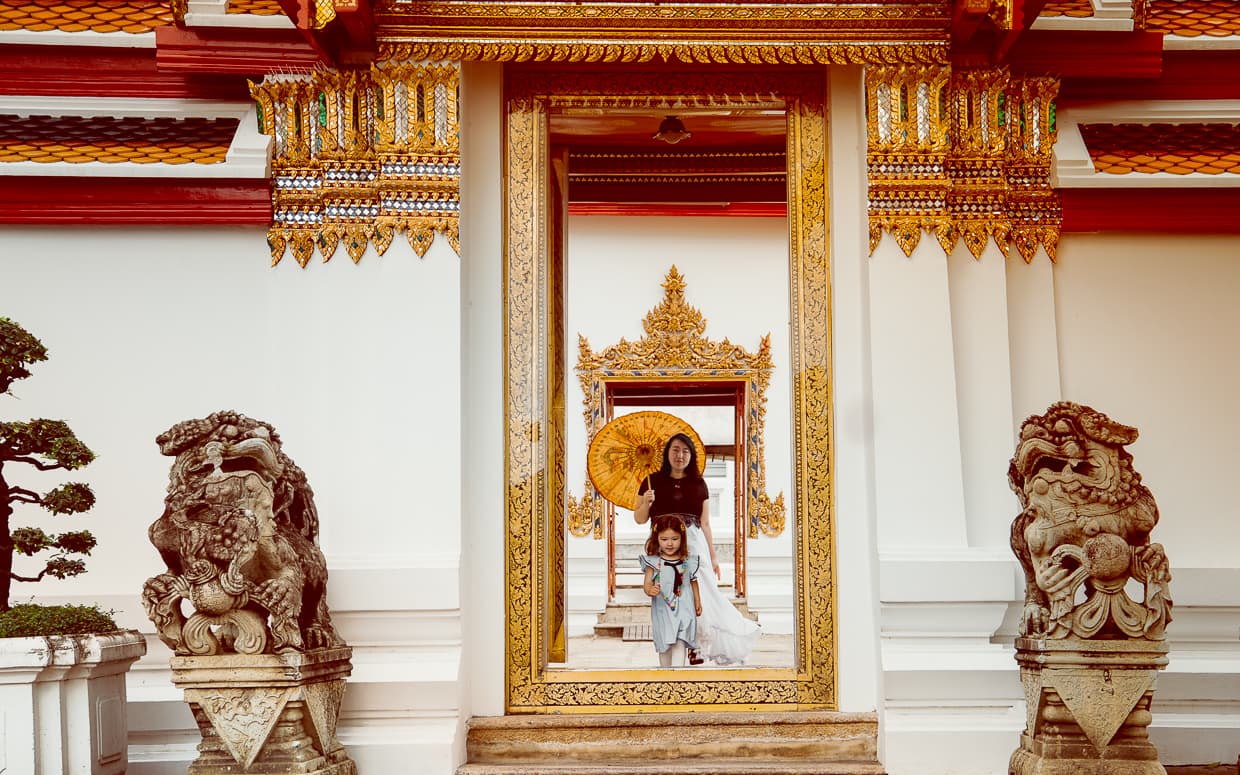 On each of the walls of the temple there are small shrines that are also quite lovely. Photographing Phra Ubosot in its entirety in one photo is basically impossible from within the complex because it is so large, so while you are inside, focus on the individual components.
Phra Rabiang
Phra Rabiang is a wall of Buddha images that surrounds a large portion of the complex. The walkway in front of it is covered by an overhanging rooftop, so in addition to being home to some beautiful golden statues, it is also a great place to find shade if you are there during the heat of the day.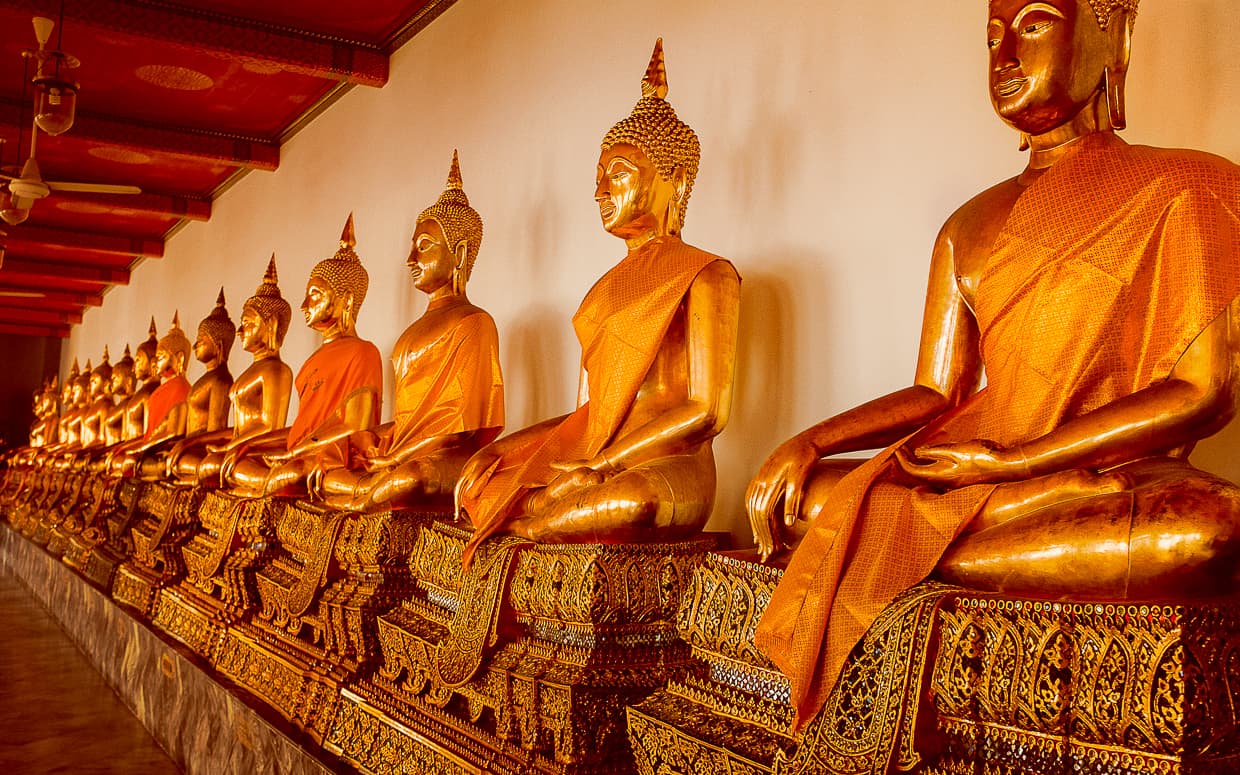 Phra Maha Chedi Si Rajakarn
The area containing the four great chedis is called Phra Maha Chedi Si Rajakarn. A Chedi is a pointed mound, and the four large ones are 42 meters tall. This was one of our favorite sites inside Wat Pho, and it was the first place we headed when we came back for our photo shoot. It's located just to the west of the main temple, but you won't have any trouble finding it since the the tops of the mounds are visible from just about anywhere.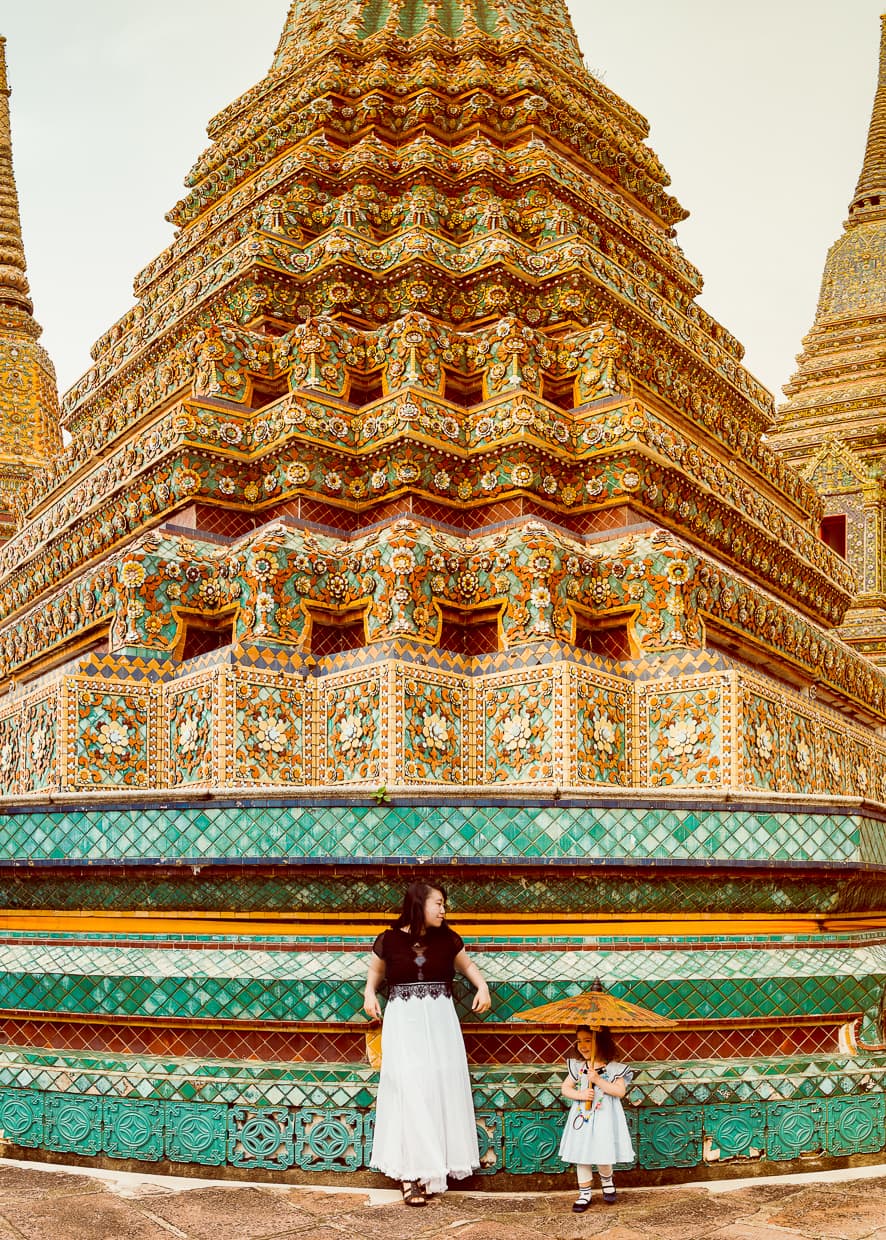 The Chedis, large and small, are what set Wat Pho apart from a lot of the other Buddhist temples in Thailand. Another standout temple in Bangkok is Wat Arun, with it's giant white pyramid and spires.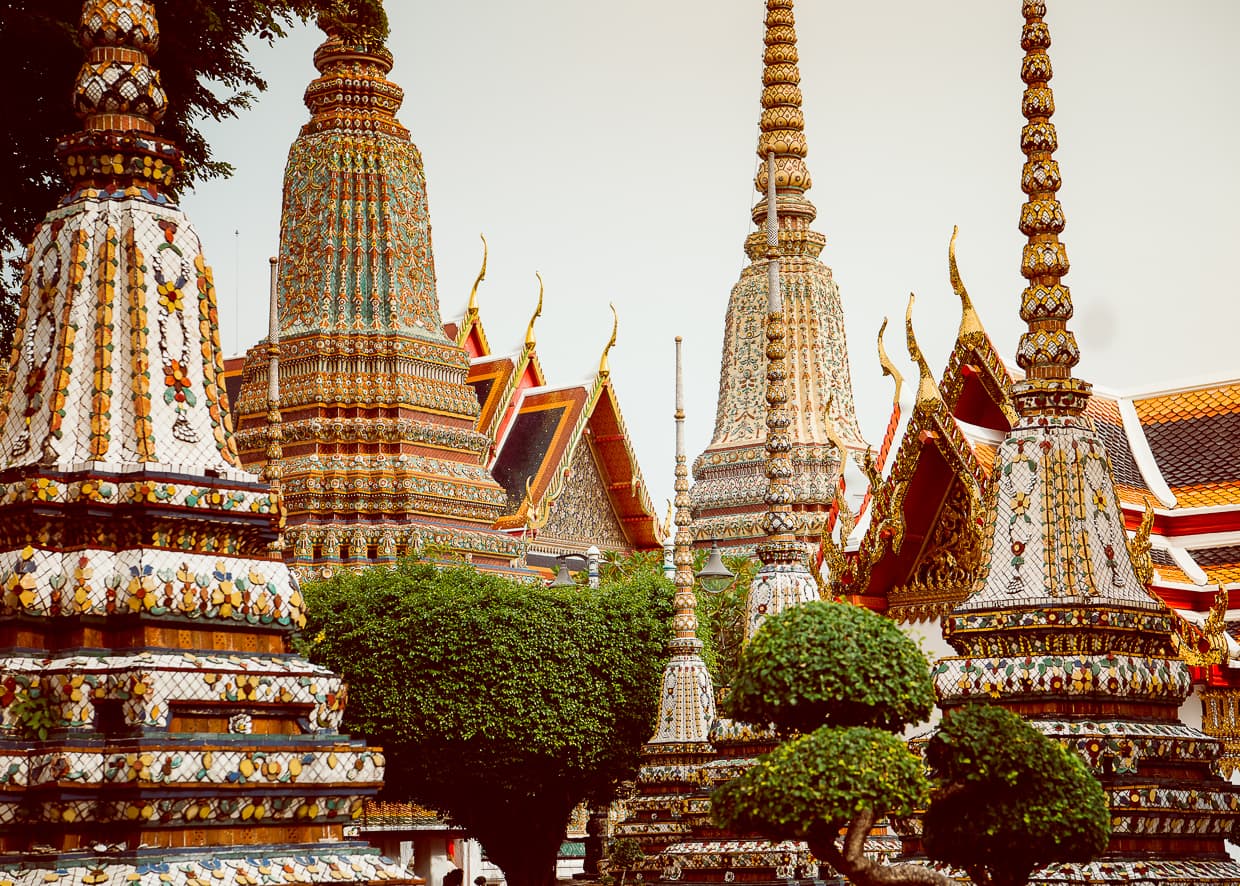 Small Chedis
The "small" chedis are just 5 meters tall, and there are 91 one of them in the Wat Pho complex. It's easy to take a photo where your family appears to be walking through a forest of beautiful, colorful mounds, because you will literally be doing just that. They are scattered throughout Wat Pho, often in clusters of five, so you will have no problem getting any background you like, whether it's the mountainous Phra Maha Chedi Si Rajakarn or the shimmering rooftop of Phra Ubosot.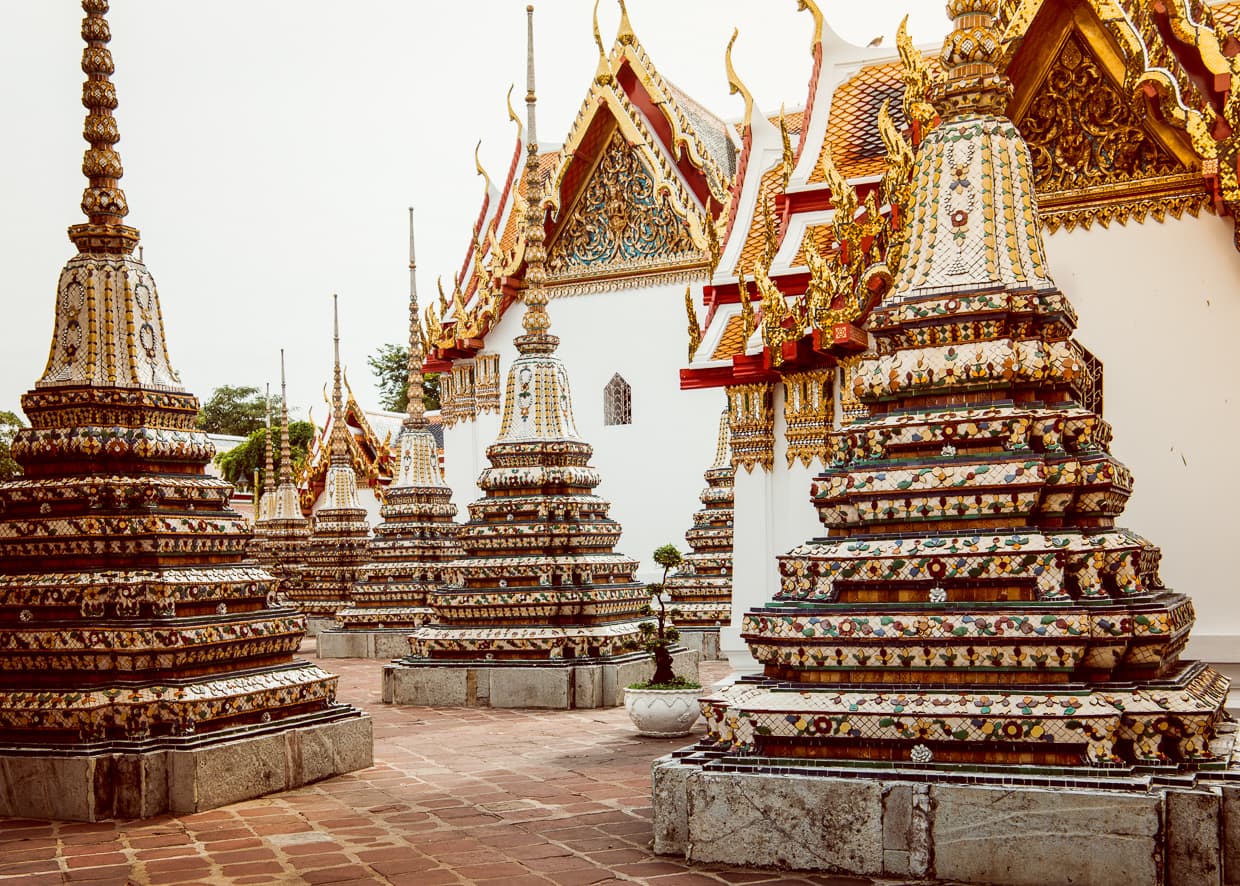 Just be aware that some of these mounds do contain ashes of members of the Thai royal family. You probably don't have to act all somber as though you are in a graveyard, but obviously don't climb on them or anything.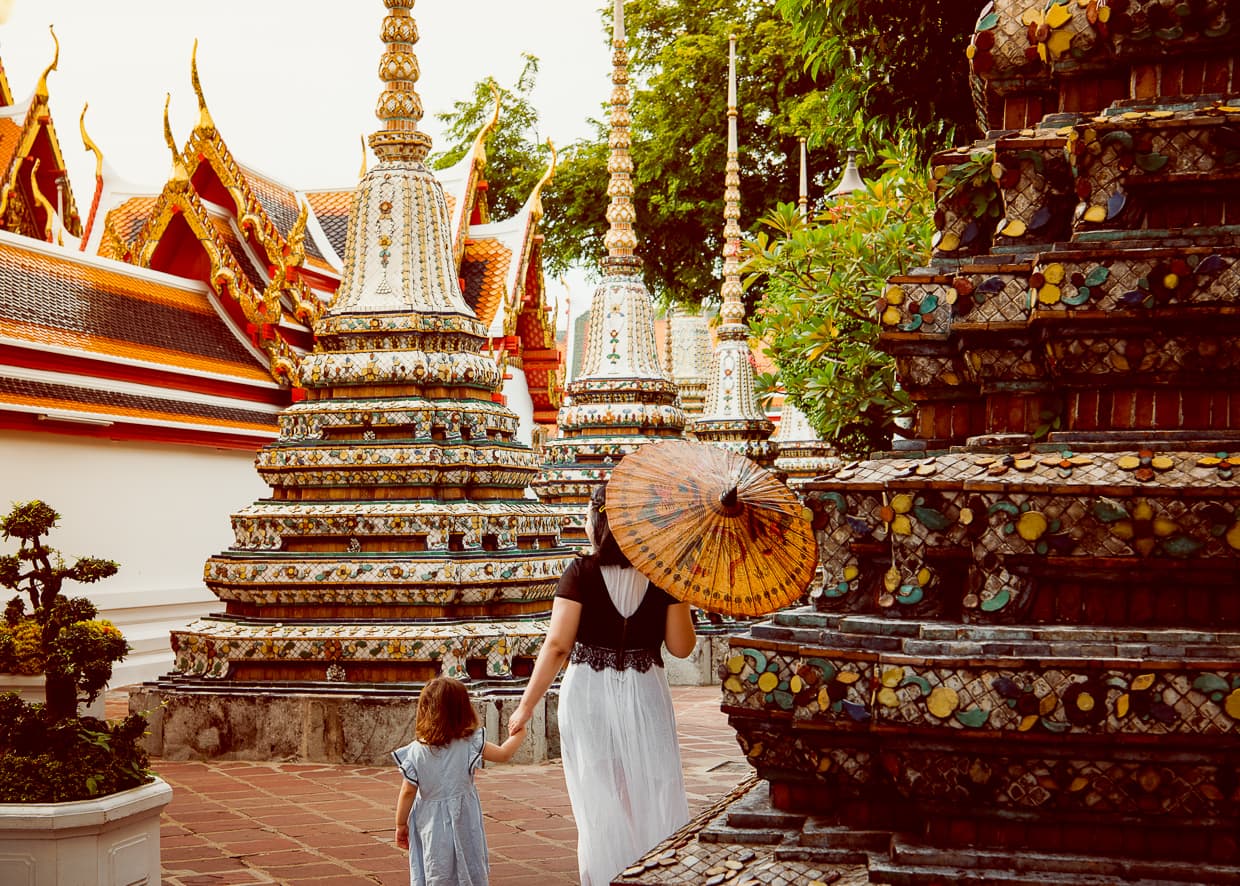 Statues
Wat Pho contains many, many statues, and they are really diverse in their appearance. Some are stone and some are gold. Some are religious and some are mundane. Some are animals and some are people. Some are enormous and some are very tiny. Their expressions range from menacing to peaceful to almost comical.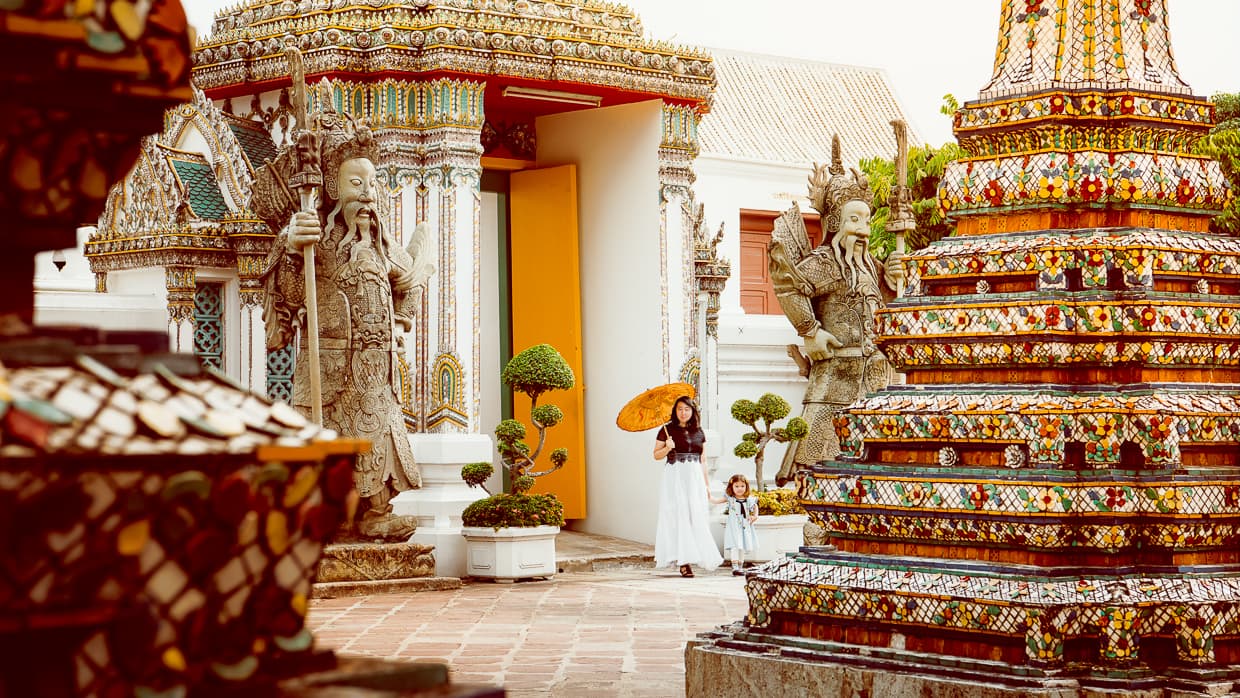 Most of the statues are Buddhas. You will see many people in the temple bowing to Buddha statues, but no one could possibly bow to all of them. I think our favorite statues, though were the two giant stone statues by one of the gates. I believe that they are actually Chinese guardian figures. Maybe the fact that they were out of place was what made them so interesting to look at.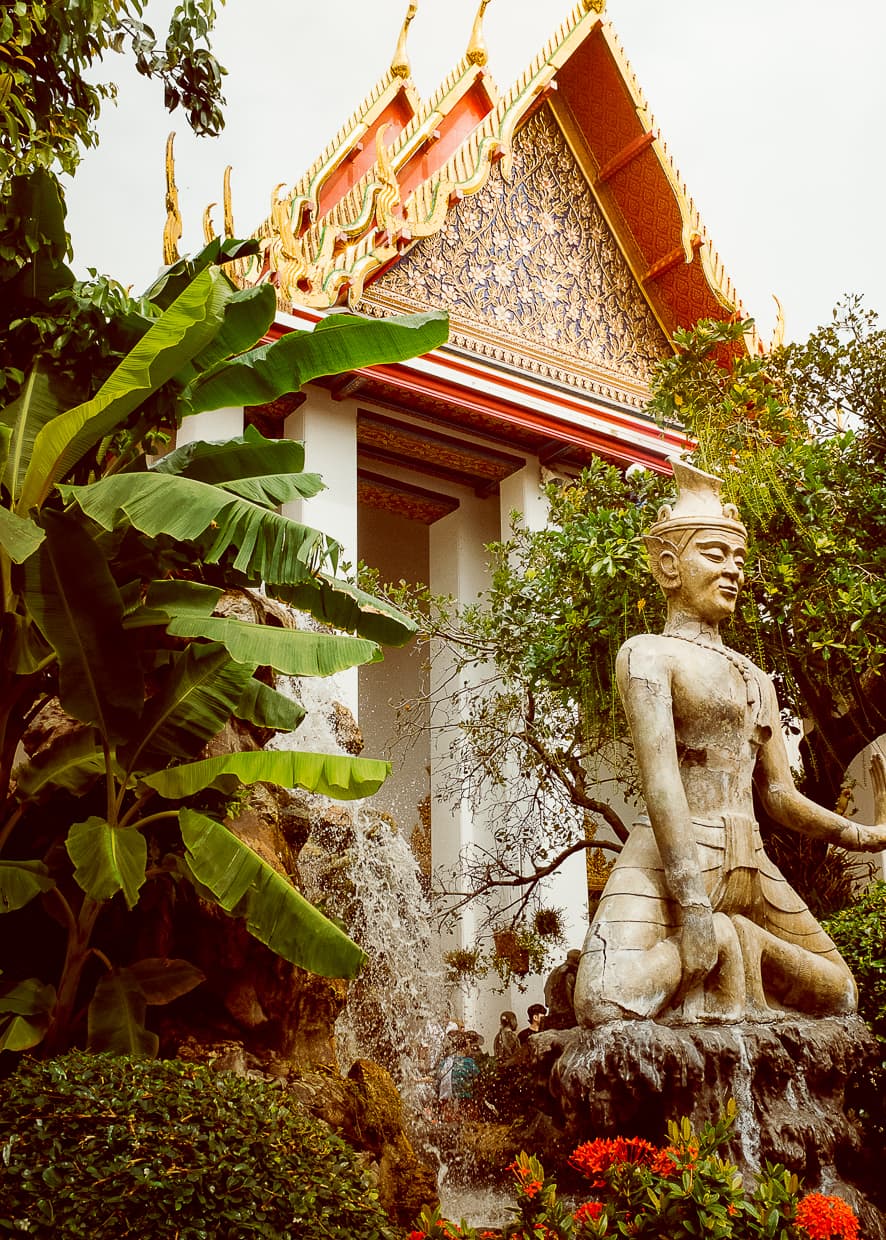 Photography Etiquette Inside Wat Pho
Even though you might be on vacation, or even working, it's always important to remember that you are in a place that is very special to a lot of people. Part of travel is respecting the culture and the people of the place you are visiting, which often times means sacrificing one or two good shots in order to be a good guest.
General Thai Temple Etiquette
Dress Code: People worry about this a lot, but just use common sense. Cover your shoulders and your legs. No cleavage. Avoid shirts with rude slogans or images. If you are in doubt about your outfit, just pack a scarf with you so you can cover up if you need to. None of the outfits I wore created a stir.
Door Steps: Don't step or sit on the door raised door steps in Thai temples. Just step over them and make sure your kids do the same.
Shoes: You can wear shoes in the temple complex, but take them off when you go inside the buildings. Don't worry, nobody's going to steal your stinky shoes.
Quiet: Most of the people at a popular temple like Wat Pho at any given moment are probably tourists, but some people are there to worship or pray. Don't be obnoxious.
Walk: Just like being quiet, walking instead of running and jumping is the respectful thing to do. Actually, this is a pretty good rule for any crowded place, even if it's not a temple.
Pointing: People in Thailand don't point. It's considered rude. This one was particularly difficult for me because I'm used to pointing while I give Dannie and Lisa directions during our photo shoots. I didn't realize quite how often I did it until I got to Bangkok and tried to stop.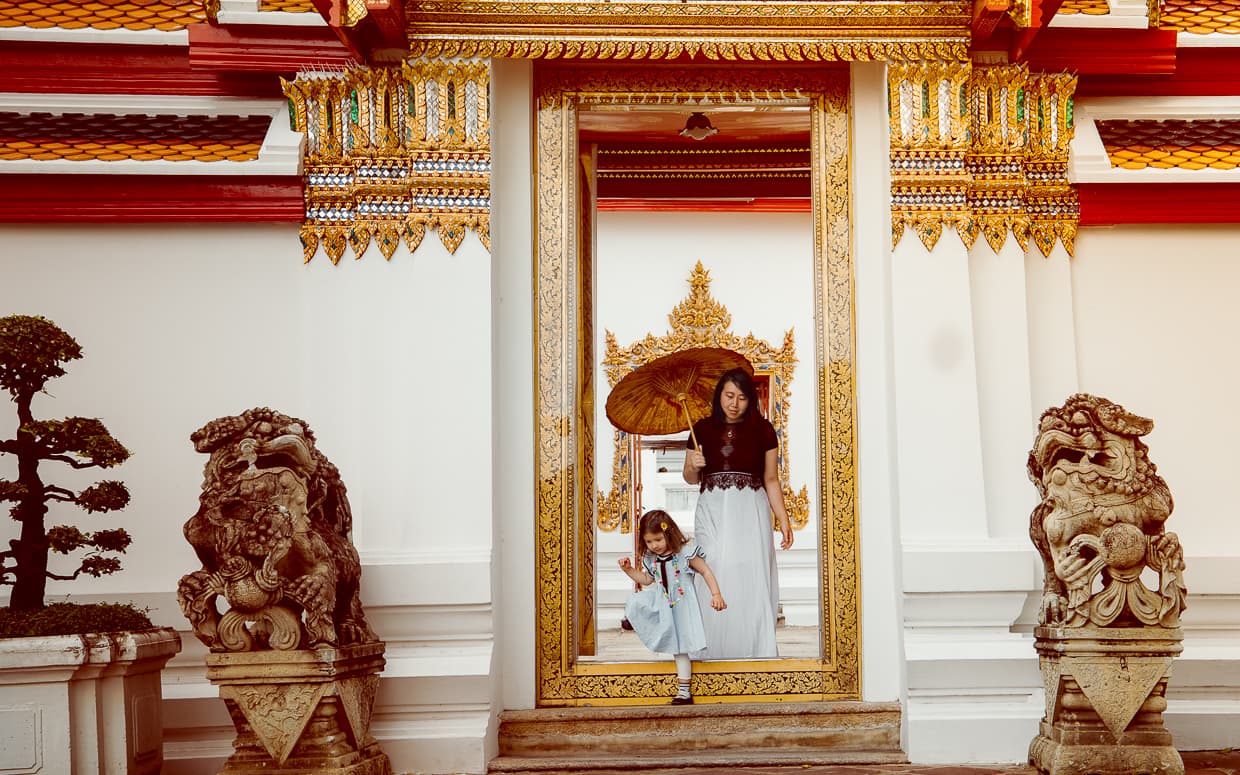 Photographing Monks
Monks aren't props, they are people. And they aren't there on vacation, they are there for religious reasons, and you can probably assume that they are taking it seriously. The monks, with their shaved heads and colorful robes might be very photogenic, and they would look great in your vacation photos, but if every tourist that visited shoved a camera in their face, it would be a pretty miserable experience.
That doesn't mean you have to walk around with your lens pointed at the floor though. Some incidental photos of the monks are inevitable, just be discrete and considerate, and think about whether the photo you are about to take is likely to annoy someone.
We happened to be there while some new monks were being initiated, and we did take some photos. We mostly felt comfortable with this because it was a very public display and many of them were posing for their own photos afterward anyway.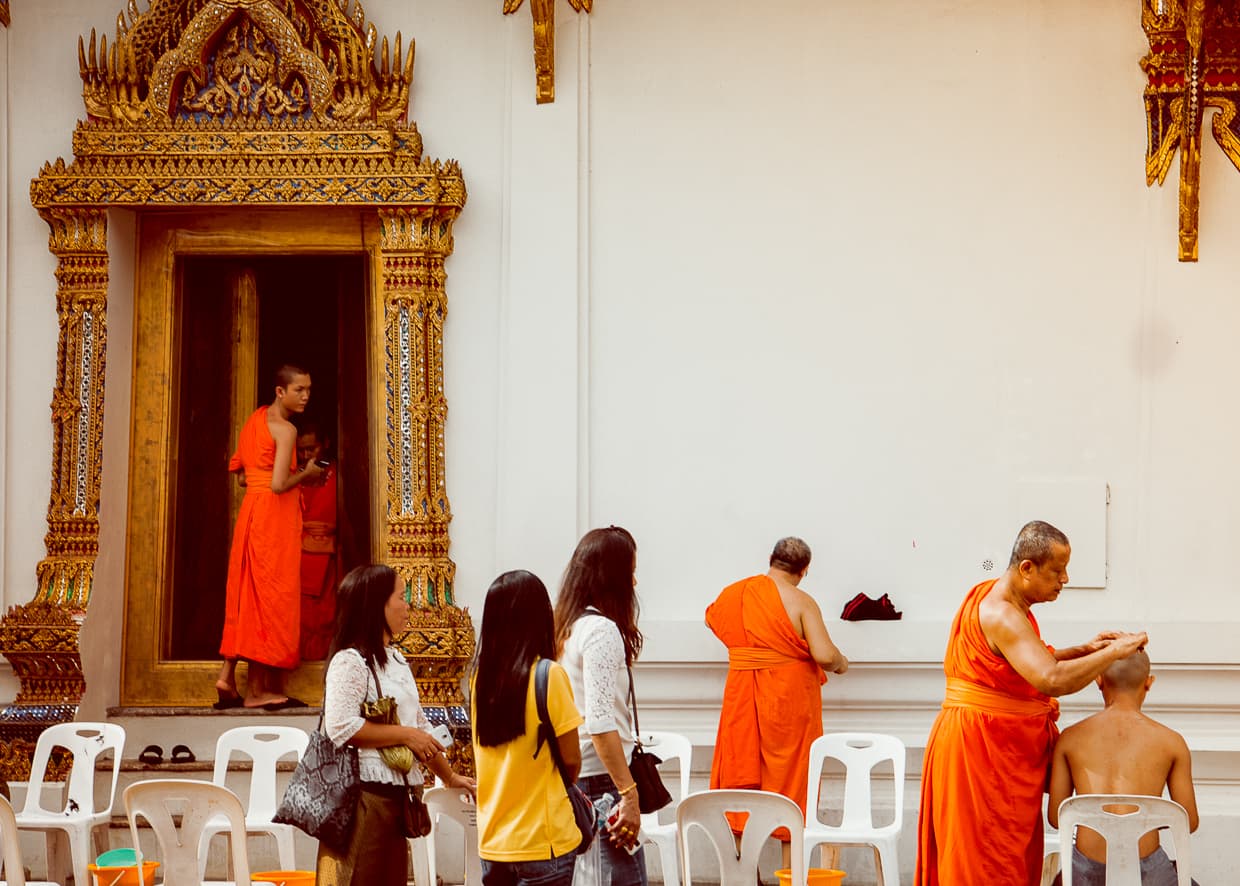 No Photography Zones
If there is a sign that says "no photography" or something similar, just don't take any photos. Don't try to do it all sneaky-like. Sure you could probably get away with it, but that's not really the point. If it's important enough to the locals that they went to the trouble of putting up a sign, then you have to respect that. Even if you see other people violating that rule.
Be the kind of guest you would want to welcome into your own house.
What to Bring
Sunblock or Umbrella
I seem to be writing this a lot lately, but there is very little shade, so make sure you protect yourself. Our visit was in July, which is the rainy season, but that just meant you could usually expect some rain for an hour or so each day. The rest of the time it was sunny and hot. It's not hard to find very pretty Thai umbrellas for sale near the popular tourist attractions. We bought this one not just for protection, but because we thought it would make a nice prop for our photos. We use ThinkBaby Sunblock which is SPF 50 and free of all the nasty stuff for kids.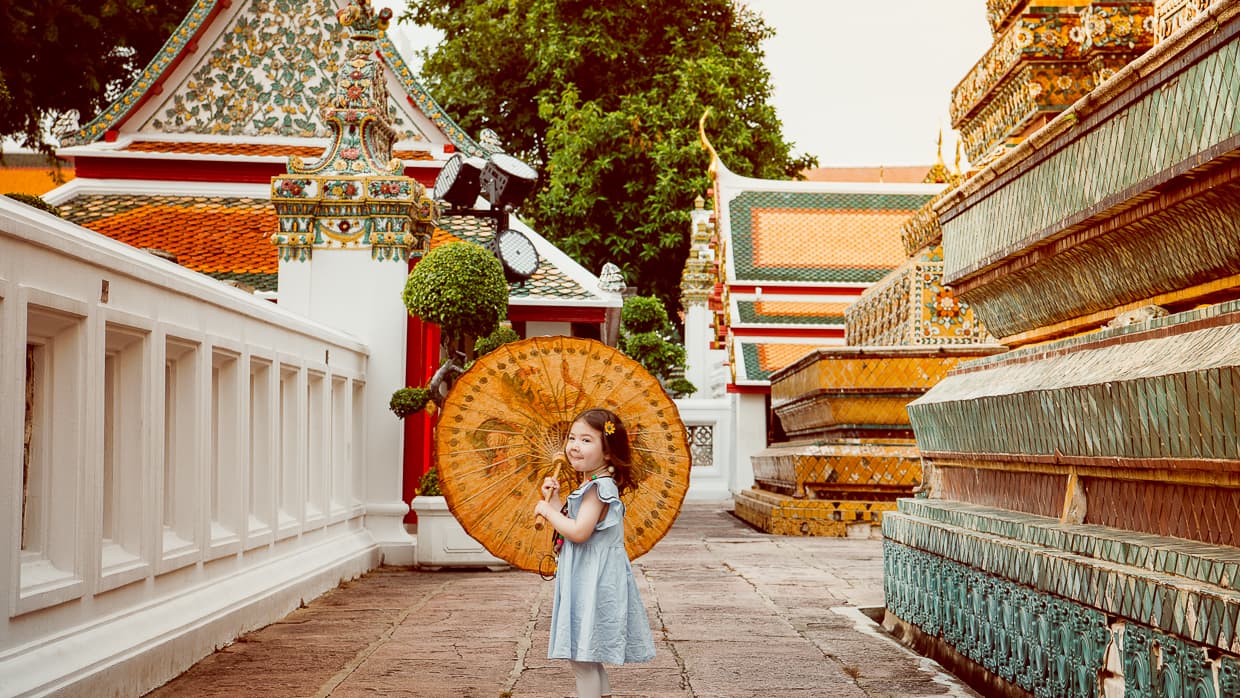 Water
Speaking of hot, you are going to get thirsty. Your ticket comes with a free bottle of water, which you pick up inside the complex, but really that isn't enough if you are going to be there for a couple of hours (which you are).
Camera
That's pretty much the whole point of this article, right? Don't leave your camera at home. If you are interested in what gear we use, check out our shop page.
Stroller or Baby Carrier
Wat Pho is mostly stroller friendly. We brought our Babyzen Yoyo travel stroller with us, and we didn't really have any problems. There are a few steps and door frames though, so if you really don't want to ever pick a stroller up, or if you don't want to risk waking a sleeping toddler, you might want to bring a carrier. We've gotten good use out of our Ergobaby Omni 360. Go ahead and read our Yoyo review and our Ergobaby review.
Conclusion
Wat Pho was one of the coolest places we visited during our brief stay in Bangkok. We made to trips there and we could easily have gone back for another. Luckily, since we're staying in Dali, China for the next year, we'll have to make plenty of visa runs - which means plenty of opportunities to return to Bangkok if we choose.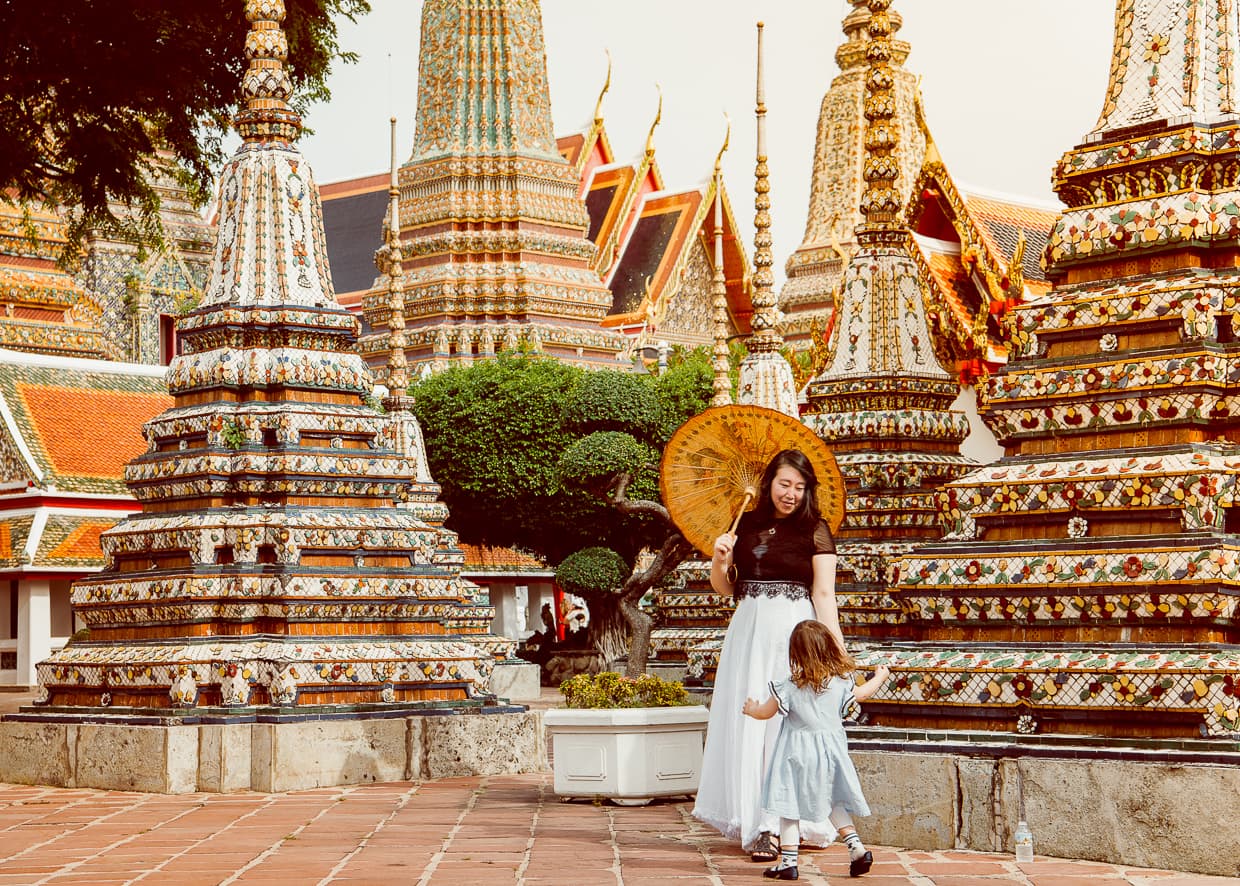 I hope you enjoyed this article and found it helpful. If so, you might want to have a look at our destinations page for a complete list of all the places we've traveled to and everything we've written about them. And if you'd like to help support our travels and this blog, pay a visit to our resource page or our shop when you are planning your next big adventure. You can also support us emotionally by leaving your comments or questions below.