Dali, China is a small city (by Chinese standards), about the size of Boston, located in the Southwestern Yunnan Province. Between Erhai Lake and beautiful snowcapped mountains, it's a photographer's paradise. We've decided to make Dali our base for exploring Yunnan, which we'll be doing for most of 2018. Most Chinese travelers see Dali as a resort town, and it has its share of attractions. From natural scenery to a beautiful old town, to modern shopping centers, there's no end of things to do. There is a community of expats that live here, but we're mostly doing our own thing, as always. We have so much to explore, including many other towns and sites in the region that we will have easy access to. Here's everything we've written about Dali so far: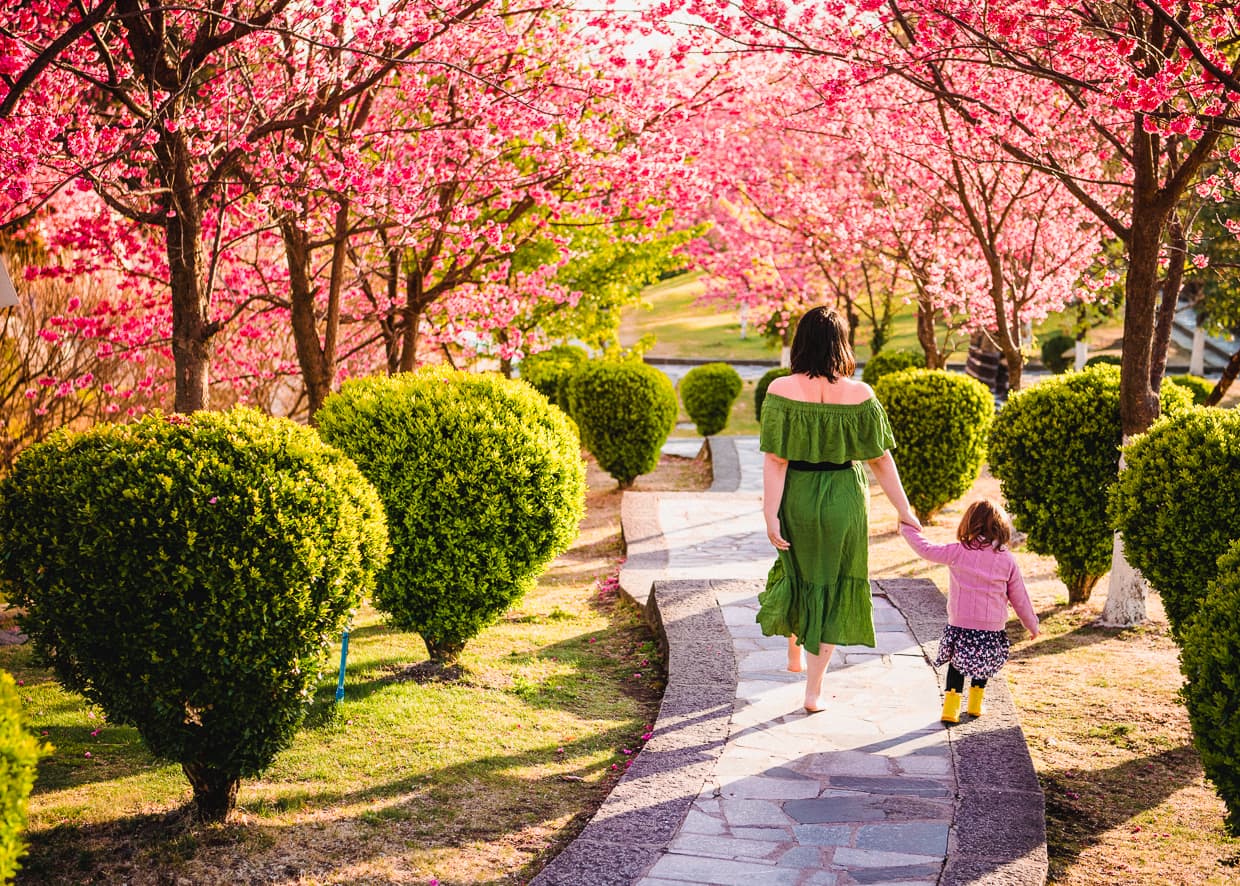 December, 2018 was our second Christmas abroad since we started traveling full time. It wasn't like any holiday we've celebrated in the past, but in a lot of ways it was the most fulfilling Christmas we've ever experienced. In this article we talk about how the region effected our celebrations, and how our family took the opportunity to make the season our own.
Dali, China has some of the best vegetarian restaurants we've ever eaten at, even after two years of full time travel. Here's a list of some of our favorite places to eat meat free, including photos, descriptions and locations to help you make up your mind.
We ventured north from the Dali Old town to find out how all those beautiful tie dyed tapestries were made. The old town is bedecked with tie dye, and most of it is made in the nearby village of Zhoucheng. We went there with Lisa and Jake's parents to take a class, eat a meal, and buy a few souvenirs. Here's how we got there and what the class was like (scroll to the end of the post to see the handkerchief Lisa and Dannie made.
If you aren't traveling to get off the grid, you will find that a cell phone is a very useful thing to have in China. But not only won't some of your favorite apps not work while you are in China (unless you have a VPN - see below), you also have the chance to try some really useful ones that you've never heard of before, but which are being used by over a billion Chinese people. After months in China, here's our list of apps that we really couldn't get by without.
If you are in China, much of the internet will be unavailable to you unless you have a VPN. Google Maps, Gmail, Facebook, Instagram and much more are all blocked by "The Great Firewall of China." In this post, we go over what a VPN is, and review ExpressVPN, the service we have been using ever since we started traveling. Even if you aren't in China, a VPN also provides security and anonymity as you browse the web.
In this post we talk about how the first two months we spent in Dali convinced us to slow down our pace even more than we already had. What was originally intended to be a stop on a longer journey turned into our home away from home for the next year. It also includes some photos from a fun food photography course that we helped with.
The Cherry Blossom Valley is a gorge in a mountain called Cangshan in Dali, China, that is positively covered in cherry blossom trees. We stayed in a housing development that surrounds the valley, so we had plenty of time and opportunity to get our photography. This post is our guide to finding and photographing the Cherry Blossom Valley.
In this post we show off some photos from the Dali University campus, one of the best places to see cherry blossoms in Dali. It's home to hundreds (thousands?) of trees that explode with beautiful pink flowers in March. We made a number of trips up there, and we share a few tips for finding the flowers, getting good photos, and enjoying yourself at the campus while you are in Dali, China.
This post is pretty self explanatory. Nostalgic for the delicious bread we'd grown accustomed to while traveling in Europe, we signed up for a baking class. We enjoyed making and eating the bread, but it turned out that the real treat was seeing baby Lisa getting down and dirty in the kitchen. It really highlighted for us how much being involved in food preparation changes the way she sees her meals. She also really put on a show for the camera, so we wound up posting way more photos than we usually do.